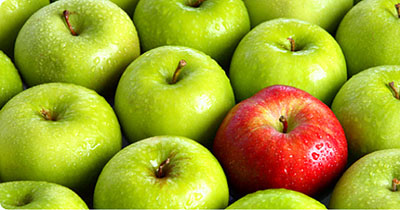 As the clock tick tocks toward the high holidays everyone who's ever had to plan what seems like 3 thousand yontif meals knows that the  main dish is most likely gonna be a brisket, chicken and/or turkey. It's the first course and desserts that tend to send us all into a panic. While I'm a HUGE fan of gefilte fish (A&B Famous is my favorite) sometimes I just want to have something apple-lisious after the apples and honey
The following recipes are all holiday perfect as well as year around delicious, not just because you can whip every single one of the up in under 20 minutes but because they are delicious, different and most importantly can be made in the morning (or the day before) before you head out to shul.
ROSH HASHANNA SLIDERS
1 cup finely chopped tart apple, finely chopped
5 green onions, sliced thin
1 teaspoons poultry seasoning
1/2 teaspoon sage
1/2 teaspoon salt
1/2 teaspoon ground pepper
2 tablespoons chopped dried cranberries or dried cherries
2 tablespoons apple juice or water
1 lb. ground chicken or turkey
4 teaspoons Dijon honey mustard
8 mini challah, split
Leaf lettuce
Dried apple chips
In a bowl combine the chopped apple, green onions, chopped cherries or cranberries, poultry seasoning, sage, pepper, salt and apple juice. Add the ground turkey or chicken; mix to combine and then shape into 8 mini burgers no more than 1/3 inch thick. Grease and heat a grill pan and cook each mini burger for about 2 minutes on each side, no more. You can press them slightly. Remove immediately and place them on a cookie sheet. You can prepare these up to 2 days prior to serving by keeping them in a covered container in the refrigerator or up to 2 weeks ahead if they are frozen. To serve, place the cookie sheet in a preheated 350 oven and heat for 10 minutes or cooked throughout. To server place the split buns on 8 plates and spread the Honey Dijon mustard on the bottom of the bun. Place lettuce on top of the mustard and then place a hot mini burger on top. Serves with dried apple chips. Serves 8.
APPLE MAPLE BITES
1 lb smoked turkey breast, cut into bite size cubes
1/3 cup maple syrup (use the ready stuff)
1 tablespoon honey mustard
1/2 teaspoon Dried crushed sage leaves
2 apples (our pears) sliced
20-24 mini thin pretzel sticks
Preheat oven to 375. Place the turkey chunks on a rimmed baking tray. In a bowl, combine maple syrup, mustard and sage and apples or pears. Place an apple or pear slice on top of the turkey chunk and the bake for 5 minutes just until warm. Drizzle any remaining glaze over the top of the apples and then use the pretzels as a "toothpick" place on a serving plate and serve. Makes 20 to 24 pieces.
HONEY ROASTED APP WRAP
1 1/2 cup chopped cooked chicken
1 chopped red or golden delicious apple
1 cup sliced red seedless grapes
1/3 cup crunchy peanut butter
3 tablespoons mayonnaise
3 tablespoons honey
1/2 cup honey roasted peanuts
6 whole Romaine lettuce leaves
3 sliced green onions
In a bowl combine the peanut butter, honey, and mayonnaise. Add the chicken, apple and grapes. Mix to combine. To serve place a whole lettuce leaf on a salad place and divide chicken mixture between the 6 plates, top with honey roasted peanuts and sliced green onions. Serves 6. You can use a tortilla or flat bread and roll the salad inside, cut in half and serve it as a sandwich if you are using this as an evening meal. Serves 6. Can be doubled or tripled.
AVOCADO APPLE AND SMOKED TURKEY BRUCHETTE
1 cup diced smoked turkey, chopped into small pieces
1 Granny Smith apple
2 tablespoons mayonnaise
1 Avocado
1/4 cup celery
2 tablespoons chopped parsley
1/4 cup sliced green onion
Juice of 1 small lemon or large lime
Onion salt and black pepper to taste
1 loaf French bread cut into 12, 1 inch slices
Olive oil
In a bowl combine the smoked turkey, chopped apples, celery and mayonnaise. Set the mixture aside. Brush the slices of French bread with a little olive oil and place them on a cookie sheet. Bake just until golden. Set aside to cool. In a bowl combine the avocado, green onion, parsley, onion salt, black pepper lemon or lime juice. Mash to combine but leave it chunky. Spoon and the spread the avocado mixture over the top of the bread slice and then top with the turkey mixture. Serves 12.
APPLE SLICES WITH CHICKEN OR TURKEY SALAD
3 tart apples cored and sliced into rounds (do not peel) 16 slices
1 tablespoons lime or lemon juice, fresh only
4 thick slices sliced hickory smoked turkey or chicken breast cut in quarters (16 pieces)
1/2 cup jicama, cut into match sticks
1/2 cup raisins
1/3 cup mayonnaise
1 teaspoon curry powder
salt and pepper
1/2 cup pecans
1/3 cup pareve sour cream
In a bowl combine the apple slices and lemon or lime juice. Toss to coat and then place them on paper towels to dry. Set them aside. In a bowl combine the jicama, raisins, mayonnaise, curry, pecans, pareve sour cream and mix to combine. Season to taste with salt and pepper. Place 2 slices of apple on the plate and to on a plate and place a slice of turkey on top. Then place a scoop of the fruit/nut mixture over the top. Serves 8. This recipe can be doubled or tripled.