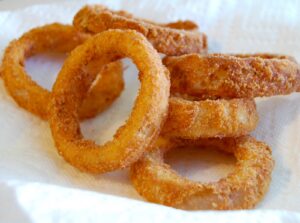 I have never been what you call a traditionalist when it comes to Hanukkah. Yes, I will make potato pancakes, and, if forced, eat a soufganyot or 6 (please don't judge me, they were small).  However, when it comes to serving fried foods that I love nothing and I repeat this, nothing is more delicious and better suited to share the table with my menorah and dreidel than onion rings.
I have been called a Hanukkah heretic for espousing this non-traditional treat but seriously, they are even more delicious than any other fried food known to man (or woman). Of course you can skip right to buying them frozen at the grocery store but I promise you, once you make them yourself, you'll never buy ready made again.
You can make classic crunchy variety, a batter dipped recipe is never bad and if you want a bit of a twist, try a tempura batter (Tempura is a recipe said to Japanese in origin. A light crispy batter its great on vegetables besides onion and terrific for coating fish). No matter your choice of sweet, yellow or Vidalia onion (all great and can be used interchangeably but skip the red, they're usually to sharp tasting for onion rings) you are going to wish you'd made more than 1 batch.
FYI: Dredging in flour allows the batter to adhere to the vegetable.
Make sure you don't have too much batter on the vegetable before frying, they can get mushy. Let the excess drain back into the bowl after dipping before you fry.
CLASSIC CRUNCHY ONION RINGS
2 large onion sliced 1/3 to 1/2 inch thick
2 1/2 cups flour
2 teaspoon baking powder
1 teaspoon salt
2 eggs beaten
1 3/4 cup milk or nondairy substitute
1 1/2 cup Panko breadcrumbs
1 teaspoon salt
1/4 teaspoon ground black pepper
3 to 4 cups cooking oil
Place the panko breadcrumbs in a bowl with 1 teaspoon salt and the black pepper. Mix to combine and set aside. Break up the onion slices into rings. Set them aside. In a bowl combine the flour, baking powder, and the other 1 teaspoon of salt and mix to combine. Dredge the onions rings in the flour mixture and set the rings aside on a cookie sheet. You can also put the flour mixture into a sealable plastic bag, put the onion rings in and shake to coat)
At this point, in a separate bowl whisk the eggs and milk together and then  whisk in the flour left over after you've coated the rings.  Dip the onion rings into the batter then dredge them in the breadcrumbs (you can also do this in a sealable plastic bag)
Heat the oil in a skillet or deep fryer. When the oil is hot, deep-fry the onion until the color turns golden brown (2 to 3 minutes). Do not over crowd the pan when frying. Drain the cooked onion rings on paper towels placed on a cooling rack for about 1 minute then serve. Serves 4 to 6 as a side dish.
BEER BATTER ONION RINGS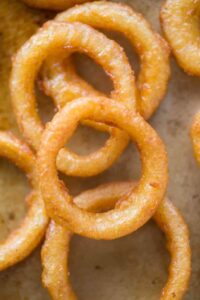 3 to 4 cups oil for frying
3 yellow onions, sliced into 1/4-to-1/2-inch rings
1 c flour
2 eggs, separated
2 tablespoons of flour
1 cup beer (regular or lite, NOT dark or lager)
4 tablespoons oil
1 tsp salt
Slice onions into thick rings, set them aside. Place the flour in a bowl and set it aside.
In the bowl of an electric mixer whisk the whites and when they form stiff peaks remove them from the bowl and set them aside. Put the egg yolks, flour, oil, beer and salt in the bowl and mix to combine on low. At this point, by hand, fold the beaten whites into the egg and beer mixture. Start heating the oil. Using a fork, dip onions rings into the batter and then fry them, flipping them when they become golden. Do not over crowd the pan when frying. Drain the cooked onion rings on paper towels placed on a cooling rack for about 1 minute then serve. Serves 4 to 6 as a side dish.
TEMPURA BATTER
1 cup sifted flour
1 large egg, whisked
1 cup ice water
Pinch of salt
1/2 teaspoon white pepper (optional)
In a bowl combine all the ingredients and whisk to combine. Makes 1 1/2 cup batter.
Dredge any vegetables in flour prior to dipping in the batter and frying.