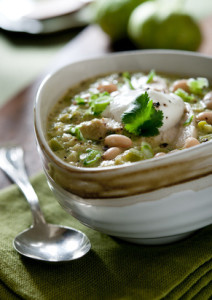 When I was trying to frantically figure out what I could make for 7:00 dinner tonight after my book club was switched to my house at 3:00 this afternoon my first suggestions to myself of soup or stew were quickly discard as BORING and too time consuming for the limited time I had between after flying low through the grocery store, hitting the button on my garage door and teleporting into my kitchen and the door bell ringing with the first arrival I came up with the idea of a cheater's chili.
A cheater's chili is my version of the slow cook, fire flaming out of your ears chili that chili purist love. I prefer to use chicken or turkey (better for you) and I keep my heat to a minimum. My chili philosophy is that you can always add heat to your own bowl but it's impossible to replace your taste buds when they're scorched beyond recognition.
The following recipe can be made up ahead of time and reheated just before serving. I suggest a side of corn bread and a chopped salad to round out a super easy and fast meal.
WHITE CHICKEN CHILI (meat)
1 pound ground chicken (you can use ground turkey if you like)
1 large onion, chopped
1 tablespoon olive oil
2 teaspoons minced garlic
3 cups vegetable broth
1 can (4 ounces) chopped green chilies
2 teaspoons ground cumin
2 teaspoons dried oregano
1 1/2 teaspoons cayenne pepper
3 cans (14-1/2 ounces) great northern beans, drained, divided
1 cup (4 ounces) pareve sour cream
Chopped red bell pepper
Chopped black olives
Parsley, minced
extra pareve sour cream for topping
In a large sauce pan saute the chicken and onion for 3 minutes. Add the garlic and cook for 2 more minutes. Add the broth, chilies, cumin, oregano and cayenne. Bring the chili to a boil then reduce to a simmer. In a bowl mash one can of beans and add them to the chili. Mix to combine. Add remaining 2 cans of beans and then simmer, uncovered for 25 to 30 minutes. If the mixture is too thick you can add a little more broth or water. To serves spoon into 8 to 10 bowls and top with chopped peppers, pareve sour cream, olives and parsley. Serves 8 to 10