---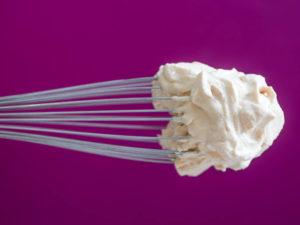 After taking a survey of one (me) I've discovered that whipped cream is easily the most popular desserts ingredient on the planet when it comes to the holidays (ANY HOLIDAY). Whether you are making chocolate whipped cream, topping strawberry shortcake or smothering a piece of pumpkin pie, there is no limit to what this creamy delicious stuff can do to improve your eating experience. While you can always get your whipped cream fix by using the stuff in the can it isn't nearly as tasty as whipping your own and piling it on.
Whipped cream and especially flavored whipped cream is made from heavy cream, powdered sugar, and a flavored extract or flavoring ingredient. How much sugar and/or flavoring ingredient is solely dependent on your taste and sweet tooth. I suggest about one to two tablespoons of powdered sugar per two cups of cream, (you can certainly be increased the amount without any problems). Vanilla is the typical flavor added to sweeten whipped cream and it gives it that signature flavor but most any flavor you like mixes nicely with the cream so feel free to experiment. When you go to the store you'll find that there are all kind of products available. You need to make sure you get the right cream for the job.
Half-and-half is a mixture of equal parts milk and cream, and is 10 to 12 % milk fat, and it CAN NOT be whipped.
Light cream, also called coffee or table cream, contains anywhere from 18 to 30% fat and CAN NOT be whipped.
Whipping cream contains 30 to 36 % milk fat and sometimes stabilizers and emulsifiers. Whipping cream will double in volume when whipped.
Heavy cream, also called heavy whipping cream, is whipping cream with a milk fat content of between 36 and 40 %.
Whipped cream in pressurized cans is a mixture of cream, sugar, stabilizers, emulsifiers and gas, such as nitrous oxide. It works fine in a pinch but is not nearly as tasty as the home made stuff.
Be careful about the "nondairy" dessert toppings," They are usually made with hydrogenated vegetable oils, have absolutely no cream in them but they usually have sodium casienate which is a milk product. Check the label carefully. If you're keeping kosher (or not) and it says PAREVE, you're good to go for any lactose intolerance or milk allergy. (There are some really great non dairy whipped topping substitutes on the market and all the recipes below can be converted to the non dairy variety)
For the best, lightest and most flavorful results when you whip your cream make sure that the cream is very cold. Chilling the bowl and beaters or whip in advance is also important. Begin by whipping the cold cream at a moderate speed. Soft peaks will mound when dropped from the whip. This is when you want to add sugar or other flavoring ingredients. Medium peaks retain marks of the whip and will hold a soft peak that droops over slightly. Stiff peaks will form distinct mounds that hold their shape. Be careful not to over beat. Similar to egg whites, cream can be over beaten. Over beaten cream first develops a granular appearance. Eventually lumps will form and, if you continue whipping the cream will turn to butter. If you accidentally over beat heavy or whipping cream so much so that it begins to turn buttery, gently stir in additional cream, 1 tablespoon at a time. Don't "beat" the cream again or you'll be right back where you began. Remember to use a bowl that's deep enough, keeping in mind the cream will double in volume when it's whipped. Decrease the instances of splattering by gradually increasing the speed of the mixer from low to high. One last whipping cream note before we get to the recipes: You'll get more volume from whipped cream if you hold off adding sugar or flavorings like vanilla or liqueurs until the cream has been whipped to soft peaks.
CHOCOLATE WHIPPED CREAM FROSTING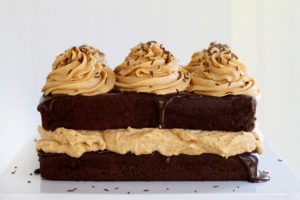 1 pint whipping cream
2/3 cup chocolate chips
In a sauce pan heat the cream to a simmer. Add the chips and stir until melted. Remove from the heat immediately and cover and refrigerate for 24 hours. Whip as for whipped cream. Frosts 2 (9 inch) layers. Great for angel food cake.
ALMOND WHIPPED CREAM:
1 cup heavy cream
2 tablespoon confectioners' sugar
1/2 teaspoon almond extract
1/4 cup ground toasted almonds
Whip cream in chilled bowl until it begins to hold its shape. Add confectioners' sugar and almond extract and beat until slightly stiff. By hand gently fold in the chopped almonds. Makes 2 cups
RASPBERRY OR STRAWBERRY FLAVORED WHIPPED CREAM
2 cups whipping cream
3 to 4 tablespoons powdered sugar
1 cup frozen strawberries or raspberries, slightly thawed, drained and chopped*
Place the whipping cream in a chilled bowl and beat until it forms soft peaks. Continue beating and gradually add the powdered sugar. Add in the fruit and sh. Whip, adding sugar gradually. Beat until mixture is stiff. By hand, fold in the chopped fruit. Makes 3 cups.
*If you want a sweeter whipped cream use the sliced strawberries that come with syrup and use a little of the syrup. Use as a topping for your favorite desserts, filling for tarts or cream puffs this is also great on fruit salad.
ESPRESSO WHIPPED CREAM
1 cup chilled whipping cream
3 tablespoons golden brown sugar
1 teaspoon vanilla extract
1 teaspoon instant espresso powder
In a small bowl combine the brown sugar, vanilla and espresso powder and set it aside. In a chilled mixing bowl beat the whipping cream until it forms soft peaks. Add the espresso mix and continue beating until you have firm peaks. This can be made up to 4 hours in advance. Cover and chill. Makes about 2 cups.
WHIPPED CREAM CHEESE FROSTING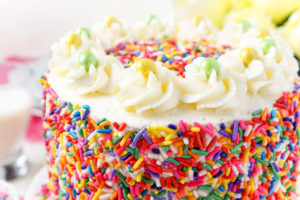 A decadent whipped cream and cream cheese frosting that has everyone asking if they can lick the bowl.
1 (8 ounce) package cream cheese
1 cup white sugar
1/8 teaspoon salt
1 teaspoon vanilla extract
1 1/2 cups heavy whipping cream
In a small bowl beat whipping cream until stiff peaks form; set aside. In a large bowl combine cream cheese, sugar, salt and vanilla. Beat until smooth, then fold in whipped cream. Makes 1 frosting for a 2 layer 9 inch cake (12 servings).
MOCHA WHIPPED CREAM FILLING
2 1/2 cup whipping cream, well chilled
1/3 cup sifted confectioner's-sugar
3 tablespoons sifted unsweetened cocoa
1/2 teaspoons instant coffee powder
1/2 tablespoon water
2 tablespoons coffee flavored liqueur
In a small cup combine the instant coffee and the water. Mix to combine and set aside. Pour cream into a well-chilled mixing bowl. Beat slightly and then stir in the confectioner's sugar and cocoa. Continue beating, on a medium speed until the cream begins to thicken. Add the coffee zest and liqueur. Continue whipping until cream reaches the soft peak stage, and remove from the mixer. Finish beating by hand using a wire whisk, whipping until cream is quite thick but not grainy. Refrigerate. Makes 3 to 4 cups