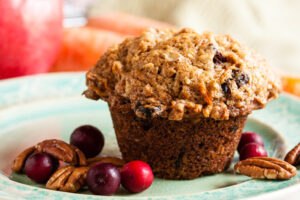 It's an age-old question that has mystified culinary theologians for millennia, which came first and which tastes better, the cupcake or the muffin? As if that conundrum weren't enough to make you ponder the meaning of the universe while watching the Great British Bake-Off consider, is there REALLY a difference between a muffin and a cupcake and if so, what is it? Why is a muffin for breakfast just fine and dandy but try calling it a cupcake and the Food Pyramid Police (AKA anyone on a diet) show up to deliver a lecture on the evils of carbohydrates?
To me, cupcakes and muffins are part of the same family, sort of like having 2 children, one right-handed the other left, both equally loved but with a personality of their own. Simply put, both are a type of cake, the difference is seen in the preparation process (and to some extent, the "extra" ingredients). In muffin recipes you often utilize oil as the fat and in cakes, butter sour cream and/or margarine are the fat of choice. Also, good to note,  is the amount of butter and sugar you will use in a cupcake is most often more than what you use in a muffing recipe. Creaming the butter and sugar together before mixing in the flour and leavening is the best way to create a fluffy cupcake batter the muffin is more a dump and mix. You will also want to beat the cupcake batter and use the fold in method for a muffin recipe and mix to combine making for a denser baked product.
Interestingly, muffins have domed tops as well as having nuts and fruits as add ins. A muffin is dense, not frosted and finished with sugar, nuts or crumble. A cupcake, on the other hand, is typically lighter in density, can have add ins depending on the recipe. The cupcake bakes to a rounded top, perfect for frosting and yes, it absolutely should have frosting.
Though, for the untrained eater, it may be hard to pinpoint the difference between a cupcake and muffin, I believe, however, I have discovered the "missing link" between the two. It's called the Morning Glory Muffin. Created in 1978 for her restaurant in Nantucket it was featured in Gourmet Magazine in 1981 and in my opinion, deserves the Noble Prize for deliciousness. You can look up the original recipe, but I think the ones below are just as good.
MY MORNING GLORY MUFFINS
1 cup candied pecans, chopped
2 cups shredded zucchini (well drained in a colander lined with paper towel)
1 cup canned crushed pineapple, drained well
2 cups flour or whole wheat flour (or 1 cup of each)
1 cup brown sugar
2 teaspoons baking soda
2 teaspoons cinnamon
1/2 teaspoon cloves
1/2 teaspoon ground ginger
1/2 teaspoon salt
1/2 cup shredded coconut
3/4 cup raisins or dried cherries
3 eggs
2/3 cup oil
2 oranges, juiced (or ¼ cup of the store-bought stuff)
2 teaspoons vanilla
Zest of one orange (optional)
Preheat the oven to 375. Grease 16 to 18 muffin cups (you can use paper liners).
In a large bowl, combine the flour, brown sugar, baking soda, cinnamon, cloves, ginger and salt. Mix to combine. Add in the coconut and raisins. Mix to combine. Add the pineapple and the drained zucchini (make sure you have got as much liquid out as possible). Mix to combine.
In another bowl whisk together the eggs, oil, orange juice (and zest if using) and vanilla. Stir till smooth. Add the egg mixture to the flour mixture, and mix, by hand until everything is combined (this is a thick batter).
Divide the batter among the prepared muffin pans (fill them approx. 3/4 full). Sprinkle the chopped candied pecans evenly over the tops of the muffins (you can sprinkle a little cinnamon sugar over the top for a bit crunchier top). Bake for 25 to 28 minutes, until golden and a toothpick poked in the center comes out clean. Cool in the pan for 10 minutes before removing the muffins. Makes approx. 18 muffins
MORNING GLORY CUPCAKES (modified from a Duncan Hines recipe)
One box Carrot Cake Mix
3 large eggs
1 cup warm water or milk or nondairy substitute
1/2 cup dried cranberries or dried cherries
1/2 cup applesauce
1/2 cup crushed pineapple, drained
1/2 cup flaked coconut
1/2 cup walnuts chopped
1 teaspoon cinnamon
30 MINUTES BEFORE YOU START: Place the cranberries or cherries (and the raisins/carrots from the cake mix box) in hot water to plump them up.  Preheat oven to 350. Spray muffin tins with nonstick spray or use paper liners.
In the bowl of an electric mixer combine the eggs, applesauce and mix to combine. Add the raisin mixture (with the water) and mix to combine. Add the cake mix, cinnamon, nuts and coconut and again, mix to combine. With all this mixing please be careful to not over mix.
Fill each cup 2/3 to 3/4 full for 23 to 25 minutes or until golden but not too brown and the middle of the cupcake bounces back when touched. Let cool for 5 minutes and then place the cupcakes on a cooling rack.
BEST EVER CHEAM CHEES FROSTING
1/2 cup (1 stick) salted butter (room temp)
8 oz cream cheese (room temp) FYI do not use whipped, only the block
1 teaspoon vanilla extract
4 cups powdered sugar
In the bowl of an electric mixer combine the butter and cream cheese in the bowl of a stand mixer beat until combined, creamy and no lumps. Add vanilla extract and mix to combine. With the mixer running slowly add the powdered sugar until gone and it is completely incorporated. You can use immediately or cover and refrigerate for a week. Makes enough for 1 large layer cake or 24 cupcakes.
© Eileen Goltz morning 21