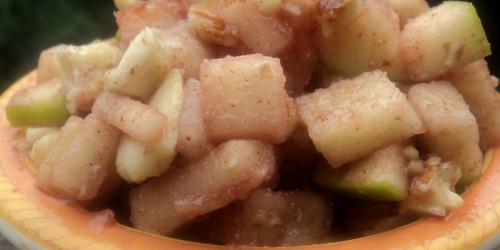 Charoset AKA haroset, charoses, haroses, charoses is that free form recipe of, in no particular order or ingredient, apples, pears, nuts, dates, raisins, figs, wine and cinnamon and oh yeah, anything else you feel like including that is a must have for any and all Seders. Judging how much of this yummy concoction you'll need to make in many forms and textures is not an exact science. Just resign yourself to the fact you'll have too much. Eating it as a leftover is ok for a day or so but this year I decided to be prepared with a few recipes that will not only use up what's left after the two evenings of sanctioned oops I mean sanctified  binge eating it will wow anyone lucky enough to be act your table during chol hamoed.
BASIC CHAROSET
5 apples, peeled and cored (actually I don't peel the apples but most do)
1/2 cup walnuts, pecans or almonds
1/2 to 3/4 cup raisins
1/2 cup sugar
1/2 cup red sweet wine
1 teaspoon ground cinnamon
In a bowl mix the apples, nuts and raisins together. Add the sugar, wine and cinnamon to taste (add more of each if you like). Mix to combine cover for at least an hour before serving. Serves 8 to 10
APRICOT-PISTACHIO CHAROSET
Modified from Adeena Susman Epicurious 2006
1 cup minced dried apricots
1 cup unsalted shelled pistachio nuts (not dyed red), chopped and lightly toasted
1/3 cup sweet white wine
1 tablespoon plus one teaspoon fresh lemon juice
In large bowl, combine all ingredients and mix well. Wait approximately 20 minutes before serving to allow apricots to absorb liquid. About 2 cups
CHAROSET COOKIES
1 cups matzo meal
1 cups matzo farfel
3/4 cups sugar
1 tsp cinnamon
1/2 cup leftover charoses
1/3 cup oil
2 eggs
1/2 tsp. salt
1/2 cup chocolate chips
Preheat oven to 325.In a bowl combine the matzo meal, farfel, sugar and cinnamon. Add the, charoset, eggs, salt, chocolate chips and mix to combine. Line a cookie sheet with parchment paper and then drop heaping tablespoonful's onto parchment paper.
Bake for 25 minutes, until golden brown but make sure not to over bake. Remove from oven and cool. You can melt some chocolate and drizzle it over the top or sprinkle kosher for passive powdered sugar over the top before serving if you like. Makes 2 dozen
CHAROSES CUPCAKES
5 eggs, separated
1 1/4 cup sugar
3/4 cup oil
4 1/2 to 5 tablespoons fresh lemon juice (about 2 lemons)
Grated zest of the 2 lemons
1 1/4 cups matzo cake meal (not matzo meal)
About 2 cups charoses
Cupcake liners
Preheat an oven to 350. In the bowl of an electric mixer whip the egg yolks and sugar until fluffy. Set them aside and then in another bowl, by hand, combine the oil, lemon juice and zest. Add the matzo cake meal to yolk and sugar mixture alternating with the oil mixture.
In the bowl of an electric mixer beat the egg whites until stiff then by hand,fold 1/2 of the beaten egg whites into egg yolk mixture until well blended. Add the remaing half and fold to combine but don't overmix.  This will make 1 1/2 dozen cupcakes. Fill the pans about halfway with batter. Place a small spoonful of the charoses on top of each cupcake. Bake for 30 minutes or until a toothpick comes out clean. Makes approx. 18
CHAROSES STUFFED CHICKEN
2 tablespoons margarine, melted
2 boneless, skinless chicken breasts, flattened
1/2 cup charoses
1 tablespoon matzo meal
1 cup apple juice
Salt and pepper
paprika
1 tablespoon potato starch
Preheat oven to 350. Pour the melted margarine in a 8″x8″ pan and set it aside. In a bowl mix the charoses with the matzo meal and 2 tablespoons of apple juice. Place 1/2 of the charoses on each breast, roll it to cover it and then secure the roll with toothpicks.
Roll the breasts in in the melted margarine in the pan then sprinkle with salt and pepper and paprika. Pour the apple juice into the pan and bake for 25 to 30 minutes. When ready to serve place the chicken on a serving plate and remove the toothpicks. Add a little more apple juice to the pan and whisk in the potato starch. Place over a burner and heat gently whisking until the mixture starts to thicken. Carefully, because the pan is hot pour the sauce over the chicken Serves 2 this can be doubled or tripled.