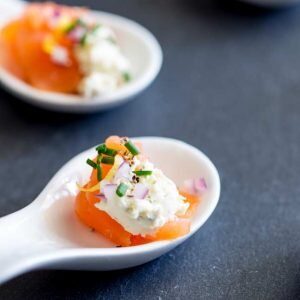 Ok, so you go to that fancy restaurant for a "special meal" (in a past life and hopefully in a not-too-distant future) you may have been served something called an Amuse Bouche (to sound "French" authentic you pronounce it "amuze boosh").
You didn't order it, it just showed up as a single bite, taste teaser between courses. Surprise, it's a lovely unexpected gift from the chef's imagination that will not show up on your bill.  This small, bite-sized "hors d'œuvre/appetizer" is meant to tease your taste buds and help you anticipate the meal to come. Typically served on those cool shaped spoons you typically get when you order soup at a Chinese restaurant or a tiny plate, this one bite pop of flavor, texture and design may not seem like it would be suited to serve at home but, with a bit of creativity, you can add it to your salad course as a side and WOW everyone who has the privilege to dine at chez nous (ok, French again, it means your house).
We are not talking appetizer (typically finger food) or canapes (stuff served on crackers or bread) this culinary jewel is the hint of that you are culinary "extra" and there is greatness to follow. When it comes to serving your amuse bouche, keep it small, keep it fun and make sure you have extra because I can guarantee that one bite is not going to be enough. These treats are perfect to dress up your Shabbat or holiday meals.
The sky is the limit on what you can create and how you serve it. It can be simple or complicated depending on your mood (and time). I have made mini pancakes and topped them with caramelized pineapple and smoked turkey,  tiny Caprese Salads, slivers of roast vegetables with a drizzle of balsamic vinegar, salmon stuffed with an herbed cream cheese topped with caviar and on one memorable occasion I just went all out and made a stacked mini taco salad with refried beans, sour cream, avocado, peppers and a taco chip as a garnish.
To get you started I am using the avocado as the base and I have kept the recipes very I have this stuff in my pantry/fridge simple. When you feel like you are ready to expand comfort zone try using smoked fish, a chunk of deli meat or even a slice of roasted carrot, potato or beet as your base and go crazy with topping and garnish.
NOTE: you can buy the spoons, cool mini bowls or plates at most grocery stores or online
AVOCADO COBB AMUSE BOUCH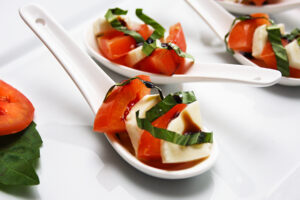 3 avocados, halved and pitted
2/3 cup mayonnaise or non-dairy sour cream
Juice of 1 lemon
1 cup chopped tomato (seeded)
1/2 cup chopped green pepper
1 carrot, shredded
1 cup shredded red leaf lettuce
4 strips cooked kosher beef bacon, chopped
kosher salt to taste
black pepper to taste
3 green onions, sliced thin
1 1/2 tablespoon pine nuts
Cut the avocados into 1-inch square cubes. Keep any leftover pieces but chop it into small pieces. In a large bowl, whisk together the mayonnaise and lemon juice. Add the lettuce, tomatoes, peppers, carrot leftover avocado and kosher beef bacon and season with salt and pepper. Place 1 square onto a serving spoon or plate and top with sliced green onions and pine nuts. Makes 14 to 16.
NOTE: you can substitute a slice of roasted red potato, roasted asparagus, or shredded carrots for the avocado
CHICKEN AND AVOCADO AMUSE BOUCHE
3 avocados, halved and pits removed
1/2 Juice of 1/2 lemon
2 cup cooked and shredded chicken (leftover or store bought rotisserie)
2 minced shallots or 3 green onions slice very thin
1 can water chestnuts, drained, and chopped
2 large tomatoes, diced
1/4 red onion, finely chopped
1 tablespoon olive oil
1/2 teaspoon red pepper flakes or hot sauce
Kosher salt
Freshly ground black pepper
Balsamic vinegar, for garnish
Thinly sliced basil, for garnish
Cut the avocados into 1-inch square cubes. Keep any leftover pieces but chop it into small pieces and squeeze lemon juice all over the squares to prevent browning.
In a large bowl mix together chicken, shallots, water chestnuts, tomatoes, red onion, oil, and red pepper flakes (or hot sauce) and season with salt and pepper. Drain the juice off the avocado squared and place 1 square onto a serving spoon or plate and spoon mixture into the top of avocados then drizzle with balsamic glaze and garnish with basil. Makes 14 to 16 pieces.
NOTE: you can substitute a slice of roasted red potato, roasted asparagus or shredded carrots for the avocado
© Eileen Goltz Amuse21