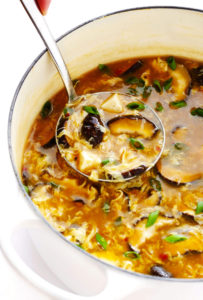 Based on a very unscientific survey of my friends and family, I've come to the conclusion that every single table that is being set for yontif has at least one vegan or vegetarian that has been invited. 10 or 15 years ago requests for meat and or dairy free recipes had more to do with kashrut than with a conscious choice to remove said meat and dairy from recipes. Nowadays, the two go hand in hand.
One of the hardest traditions (IMHO) to replace is chicken soup. Yes, I know there are some MOCK recipes but really, why bother. I say, if it can't be chicken soup jump off the "now for something totally different cliff" and embrace these fun different and delicious vegetarian friendly soups.
HOT & SOUR VEGETABLE SOUP
6 cups vegetable broth
2 cups mushrooms (sliced, shiitake are best)
1 (8-ounce) can bamboo shoots
1 (8-ounce) can water chestnuts
2 shredded carrots
2 tablespoons soy sauce
1/2 teaspoon pepper
1 teaspoon hot sauce
2 tablespoons rice wine vinegar
1 tablespoon minced garlic
1/2 cup green onions, sliced
2 tablespoons chili oil
Optional:
Matzo balls or I package tofu, diced (can be fried in sesame oil or used uncooked)
In a large pot, bring the vegetable broth to a simmer and add the mushrooms, bamboo shoots, water chestnuts, soy sauce, pepper, hot sauce, vinegar, and garlic. Allow to simmer for at least 20 minutes. Add the green onions and carrots to the pot and simmer for about 5 more minutes. Stir in the chili oil. Add additional soy sauce, hot sauce, or vinegar to taste.
*You can add matzo balls or top each bowl with several pieces of fried tofu or add the uncooked tofu pieces when you add the carrots. Serves 6 to 8
TASTE OF TUSCAN SOUP
2 tablespoons olive oil
1 sweet onion, diced
2 carrots, diced
2 stalks celery, diced
1 medium zucchini, diced
1 yellow summer squash, diced
1 tablespoon minced garlic
1/4 teaspoon red pepper flakes
1/4 teaspoon dried thyme
1/2 teaspoon dried rosemary
6 cups vegetable broth
2 (14 ounce) cans cannellini beans, drained and rinsed
1 (14 ounce) can diced tomatoes with juices
3 cups chopped kale, ribs removed
2 teaspoons salt
1 teaspoon black pepper
1 tablespoon sugar
1 tablespoon rice wine vinegar
2 cups cooked bow tie noodles (or other noodle of choice) or mini matzo balls
In a soup pot heat the oil then add the onions, carrots, celery, zucchini, and squash. Sauté for 4 minutes, stirring occasionally so it doesn't stick. Add the garlic, red pepper flakes, thyme and rosemary. Mix to combine then add the broth, beans, and tomatoes. Mix to combine and then bring the soup to a boil. Immediately reduce to a simmer and add the kale. Cover and simmer for 10 minutes.
Take 2 to 3 cups of the soup and place them in a blender (you can use an immersion blender if you prefer) and puree. Make sure this is just a quick zap as you really want this soup to be chunky. Add the salt, pepper, sugar, and vinegar. Taste and adjust seasonings as needed. Return the pureed soup to the pot, add a little water to thin if necessary. Stir in the noodles (or matzo balls) and heat until hot throughout. Serves 6 to 8.
SPINACH ARTICHOKE SOUP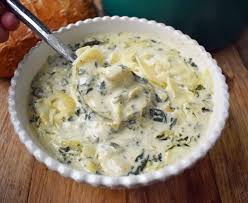 1 cup pareve sour cream
1 container pareve cream cheese
1 tablespoon olive oil
1 onion, chopped
2 teaspoons minced garlic
3 cups canned or frozen (thawed) artichoke hearts
3 cups spinach leaves
1 tablespoon dried basil
2 teaspoon dried oregano
6 cups vegetable broth
1 cups water
salt and pepper to taste
sunflower seeds or croutons -optional
In a large pot, heat the oil and add the onion and garlic and saute for 4 to 5 minutes or until they are soft but not mushy. Add the artichokes, basil, and oregano, and cook, stirring constantly for 3 to 4. Add the spinach, broth, and water and mix well. Bring to a boil, stirring so the spinach cooks. Once the spinach starts to wilt cover and reduce to a simmer for about 10 minutes. Remove from the heat immediately. Add the pareve sour cream and cream cheese and using an immersion blender process until mostly smooth, some chunks of artichoke are ok. Season with salt and pepper to taste. Return to a low heat and cook until the soup simmers (8 to 10 minutes). Serve with croutons or sunflower seeds as garnish. Serves 8