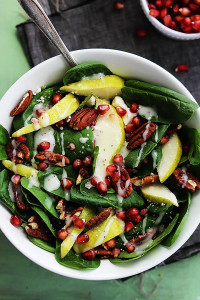 Tu B'Shevat is a holiday for which eating fruit, particularly from the kinds that are mentioned in the Torah is kind of mandatory. Of course, after hours of scouring obscure tracts I still haven't found the proof I need that Moses had Hershey Kisses and M&Ms as his go to snack on his way out of Egypt. Just know I live in hope that someday my scholarly search for chocolate will be vindicated.
In the meantime, I'm going to settle for some not so typical recipes for fruits and vegetables that have grown in abundance for thousands of years in the land of milk and honey.
PEAR POMEGRANATE SALAD
Dressing:
1 cup pomegranate juice
1/2 cup rice wine vinegar
2 tablespoons honey
Zest of 1 lemon
1 tablespoon Dijon mustard
2 green onions sliced thin
1 cup oil
salt and pepper to taste
In jar with a lid combine the pomegranate juice, vinegar, lemon zest, honey, green onions and Dijon mustard. Shake to combine, taste and then season with salt and pepper and shake to combine, set aside.
Salad:
1/2 cup pomegranate seeds
2 cups spinach greens
1 lb. chopped romaine or red leaf lettuce
1/2 cup chopped pecans
1 cup shredded Monterey Jack or Mozzarella cheese
3 ripe pears, cored and chopped into bite sized pieces
In a salad bowl combine the spinach and lettuce. Add 1/3 of the dressing and toss to coat. Add the pecans, cheese, pomegranate seeds and pear. Drizzle with a 1/3 of the dressing and toss to combine. Serve with remaining dressing. Serves 8.
DATES PINE NUTS AND ROASTED CAULIFLOWER
2 large heads cauliflower, cut into florets
salt and black pepper, to taste
nonstick cooking spray
5 to 6 tablespoons butter or olive oil
2/3 cup pine nuts
2 teaspoons minced garlic
1 cup pitted dates, coarsely chopped
Preheat the oven to 425. Spread the cauliflower on a baking sheet, lightly spray with cooking spray and then season with salt and pepper. Roast tossing once with a spatula, until lightly golden brown, about 20 minutes.
In a skillet melt the butter or heat the oil and saute the pine nuts, stirring constantly for about 4 to 5 minutes. Add the garlic and dates and continue cooking and stirring until the dates are soft, 2 to 3 minutes. Season to taste with salt.
Place the hot cauliflower to a serving bowl. Add the date mixture and mix to combine. Serve warm or at room temperature. Serves 8
Modified from a recipe by Claire Robinson