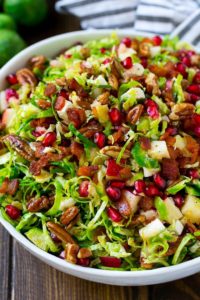 I want FANTASTIC SALADS for my holiday meals. Not the same old iceberg or romaine with chopped carrots for my guests, Nope, it has to be something special and out of the ordinary. While browsing in the produce aisle I came across some amazing looking Brussels Sprouts and Voila, inspiration struck.
So, I'm going to get this out of the way as quickly and "delicately" as possible. Brussel Sprouts can and do cause gas and the last thing anyone wants to think about during the holidays is when and where they may accidently "toot". However, their delicious quotient and a little judicious adding of ingredients can convert them into a salad not only fit for your holiday table but can minimize the potential for a sound that is not the shofar.
APPLE BRUSSEL SPROUT SALAD
2 tablespoons red wine vinegar
1/4 cup olive oil
1 tablespoon honey
1/4 cup chopped parsley
1/2 teaspoon kosher, or salt to taste
1/2 teaspoon black pepper, or more to taste
1/2 cup chopped walnuts or pecans, toasted
2 lb. brussels sprouts, shredded
2 large Fuji, Granny Smith or Honeycrisp apple, cored and thinly sliced
1/4 cup pomegranate seeds
In a small bowl whisk together the vinegar, olive oil, honey, half the parsley, salt and pepper. Set the dressing aside.
In a salad bowl combine the brussels sprouts, apples, pomegranate seed and nuts with half the dressing. Mix to coat. Sprinkle the remaining parsley on top and serve with the remaining dressing on the side. Serves 8.
KALE, MANDARINE ORANGE AND BRUSSLES SPROUT SALAD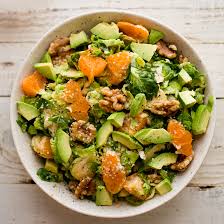 1/4 cup fresh lemon juice
2 tablespoons Dijon mustard
1 tablespoon minced shallot or green onion
1 teaspoon minced garlic
1/4 teaspoon kosher salt plus more for seasoning
Freshly ground black pepper
2 large bunches of kale (about 1 1/2 lb. total), stemmed and sliced thin
1-pound brussels sprouts, trimmed, grated or shredded thin
1/2 cup olive oil
1/2 cup almonds, chopped and toasted (yes, they should be toasted) *
2 cans mandarin orange pieces, drained
In a bowl combine the lemon juice, oil, Dijon mustard, shallot, garlic, salt, and a pinch of pepper. Whisk to combine taste and add more salt and pepper as desired and set aside.
In a salad bowl combine the kale, mandarine oranges and shredded brussels sprouts. You can make this up several hours before you want to serve, just cover and refrigerate. Just before serving whisk the dressing and drizzle it over the top of the salad. Toss to coat and sprinkle the toasted almonds over the top. Serves 8.
*I have used chopped smoked almonds in this salad and it's delicious!
PASTRAMI AND BRUSSELS SPROUT SALAD
For the dressing
3/4 cup olive oil
1/3 cup rice wine vinegar
2 teaspoons minced garlic
1 1/2 tablespoon honey
1/2 teaspoon salt
1/2 teaspoon pepper
For the salad
1 1/2 to 2 pounds brussels sprouts, shredded
4 to 6 stalks of celery, sliced thin
4 to 6 green onions, sliced thin
6 radishes, sliced
1/3 to 1/2 pound regular or turkey pastrami, chopped
1 cup almonds chopped
1/2 cup pine nuts
In a bowl (or jar with a lid) combine the oil, vinegar, garlic, salt, and pepper. Whisk to combine and set aside. This can be made a day in advance.
In a salad bowl combine the brussels sprouts, celery, radishes, green onions, pastrami, almonds and pine nuts. Drizzle ½ the dressing over and mix to coat. Serve with remaining dressing on the side. Serves 8.