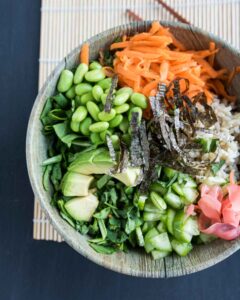 Spring is here and I've to my amusement and horror gained more winter/Covid lockdown weight than I care discuss (seriously in my elastic waistband phase at the moment). I am now officially in salad mode. I'm searching for more than iceberg but less than a cobb with full fat dressing and all the fixings.
Too many people believe that salad is the way to go for keeping the calories down and then, they destroy all good intentions  when  they slather on the dressing and croutons (they're small right, not sooooo many calories  with only 5 or 20 on top, right??). The truth is that most of the  ready made dressings we use are full of fat and chemicals and lots and lots of preservatives. the diet ones, well most not only have tons of chemicals you can't even pronounce, they don't really taste like much of anything remotely resembling the full fat stuff.  Yes, I'm guilty of using them but typically they are just a small portion of another dressing I make myself. You'd be better served using an olive oil and vinegar or lemon juice with just a pinch of salt and pepper to dress the greens. As for the croutons, well, bread is bread and when you add in the fact they're salted and seasoned and often fried well, better off sprinkling a few sunflower seeds or some chopped pecans for the crunch and flavor. As for adding meats or cheeses. Well, ok, sparingly and as an accompaniment not the main ingredient or you'll defeat the purpose of the salad. The vegetables are supposed to be the main attraction.
The following recipes are all user friendly, simple to make and use fresh ingredients so have at them and skip the add ins. They only thing you will miss is the calories.
NUTTY ASPARAGUS AND LEMON SALAD
1/2 cup finely chopped red onions
1/3 cup fresh lemon juice
2 teaspoons honey Dijon mustard
1 teaspoon honey
1 1/2-to-2-pound asparagus, trimmed, cut off the tips and save them
4 radishes, cut into matchstick pieces
4 green onions, sliced thin
1/4 to 1/3 cup pine nuts (toasted)
2 tablespoons finely chopped fresh parsley
In a large bowl, whisk together red onions, lemon juice, asparagus tips, mustard and honey. Mix to combine. With a vegetable peeler, start peeling the asparagus spears into thin ribbons into a serving bowl. Add the chopped radish and sliced green onions.  Drizzle the dressing with the tips over the ribbons of asparagus and toss to coat. Sprinkle the top with parsley and nuts. Serves 6. This recipe can be doubled or tripled.
AVOCADO MANGO SALAD
2 ripe avocados, cubed
3 tablespoons lime juice, divided
2 mangoes, peeled and cubed
1 jalapeño seeded and minced (you can substitute 2 tablespoons chopped red bell pepper)
1 teaspoon lime zest
2 tablespoons chopped cilantro or parsley, plus more for garnish
1/2 teaspoon kosher salt
1/4 teaspoon black pepper
1 teaspoon sugar
3 tablespoons olive oil
1 (15-ounce) can black beans, rinsed and drained
1 tablespoon black or white sesame seeds
In a salad bowl combine the avocado with 1 tablespoon of the lime juice. Gently mix to combine. Add mango pieces and jalapeno and gently mix to combine to combine, taking care not to smash the avocado. Place the rinsed and drained black beans in a separate bowl and set them aside.
In a jar with a lid combine the 2 tablespoons lime juice, lime zest, sugar, salt and pepper and cover with the lid. Shake to com and pour the dressing over the top of the black beans and mix to coat.  Add the beans to the avocado mixture and gently mix to combine. You can serve this in a big bowl or spoon it onto individual salad plates garnish with parsley/cilantro  and the sesame seeds and serve. Serves 4. This recipe can be doubled or tripled
DECONSTRUCTED SUSHI SALAD
2 cups cooked brown rice
1/4 cup, plus 3 tablespoons rice vinegar
1/4 cup brown sugar
1 1/2 teaspoons salt
1 tablespoon sesame seeds
2 tablespoons oil
1 tablespoon sesame oil
3 green onions, chopped
2 medium carrots, chopped
1 large seedless cucumber, peeled and chopped
1 cup shelled edamame
2 sheets nori, cut into thin strips (sheets of dried seaweed) (optional)
1 avocado, peeled, pitted, and sliced
1 package kosher mock crab, cut into small cubes or shredded (optional if you're vegetarian or vegan)
For the dressing:
2 teaspoons wasabi powder
1 tablespoon hot water
2 tablespoons cold water
2 tablespoons soy sauce
2 teaspoons minced ginger
2 teaspoons honey
In a small saucepan combine the 1/4 cup vinegar, sugar and salt and bring to a boil, stirring until sugar is dissolved. Remove from heat and cool. When the mixture is cool add the vinegar mixture to the rice and mix to combine. Add the sesame seeds, oil, green onions, carrot, cucumber, edamame, and nori strips. Mix to combine and to with the sliced avocado slices.
Dressing: In a small bowl, stir the wasabi powder into hot water. Mix to dissolve then stir in cold water, soy sauce, honey and ginger. Drizzle dressing over salad and serve.
CAULIFLOWER AND PEA SALAD
10 ounces frozen baby peas
1 cup fresh cauliflower, chopped
1 cup celery, diced
1/4 cup green onions, chopped
1 cup cashews, chopped
4 or 5  sliced radishes
2 cups shredded red leaf or Romaine lettuce
1/2 cup low fat sour cream or nondairy sour cream substitute
1 cup low fat or fat free ranch salad dressing or poppy seed dressing
In a bowl combine the sour cream and salad dressing and mix to combine. In a salad bowl combine the  peas, cauliflower, celery and green onions. Spoon the dressing over the top and mix to coat. Cover and refrigerate for at least 2 hours. When ready to serve add the shredded lettuce and sliced radishes and mix to combine. Sprinkle the cashews over the top and serve. Serves 4 to 6. Can be double or tripled.
© Eileen Goltz salad 21