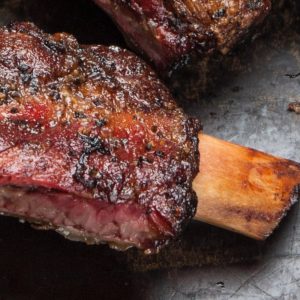 The fourth of July is one of those holidays that everybody in the U.S. celebrates regardless of race, religion, sex, shoe size or eye color. If you're near any type of town with more than 6 people living it, you can enjoy almost inevitably enjoy a parade, fire works, a band concert, a picnic or that the very least, everyone celebrating a day off from work. This is one of the few holidays left that hasn't been regulated to a Monday and that greeting card companies don't haven't funded a major ad campaign on "remembering that special someone by the rockets red glare" You don't have to participate in any organized activity on the 4th, it just sort of happens all around you.
The 4th is also the High Holidays of Grilling. Chefs across the land will be lighting up those briquettes or clicking on those electric starters to get the maximum burn on those burgers, hot dogs or my personal favorites , BEEF AND LAMB RIBS!!!!
Having just the right sauce to go with that special slab (or burger, or chicken) can take years of experimentation and stuffing yourself until you want to explode (not to mention dripping sauce all over yourself and the table).  Yes there are dozens of "store bought" brands to choose from but after extensive trial and error I'm proud to present a slew (not slaw, that stuff is on the table next to the ribs) of  HOMEMADE barbecue sauces and marinades. Some are hot enough to spontaneous combustion and others are as sweet as the brown sugar. All sauces can be used when you grill fish.
So….fire up those grills, pull up the lawn chairs and get ready to chow down; just remember to bring the extra napkins.
SOUTHWEST BARBECUE SAUCE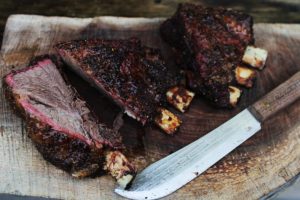 1 small onion, quartered
1 clove garlic
juice o f 1/2 lemon
1 cup ketchup
2 tablespoons vinegar
1 teaspoon dry mustard
1/2 teaspoon basil
3 tablespoons brown sugar
1 teaspoon salt
1/4 teaspoon ground pepper
1/2 cup raisins
2/3 cup oil or melted margarine
Blend all the ingredients in a blender or food processor until smooth. Remove and place in a sauce pan. Simmer for about 45 minutes and then cool. You can make this up several days before you wish to use it. Makes 2 cups.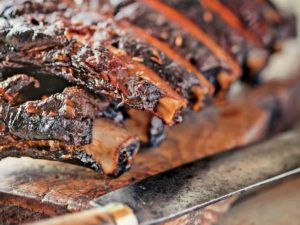 WESTERN SUNSET BARBECUE SAUCE
3 (15 ounce) cans tomato sauce
1/2 cup lemon juice
1/4 cup soy sauce
1/4 cup dark corn syrup
3 drops Tabasco sauce
2 teaspoons salt
2 tablespoons season salt
1/2 tablespoon oregano
2 teaspoon garlic powder
2 onions, finely chopped
1/2 pound brown sugar
1 can crushed pineapple
In a large sauce pan place the tomato sauce, lemon juice, soy sauce and corn syrup. Cook over a medium heat, stirring constantly, for about 10 minutes. Add the Tabasco sauce, salts, oregano and garlic powder. Cook 10 minutes, stirring occasionally. Add the onions, brown sugar and pineapple. Cook for an additional 15 minutes, stirring occasionally. Let cool and it's ready to use. This is fantastic with burgers. Makes 4 cups.
PINEAPPLE MUSTARD GLAZE
1 1/3 cup chicken broth
1 12 ounce can frozen pineapple juice concentrate, thawed
1 tablespoon soy sauce
tablespoon Dijon mustard
2 teaspoons Tabasco sauce
In a medium sauce pan boil the chicken broth until it's been reduced to about 1/2 a cup (about 10 minutes). Cool and pour into bowl. Add the pineapple concentrate, soy sauce, Dijon mustard, and Tabasco sauce. Mix well. This glaze can be used in place of a barbecue sauce. It's wonderful with ribs and chicken.