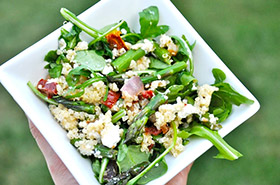 This post is an homage to the classic song "the beet goes on". Ok, so shoot me, I'm a child of the 60's and I love this vegetable. I've always wondered what the poor misunderstood beet did to deserve such a bad reputation. I say, if you took the time to get to know the beet, you'd find out that it's more than just another pretty vegetable. They're delicious, really, they are. And they're red. Who doesn't like red food?
Beets are one of the few sources of the pigment called betalain. Betalain is a powerful antioxidant that fights the damage caused by free radicals. Beets also contain potassium, vitamins A and C, magnesium, riboflavin, iron, copper, calcium and zinc. There many variety of beets and they run the color spectrum from gold to deep deep red. You should choose small or medium-sized beets whose roots are firm, smooth-skinned and deep in color.
They do, however, have one big draw back, they can stain your hands, counter tops and cutting board as well as your clothes. Just be extra careful when peeling or cutting raw beets; wear rubber gloves and an apron. One alternative solution is to simply roast the beets whole. Since they're roasted whole, you don't have to deal with getting you hands dirty by peeling or cutting them. To prepare beets for roasting, simply scrub the skin. Don't peel them, or trim off the little tails on the bottom. Remove the greens, but leave an inch or two of the stems. You can wrap them in foil or roast them in a roasting pan.  Once the beets are cooked and cooled, simply pull the skins off with your hands.
One last beat on my beet drum. The color and flavor of beets work best when paired with acidic ingredients. The following recipes call for the beets to be marinated in or cooked with orange juice, lemon juice or vinegar. This acid/beet pairing accomplishes two things. It helps preserve the deep color and the flavor of the juice/vinegar compliments the sweetness of the beets.
ROASTED BEET AND PORTABELLO SALAD (pareve or dairy)
3 medium beets
3 Portabello mushroom caps
2 tablespoons olive oil
salt and pepper to taste
4 oz. mozzarella cheese (optional)
10 ounces baby spinach
1/4 cup picked parsley leaves
1/4 cup pecan or walnut pieces
2 green onions, white part only, sliced into thin rounds
3/4 cup olive oil
1/4 cup balsamic vinegar
1/2 teaspoon Dijon mustard
salt and freshly ground black pepper to taste
Preheat the oven to 400. Scrub the beets and place on a large sheet of foil, sprinkle with 1 tablespoon of olive oil and fold in the sides to make a  packet. Clean the mushroom caps, place them on another large sheet of foil, drizzle with 1 tablespoon of olive oil, season with salt and pepper. Like the beets fold up the sides to make a packet. Place both packets on a rimmed cookie sheet in the oven. Bake the mushrooms for approximately 20 minutes, or until cooked through. Bake the beets for approximately 45 minutes, until they are tender when pierced with a knife. Meanwhile, in a bowl combine the vinegar, mustard and olive oil and set aside. When the beets and mushrooms are fully cooked, remove from the oven. Slice the mushrooms into strips. With a knife, remove the tops of the beets, peel the skins off with your hands (use plastic gloves). Slice the beets and combine them in a bowl with the warm mushrooms.. Cover with foil. Until ready to serve. In a large salad bowl, combine all the ingredients except the cheese. Divide the salad onto 4 plates and top with cheese. Serves 4.
HONEY BEETS IN QUINOA (pareve)
I love using quinoa, but brown rice and couscous also work nicely.
6 beets, roasted
1/4 cup honey
1 1/2 cups orange juice
juice of 1 lemon
1/2 cup olive oil
3 cups cooked quinoa, or another grain such as brown rice or couscous
1 cup crumbled feta cheese, or shredded Parmesan (optional)
1 cup toasted walnuts or almonds, roughly chopped
1/2 cup chopped fresh basil
1/2 cup chopped parsley
6 minced green onions
5 to 6 cups salad greens,
In a bowl combine the honey, orange juice and lemon juice. Dice the roasted beets and marinate them in orange and lemon juice and honey for at least one hour. In another bowl combine the olive oil, quinoa, walnuts, basil, parsley and green onions. Mix to combine. Drain then add the beets to the quinoa. Mix to combine and then add the cheese if using, mix to combine. Chill at least one hour to allow flavors to blend. Serve on bed of salad greens.  Serves 6.