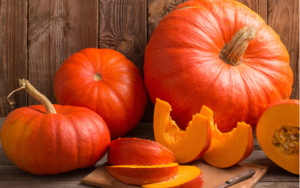 For most people when they hear the words "fall" and "pumpkin" the default idea that pops up seems to be pumpkin pie. Me, not so much. I am soooooo not a fan of the pie but savory pumpkin recipes, yes please.
I am all about doing fresh. Yes, using the canned stuff is ok in a fix but, know this, most of what you think is pumpkin in the can is not always just pumpkin. Seriously??? So what exactly is in that canned called pumpkin puree?
Well, its pumpkin and/or squash.
Sorry to burst your pumpkin loving bubble but much of the canned "pumpkin" you're buying actually a mixture of one or more types of winter squash. Think butternut, Hubbard and Boston Marrow. These squash taste almost the same as pumpkin but are sweeter and have a deeper coloring than most pumpkins. Just so you know NOW is the time to get your pumpkin fix. Buy it fresh, cook it up and freeze it in 2 or 3 cup measurements and you can have fresh pumpkin all year around. Like I said, now is go time since 80% of the available pumpkin crop is for picked and for sale from early October to mid-November. So while you're looking for that perfect pumpkin ponder these wonderful pumpkin facts:
If you like, you can eat every part of a pumpkin, skin, leaves, flowers, pulp and of course the seeds.
The first time word "pumpkin" showed up in literature was in the fairy tale Cinderella.
Jack-o'-lanterns were first created in England and Ireland and created from turnips, beets and potatoes
95% of the pumpkins grown in the U.S. are harvested in Illinois
Pumpkin typically have about 500 seeds each
Pumpkins are actually a fruit.
ROASTED ONION AND PUMPKIN QUICHE
1 tablespoon olive oil
2 large sweet onion, sliced thin
1 tablespoon honey
3 tablespoons of white wine
2 cups fresh pumpkin (or butternut squash), peeled and cut into bite sized pieces
1 tablespoon olive oil
salt and pepper to taste
8 sheets phyllo dough, thawed
1/4 cup olive oil
4 eggs, lightly beaten
1 cup half and half (or 1 cup whipping cream)
1/2 cup grated parmesan cheese
1 tablespoon fresh sage, thinly sliced
Preheat oven to 350. Heat the oil in a pan and sauté the onions. Cook for 2 minutes then add the honey. Mix to combine and then cook, stirring occasionally for 10 to 15 minutes until the onions are soft and lightly golden. Reduce the heat, add the wine, mix to combine and cover. Cook for an additional 20 to 30 minutes (remove the lid and stir at the 10 and 20 minutes) until the color of the onions becomes a deep golden. Remove lid, remove from heat, remove lid and cool for 30 minutes.
Preheat oven to 350. In a bowl combine the pumpkin or squash, olive oil and salt and pepper. Toss to coat and then roast the pumpkin on a cookie for 25 to 35 minutes until softened.
Grease a 9 or 10 inch spring form pan with olive oil. Place a sheet of phyllo pastry with into the bottom of the pan with the edges hanging over the side of the pan. Lightly grease the sheet and place another sheet on top slightly angled so that the sheets and sides are covered all around the sides. Repeat until all the sheets are gone.
In a bowl combine the onions, pumpkin, eggs, milk, cheese and sage. Mix gently to combine and spoon the mixture it into the crust. Roll the overlapping edges of the filo dough to form a crust. Bake 30 to 40 minutes until golden brown and set in the center, Serves 6 to 8.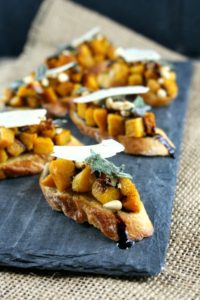 PUMPSCHETTA
4 cups fresh pumpkin, peeled and cut into small dice
1 loaf French bread cut into16 slices (1/2 inch thick)
Olive Oil
Salt and pepper
1/4 cup grated or shaved Parmesan
3 Tablespoons pine nuts, toasted
8 Large fresh basil Leaves
3/4 cup balsamic vinegar
Preheat oven 350. Brush each slice of bread with olive oil on each side. Lightly sprinkle salt. Preheat oven to 350 degrees. Lay all sliced on a cookie sheet. Cook for about 10 minutes or until light golden brown. Set aside to cool.
Arrange cubes of pumpkin onto a cookie sheet with sides. Drizzle olive oil over the top and sprinkle with salt and pepper. Mix to coat. Roast for about 30 to 35 minutes or until the pieces are soft. Remove and let cool.
In a sauce pan, add the balsamic vinegar and cook on medium until it reduces and becomes a thicken consistency similar to maple syrup.
Using a spoon divide the pumpkin between the toasted slices of bread. Divide the pine nuts between the slices an sprinkle them on top of the pumpkin. Drizzle a little of the reduced balsamic vinegar over the top and garnish with the pine nuts, sage leaves and a little parmesan cheese. Makes 16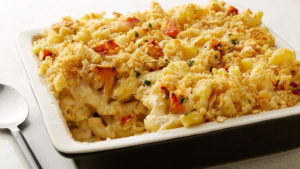 PUMPKIN SEAFOOD, CHEESE & PASTA BAKE
1 (12 ounce) package rotini pasta, cooked and drained
2 tablespoons butter
1 small onion,
1 tablespoon flour
1 1/2 cup half and half
1 cup cheddar cheese
1 (8 ounce) container cottage cheese
2 cups pumpkin puree
salt and black pepper to taste
1/4 teaspoon garlic powder
1/4 teaspoon paprika
1 to 2 packages fake crab cut into bite size pieces (as much or as little as you like)
1/2 to 2/3 cup panko bread crumbs
1/3 to 1/2 cup grated Parmesan cheese
2 tablespoons butter, melted
2 dashes hot sauce (optional)
Preheat the oven to 375. Grease a 9×13 baking dish.
In a sauce pan saute the onion in 2 tablespoons of butter. When soft add in the flour. Mix to combine and cook, stirring for about 2 minutes. Slowly add the half and half cooking while whisking. Simmer and whisk for 2 to 3 minutes. Whisk in the cheddar cheese and cottage cheese and whisk until the cheddar cheese melts 4 to 5 minutes. Add the pumpkin puree, salt, black pepper, garlic powder, paprika, nutmeg, and hot sauce (if using) and whisk to combine. Remove from heat and add the fake crab and pasta. Mix to combine.
Pour the pasta mixture into greased pan and sprinkle the panko crumbs and Parmesan cheese on top. Drizzle 2 tablespoons of melted butter over the top and bake 30 to 40 minutes until bubbly and golden on top. Serves 6 to 8.
© Eileen Goltz pumpkin 2018