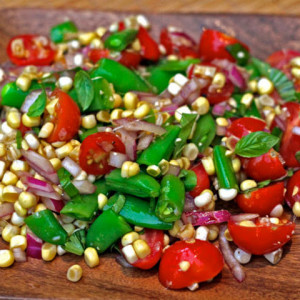 Spring=asparagus, right? Well, sure if you want to keep to a tried and true, woo hoo, welcome to warmer weather, loss leader, finally, almost affordable vegetable. For me, other than for Pesach, the best bang for your buck, who knows what price spring vegetable I say the sugar snap pea is the way to go. (The flatter snow pea is an acceptable substitute if you can't find the sugar snap but the sugar snap is truly sweeter, crunchier and tastier)
These hybrid of green peas and snow peas is of chock full of vitamin C and B as well as being equally delicious raw, lightly blanched (to keep the green, green) stir fried and as a garnish. When buying look for firm, wholly green crisp pods. And duh, they should snap when you break them in half.
The following recipes are all simple and can be thrown together and prepared in under 30 (some as little as 10) minutes.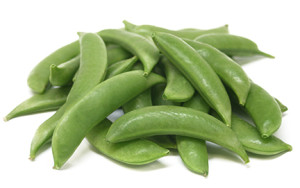 NOTE: some sugar snaps have a tough string along the edge of the top. This string needs to be removed before cooking. Just grab the stem and gently pull it, it should easily "un-zip" from the snap.
SUGAR SNAP AND MUSHROOM SAUTE (pareve)
2 tablespoons oil
10 to 12 oz mushrooms sliced (any or all mixed: cremini, button, baby bella, oyster)
3 cups sugar snap peas, ends trimmed
1 1/2 cup sliced green onions (white and green parts)
1 heaping tablespoon minced garlic
1 can sliced water chestnuts, drained
2 tablespoons soy sauce
1 red bell pepper, diced
Heat the oil in a large skillet. Add mushrooms, snap peas and green onions and saute, stirring constantly, until snap peas are bright green and mushrooms have released their liquid, 3 to 4 minutes. Add garlic and red bell pepper and cook stirring constantly for 1 minute. Add the soy sauce and water chestnuts and cook for 3 to 4 minutes, stirring constantly. Serve immediately. Serves 4. This recipe can be doubled or tripled.
My files, source unknown
CHOP CHOP SNAP PEA SALAD (pareve)
1 red or yellow bell pepper, seeded and julienned
1 large carrot, sliced into THIN rounds
10 to 12 oz. snap peas, edges trimmed and cut in half
2 green onions, sliced thin
4 to 5 radishes, sliced thin
3 stalks celery, sliced thin
1 head romaine lettuce, shredded
1 tablespoon peanut oil
1 tablespoon rice vinegar
1 tablespoon soy sauce
1 tablespoon brown sugar
½ teaspoon hot sauce
¾ teaspoon minced fresh ginger
1 cup honey roasted peanuts
In a salad bowl combine the snap peas, pepper, carrots, radishes, celery and lettuce into a large salad bowl and set aside. In another bowl combine the oil, vinegar, soy sauce, brown sugar, hot sauce, and ginger in a small bowl. Whisk to combine.
Pour the dressing over the salad and mix to combine. Sprinkle the peanuts over the top and serve.  Serves 6 to 8.
My files, source unknown
COUSCOUS AND SUGAR SNAP PEA SALAD (pareve)
1 1/2 cup Israeli couscous, cooked according to the package directions and cooled
1 lb. sugar snap peas, edges trimmed and cut in half
1/2 red onion, diced fine
15 o 20 cherry tomatoes, cut in half
1 shredded carrot
1/4 cup fresh chopped parsley
1 tablespoon lemon juice
2 tablespoons olive oil
1 teaspoon sugar
Salt and pepper to taste
.In a bowl combine the cooked couscous, snap peas, red onion, parsley, carrot and cherry tomatoes. Mix to combine. In another bowl whisk together the lemon juice, olive oil. Drizzle the dressing over the salad, mix to coat, season with salt and pepper to taste. Let sit for at least 20 minutes before serving for the dressing flavors to meld with the couscous and vegetables. This salad can be made in the morning, covered and refrigerated, but then don't add the tomatoes until just before you serve it. Serves 6 to 8 as a side salad.
SALAMI SNAP PEA SALAD (meat)
1/2 pound salami, cut into bite sized pieces (you can use chopped turkey pastrami)
1 1/2 to 2 cups ounces sugar snap peas (blanched for 1 minute)
1 1/2 cups corn kernels (fresh is best but canned or frozen is ok)
1 English cucumber cut into ¼-inch dice
1 carrot, peeled and shredded
1 red bell pepper, cut into ¼-inch dice
1/2 cup sliced radishes
6 green onions, thinly sliced
10 to 15 cherry tomatoes, cut in half
3 cups fresh spinach, chopped (you can use 1/2 spinach and 1/2 red leaf lettuce)
Vinaigrette
2 tablespoons rice wine vinegar
1 tablespoon fresh lemon juice
1 tablespoon Dijon mustard
2 teaspoons minced garlic
2 teaspoons sugar
1/2 cup olive oil
Salt and black pepper, to taste
In a jar with a tight lid combine the vinegar, lemon juice, mustard, garlic, sugar and oil. Put the top on and shake to combine. Set aside. (You can do this in a blender or food processor if you prefer but this is easier and you have a built in storage container) Season with salt and pepper.
In a bowl combine all the salad ingredients EXCEPT the salami. Drizzle the 2/3's (some people prefer to use it all) of the dressing over the top and toss to coat. Sprinkle the chopped salami over the top and serve with the remaining dressing. Serves 6 to 8.