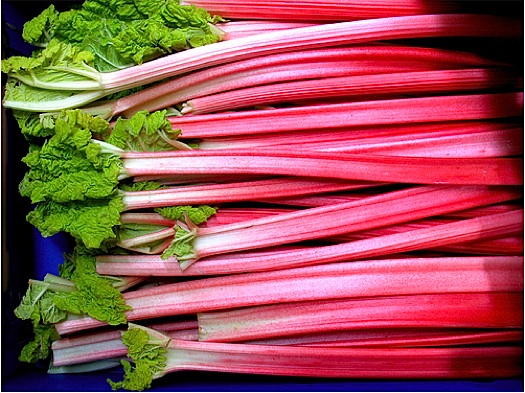 When it comes to cooking I typically don't include ingredients that have "parts" that are mildly toxic. However, when it comes to rhubarb, I make an exception. Yes, the leaves of the rhubarb plant are mildly poisonous so DON'T EAT THEM. The stalks of the plant, on the other hand are celery-like in appearance and when cooked and combined with sugar (it mitigates the tartness) you have a wonderful full bodied treat that pairs well with other ingredients to create awesome cakes and pies and sauce and compotes.
Your rhubarb stalks should be a bright pink or light green and firm. The deeper the red stalks the sweeter they typically are. Wash the stalks well and trim off the leaf and root ends. If they appear to be particularly fibrous peel off some of the tougher strings. You really shouldn't was the rhubarb until you're ready to use it as it can start to spoil if water is left on it. Fresh and cooked rhubarb freeze well and the following recipes are guaranteed to get you started on your love affair with newest favorite spring vegetable (Although rhubarb usually prepared as if it were a fruit it's actually a vegetable, surprise!!)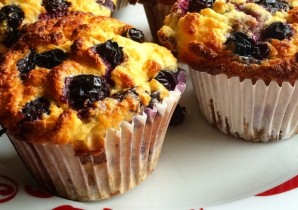 RHU-BERRY STREUSEL MUFFINS
For the Streusel
1⁄2 cup flour
1⁄2 cup sugar
2 tablespoon brown sugar
1⁄2 teaspoon lemon zest
1⁄4 teaspoon almond extract
4 tablespoons butter, cubed
1⁄2 cup slivered almonds
For the Muffins
2 3/4 cups flour
1/4 cup flour (for coating rhubarb and berries)
2 teaspoon baking powder
1⁄2 teaspoon kosher salt
1⁄4 teaspoon baking soda
1 cup sour cream
1 cup sugar
1⁄2 cup brown sugar
1⁄2 cup oil
2 eggs, lightly beaten
1 teaspoon vanilla
12 oz. rhubarb (about 2 medium stalks), cut into 1⁄4″ pieces
1/2 cup raspberries
Streusel: In a bowl combine the flour, brown and white sugars, lemon zest, vanilla and almond extract. Add the butter and using a fork mash in the butter and almonds until it's mixed makes clumps. Cover and refrigerate.
Grease and flour 12 cup muffin pan. Preheat oven to 350. In a bowl combine the flour, baking powder, salt, and baking soda, Mix and set aside. In another bowl combine the sour cream, brown and white sugars, oil, eggs, and vanilla. Pour the liquid mixture into the flour mixture and mix until just combined. In a small bowl combine the rhubarb, blueberries and flour. Mix to coat and add them to the batter. Divide the batter between the 12 muffin cups and then top with the streusel. Bake 30 to 35 minutes until golden brown or a toothpick comes out clean. Cool before serving. Makes 12
CHICKEN WITH RHUBARB SALSA
1 red bell pepper, chopped
1 tablespoon minced garlic
4 to 5 green onions, sliced thin, white and green parts separated
1 tablespoon kitchen bouquet or soy sauce
1/3 cup olive oil
6 chicken leg and thigh pieces, not cut
Kosher salt
1 1/2 cups 1/4″ cubes rhubarb
1 cup 1/4″ cubes unpeeled seeded cucumber
1/2 cup coarsely chopped fresh parsley
1 tablespoon honey
1 tablespoon olive oil
1 teaspoon fresh lime juice
Salt and pepper
In the bowl of a food processer combine the red pepper, garlic, and white parts of scallions in a food processor until finely chopped. Add the kitchen bouquet or soy sauce and olive oil and process until combined.
Place the chicken on a baking sheet with sides. Poke with a fork 5 or 6 times to break the skin and season with salt and pepper. Generously brush both side with the sauce and then bake 20 to 25 minutes. Remove from the oven, turn it up to broil. When the temperature reaches broil place the chicken back in and broil for 2 to 3 minutes. Remover and let rest for 5 minutes before serving.
While the chicken is cooking, in a bowl combine the rhubarb, cucumber, parsley, remaining green onion, honey, oil and lime juice. Season to taste with salt and pepper and refrigerate for at least 15 minutes before serving. Serves 6.
TILAPIA WITH ORANGE SPINACH AND RHUBARB SAUCE
4 tilapia filets, 4 oz each
1 heaping tablespoon garlic
4 tablespoons olive oil
Finely chopped zest of 2 oranges
1/4 cup orange juice
Leaves from 1 sprig of rosemary
Salt and black pepper, to taste
5 sliced stalks rhubarb
1/2 lb baby spinach leaves
2 tablespoons wine vinegar
1/3 cup white sugar
Salt and black pepper, to taste
1/2 toasted slivered almonds
Lemon wedges, for garnish (optional)
In a saucepan combine the rhubarb and sugar. Add just enough water to cover the rhubarb by about an inch. Bring the mixture to a boil and cook, uncovered for 2 to 3 minutes, no more. Remove from the heat and drain (save the liquid). Place the rhubarb into a bowl. Return the liquid to the pan and add the vinegar, salt and pepper. Cook, uncovered until reduced by half. Remove from heat and set aside.
Add the spinach in the pan with the liquid and mix to combine. Cook for 2 minutes and remove from heat. Season the tilapia with salt and black pepper on both sides.
Heat the oil in a skillet. Heat to medium high and add the rosemary, garlic and orange zest, orange juice and cook, stirring for about 2 minutes. Add the tilapia and cook for 3 minutes. Turn the filets and cook an additional 3 minutes or until done.
Do not let the orange zest and garlic begin brown. Divide the spinach mixture between 4 plates and top with the hot tilapia. Using a spoon drizzle the remaining oil/orange mixture from the pan over the fish and top with toasted almonds and lemons if using. Serves 4.