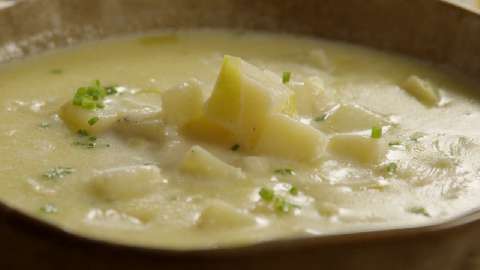 I am a soup person. I can eat if for lunch, dinner, before dinner, as a snack or just because I'm cold and not in the mood for hot cocoa or tea. While the big pot of bubbling, simmering for a couple of hours and filling the house with aroma kind of soup is my favorite every once in a while I get a craving for the sinfully delicious, calorie laden, throw everything you can think of in it potato soup.
I like my potato soups a variety of different ways, hence my accordion file stuffed to overflowing with recipes that I haven't even had the chance to try yet. I found that many of the recipes use dairy products to help thicken and enrich the flavor. Many of the soups are "dairy" as well as having their fair share of calories. SOOOOOO in the off chance you're counting calories or are lactose intolerant or like me, keeping kosher and mixing milk and meat is a no no just know that you can always substitute a nondairy product like almond, soy or rice milk or margarine when the recipe calls for milk, cream, half and half or butter and your preference is for real chicken broth instead of vegetable broth, the pareve stuff or water. For the vegetarians in the crowd, you can, of course substitute vegetable broth and the "veggie" fake meat in any of the recipes that call for meat but be aware, many of the "faux" meats actually have dairy ingredients or are made on dairy equipment.
NOTE: I like Yukon Gold potatoes best for soup, they add the creamiest texture to every dish you add them to.
SPINACH AND GARLIC POTATO SOUP
1 1/2 lb. Yukon gold potatoes, peeled and cut into small cubes
2 medium leeks, sliced
2 medium carrots, diced
2 teaspoons minced garlic
2 tablespoons olive oil
4 cups vegetable broth (you can use pareve chicken broth too)
1 cup light cream
1 cup packed fresh baby spinach
Croutons optional
In a soup pot heat the oil and then add the potatoes, leeks, carrots, garlic. Stir while cooking for 3 to 4 minutes. Add the broth and bring the mixture to a boil, then cover the pot, reduce the temperature to a simmer for 10 minutes or until vegetables are tender. Remove from heat and whisk in the cream then add the spinach. Mix to combine, cook for an additional 2 to 3 minutes making sure not to overcook the spinach.  Great with croutons as a topping. Serves 6.
HOT POT POTATO PEPPER SOUP
HEAT ALERT: This soup is a LITTLE spicy. For less fire just add a dash of the red pepper
3 medium Yukon Gold potatoes, cubed (2-1/4 cups)
2 cups vegetable or chicken broth
1 small green sweet pepper, chopped
1 small red sweet pepper, chopped
1 small yellow sweet pepper, chopped
1 small onion, chopped
1/4 cup oil, margarine or butter
1/4 cup flour
1/4 teaspoon salt
1/4 teaspoon black pepper
1/8 to 1/4 teaspoon ground red pepper flakes
3 cups milk
In a medium saucepan combine the potatoes and broth. Bring the mixture to a boil; reduce to a simmer and cook, covered for 10 minutes or until potatoes are tender. While the potatoes are cooking, in a skillet, heat the butter or margarine
Meanwhile, in a large saucepan, heat the oil and sauté the green pepper, red pepper, yellow
pepper, and onion until tender/still crunchy but don't let them brown. Add the flour, salt, black pepper, and ground red pepper the vegetables and mix constantly to combine and coat. Add the milk, mix to combine and cook and stir until thickened and bubbly. Cook and stir for 1 minute
more. Add this mixture to the undrained potatoes. Mix to combine, cook for an additional 4 to 5 minutes until hot throughout and serve. Serves 4. This recipe can be doubled or tripled.
modified from a Better Homes and Gardens recipe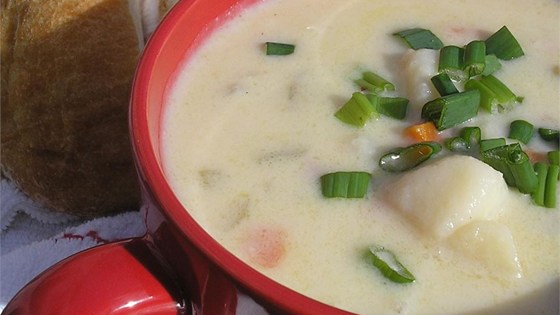 SCALLOPED ONION AND POTATO SOUP
6 tablespoons butter or margarine
3 large onions, thinly sliced
2 stalks celery, sliced thin
1 tablespoon of sugar
2 potatoes, thinly sliced
4 cups vegetable or faux beef broth
2 cups water
3 cups heavy cream or nondairy substitute
Salt
black pepper
4 English muffins cut in half and toasted
2 cups grated Parmesan and grated Swiss cheeses, mixed together
Melt the butter in a large casserole or pot. Add the onions, sugar and celery and cook, stirring occasionally, until brown and caramelized, about 15 to 20 minutes. Add the potatoes, broth, and water. Cover and bring to a boil. Reduce the heat to a simmer and cook until the potatoes are tender, 40 to 45 minutes (test with a fork, you don't want them to overcook fall apart). Add the cream mix to combine, cook for an additional 2 to 3 minutes for everything to get hot then season to taste with salt and pepper to taste. Set out 8 bowls. In the bottom of each bowl place one of the English muffin halves and divide the cheese between the bowls and sprinkle it on top of the muffin. Gently ladle the soup in to the bowl and serve. (Making it this way eliminates the need to have to put the soup in the oven to melt the cheese). Serves 8.