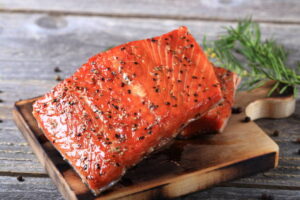 I try to do fish dinners every week. It's a healthy alternative to meat and chicken and while fresh salmon, tilapia and trout are all on my recipe list I make it a point to use smoked fish as often as I can. Smoked fish is not just a dish, best served cold (no wait, that's revenge) but rather as an ingredient that can be eaten cold as a side or warm as an ingredient in a dish that is something special. Making sure that there is a certification is really important as there are some companies that utilize ingredients that are not kosher. Some of my favorite brands are Honey Smoked Fish, Acme, Haifa Smoked Fish and Banner, all readily available in most grocery chains.
Smoking is one of the oldest methods of preserving fish, or any other meats for that matter. Long before there were refrigerators and freezers, our ancestors combined salt and smoke to keep foods from spoiling. While smoking is no longer "necessary," to preserve foods (we now have chemicals for that) it none the less remains a favorite flavor for fish like salmon, trout, sturgeon and sable.
Fish are either "hot-smoked" or "cold-smoked," depending on the temperature of the smoking chamber. In cold-smoking, the fish is slowly smoked, often for 24 hours or more, at a temperature from 60F to 110F. The best known cold-smoked fish is the type of smoked salmon variously known as "lox" or "Nova" Hot-smoked fish actually cooks during the smoking process, in which the smoke gradually reaches a temperature of up to 180F. There is also a salt and sugar method of curing but that's a whole different post.
You can't really slice the hot smoked fish the way you can lox, it tends to break into pieces. It is, however, perfect for cutting into small pieces or cubes and used in salads or pasta dishes.
PASTA WITH SMOKED WHITEFISH, TOMATOES AND GARLIC
6 tablespoons olive oil
1 large onion, minced
1 1/2 tablespoons minced garlic
1 red pepper, chopped fine
3 to 4 tomatoes, seeded and chopped
1/2 cup plus 2 tablespoons finely chopped fresh parsley
1 teaspoon dried red pepper flakes
1 1/2 to 2 pounds smoked whitefish (chubs), skinned, boned, coarsely flaked
12 oz. bow tie pasta, cooked, drained and kept warm
1/3 cup toasted pine nuts
Heat oil in heavy large skillet over medium heat. Add onion, chopped red pepper and garlic. Saute until the onions and pepper begin to soften, 2 to 3 minutes. Reduce heat to a simmer and add the tomatoes, 1/2 cup parsley and red pepper flakes and cook, stirring occasionally until tomatoes start to wilt, 7 to 8 minutes. Add whitefish and gently mix to combine. Cook 2 to 3 minutes until heated throughout. Add the tomato/fish mixture to the pasta. Season with salt and pepper and spoon into a serving bowl.. Sprinkle with 2 tablespoons parsley and pine nuts and serve. Serves 6 to 8.
TROUT VINAIGRETTE SALAD (fish)
1 1/2 to 2 lb. smoked trout or other smoked fish, skin removed and flaked
1 bag of slaw mix
6 green onions sliced thin
1/4 cup chopped parsley
1 granny smith apple chopped into small pieces
2 stalks of celery, chopped fine
1 head or Romaine or red leaf lettuce shredded
Paprika
1/2 cup toasted slivered almonds, optional
In a bowl combine the slaw mix, lettuce, green onion, parsley, celery, apple and fish. Drizzle the vinaigrette over the top and gently mix to coat.  Add dressing and mix thoroughly. Lightly sprinkle paprika over the top and garnish with the toasted almonds. Serves 4 as a main and 6 to 8 as a side.
Vinaigrette Dressing
1/3 cup olive oil
3 tablespoon rice wine vinegar
1/4 teaspoon salt
1/4 teaspoon ground pepper
1/4 teaspoon paprika
1 tablespoon honey
1 tablespoon brown sugar
Combine all the ingredients in a jar with a lid. Seal tight and shake to combine.
PENNE WITH SMOKED TROUT AND SNAP PEAS
1 lb. penne pasta
3/4 lb. sugar snap peas, trimmed and halved diagonally (can use frozen)
2/3 cup heavy cream
1 lb. smoked trout or white fish, skin removed, flaked
1 tablespoon lemon zest
1/4 cup chopped fresh dill
1/2 teaspoon salt
1/2 teaspoon black pepper
Cook the pasta for 3 minutes less than the directions on the package. With 3 minutes to go add the snap peas and cook the additional 3 minutes. Drain the pasta but save ¼ cup of the liquid. While the pasta is draining, pour the cream into the pan and heat gently for 2 to 3 minutes (to a simmer). At this point add the pasta, trout, and lemon zest, saved pasta water, dill, salt, and pepper. Gently toss until combined. Serves 4. This recipe can be doubled or tripled.
© Eileen Goltz sfish 21