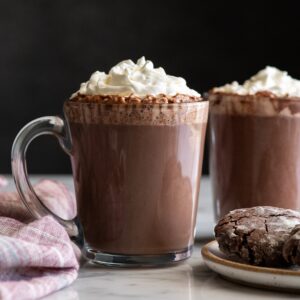 For thousands of years, people the world over have searched for the ultimate hot  drink to ward of the chill of winter. Yes, hot toddies, coffee, tea and warm cider are all great. However, in my personal recipe file for the ultimate recipe nothing and I mean nothing beats the flavor and satisfaction of a great mug of hot chocolate or hot cocoa
While both hot cocoa and hot chocolate seem to be different names for the same drink and are often used interchangeably there really is a difference between the two. They are as different as white chocolate is from bittersweet chocolate. Hot cocoa is made from cocoa powder, which is chocolate pressed free of all the fat from its cocoa butter.  Hot chocolate is typically made from chocolate bars or chocolate syrup melted into milk or cream. You can, of course, in a pinch and there is no other option, use the "premade stuff but seriously if you can help it,…why? The homemade stuff is 1000% better and bonus, you can make it as chocolatey as you like.
I say, what better way to jump start (breakfast in bed perhaps) or end (in front of a fire is always nice) your winter day than to prepare a luscious filling and downright delicious drink for your significant other, your kids or to just indulge yourself. As always, if you're not topping with whipped cream, kosher marshmallows are a great option. If you want to make the hot cocoa pareve you can always substitute rice or soy milk or even water.
There are a few of the recipes that do call for a liqueur. If you don't drink alcohol you can always substitute flavor extracts (i.e. Almond, cherry, hazelnut)
BROWN SUGAR HOT COCOA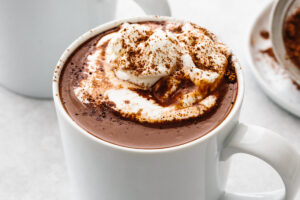 Adding brown sugar makes this cocoa recipe extra sweet. It doesn't, however, mask the rich taste of chocolate that's melted into this hot cocoa.
3 oz unsweetened chocolate
1/3 cup water
4 cups hot milk
3/4 cup brown sugar, packed
1/8 teaspoon salt
In a double boiler, melt the chocolate and water together. Slowly mix in the milk, sugar and salt. Whisk until chocolate is smooth and blended. Serve immediately. Serves 4.
INDULGE YOURSELF HOT CHOCOLATE
This recipe calls for two different kinds of chocolate, and it's whipped frothy. The half and half cream makes for an extra rich cup of cocoa.
1 cup milk
1 cup half and half
8 teaspoon sugar
1 oz semisweet chocolate, chopped
1 oz unsweetened chocolate, chopped
1 tablespoon brown sugar
1/2 teaspoon vanilla
In a sauce pan combine the milk, half and half, sugar, semi sweet and unsweetened chocolate and the brown sugar. Heat everything in a saucepan, whisking occasionally, until the chocolates melt and sugar dissolves. Pour half of the mixture into a blender and mix until foamy. Return to the saucepan, and add vanilla. Stir briefly then serve. Serves 4.
HOT TODDY HOT COCOA 
4 oz bittersweet chocolate, finely chopped
1/2 cup whipping cream
2 cups milk (not skim)
3 oz amaretto (or 1 teaspoon almond extract)
Chop the chocolate into very fine pieces, no bigger than 1/4″ in size, and put into a small bowl. Combine the milk and cream in a sauce pan and bring the mixture to a boil. Pour the mixture over the chocolate and let sit for 30 seconds or so then stir slowly to blend the chocolate and cream together. Put the amaretto into 2 large mugs, and then pour the chocolate mixture over it. Stir to mix the liquids and serve. Serves 2
MEXICAN HOT COCOA 
The addition of the chili powder, while not familiar to most, is a wonderful way to add an authentic south of the border flavor to your cocoa
2 cups evaporated milk (NOT CONDENSDED)
1/2 cup milk
1/2 cup chocolate liqueur
1 teaspoon vanilla extract
1/4 cup sugar
1 tablespoon unsweetened cocoa
1 1/2 teaspoons ground cinnamon
1/4 teaspoon ancho chili powder
6 cinnamon sticks
2 1/2 ounces bittersweet chocolate, broken into pieces
1/4 cup whipping cream
In a sauce pan combine the evaporated milk, whole milk, liqueur, vanilla, sugar, cocoa, 1 teaspoon of cinnamon and chili powder and whisk to combine. Add 2 of the cinnamon sticks and cook gently over medium-low heat until warm. Add chocolate and cook, whisking until melted. Gently bring the mixture to a high simmer; reduce heat and simmer until liquid thickens and reduces slightly, whisking often, 10 minutes. Combine the cream with remaining 1/2 teaspoon cinnamon and beat until peaks form. Ladle 2/3 cup hot cocoa into each of 4 mugs top with 2 tablespoons whipped cream and garnish with a cinnamon stick. Serves 4.
CHERRY HOT COCOA
3/4 cup unsweetened cocoa
2/3 cup sugar
4 cups milk
1 1/2 cups hot strong coffee
1/2 cup cherry liqueur (or cherry extract)
Whipped Cream (optional)
Combine cocoa and sugar in a 2-quart saucepan. Stir in the milk. Heat, stirring, until very hot but not boiling. Remove from heat and stir in coffee, and cherry liqueur or extract.  Cool Slightly. Pour into 4 mugs. Garnish with whipped cream and serve. Serves 4.
© Eileen Goltz cocoa21