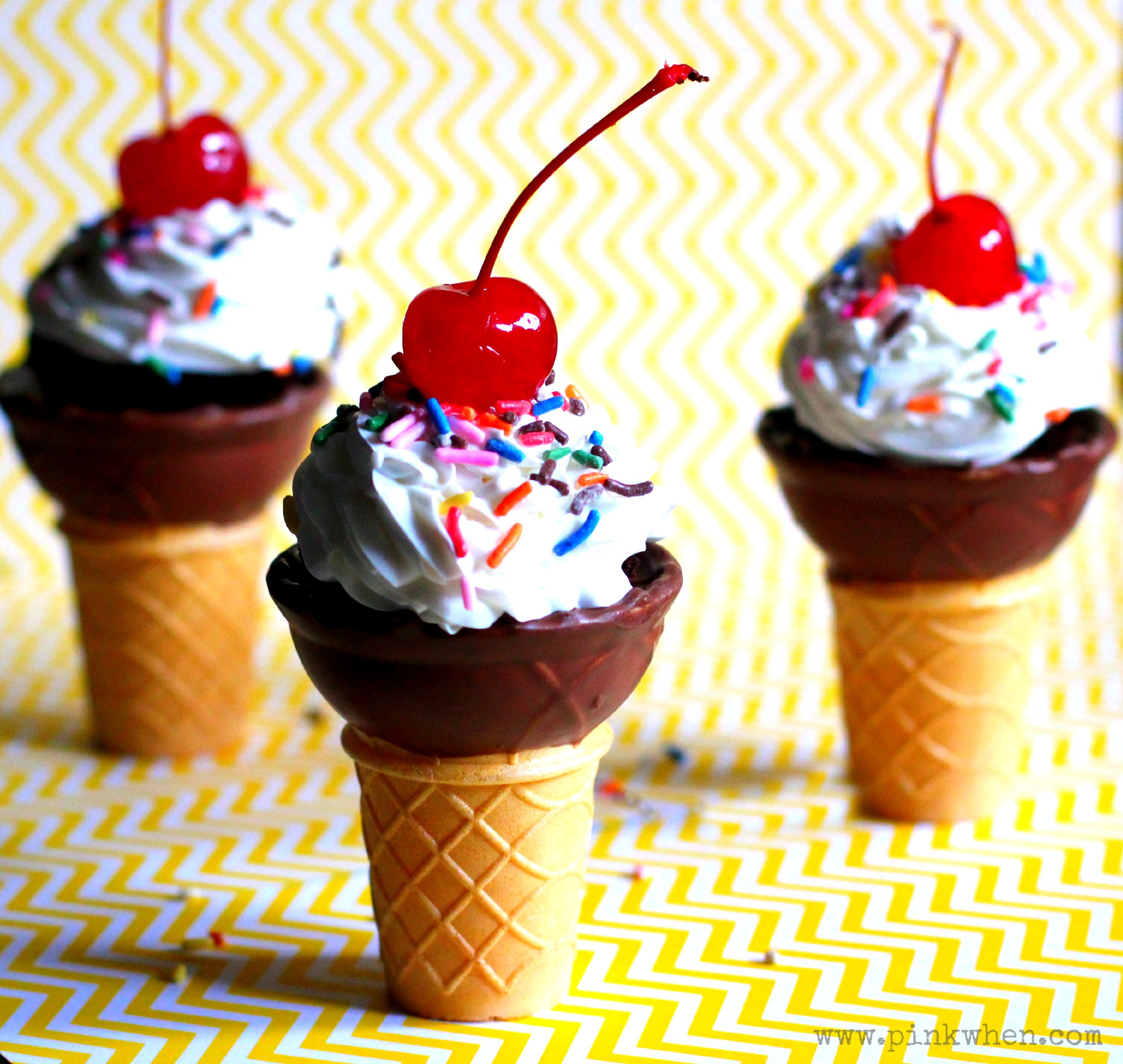 I am so done calling Shavuot the cheesecake holiday. Just because we all kinda defaulted to making cheesecake for dessert on this dairy only holiday is no reason to continue the tradition. Seriously, can't we all agree that there's more interesting dairy desserts than just cheesecake and ice cream. I'm going to get a bit crazy and say let's take a walk on the wild side and consider making cannoli, or at the very least a cannoli-ish dessert.
The cannoli is a luscious creamy dessert that  is pretty much main stream these days, available in most gourmet and Italian bakeries The first version of the cannoli is said to have appeared in Sicily over 500 years ago and is always a variation on  a ricotta/mascarpone cheese filling in a cookie like shell.  Chocolate chips, chopped pistachios and candied citrus peel have also been known to make an appearance in the ingredient list.
You could buy cannoli this Shavuot but why would you when you can make your own variation on a theme with these recipes and retire your cheesecake recipes for good.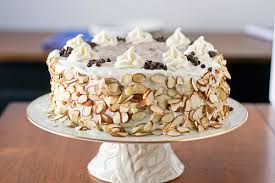 CANNOLI CAKE
1 package vanilla cake mix (prepared according to the directions on the package and baked in 2 9 inch pans
FILLING:
1 carton (16 ounces) ricotta cheese
1/2 cup powdered sugar
2 teaspoons cinnamon
1 teaspoon almond extract
2 teaspoons rum
1 teaspoon vanilla extract
2 ounces semisweet chocolate, finely chopped
3 tablespoons chopped candied orange peel or lemon peel
FROSTING:
16 oz mascarpone cheese
3/4 cup powdered sugar
1/4 cup milk or half & half
2 teaspoons almond extract
1 teaspoon vanilla extract
1 1/2 cup sliced almonds, toasted
2 tablespoons miniature semisweet chocolate chips
Candied orange or lemon peel for garnish (chopped)
For the filling: In a large bowl, combine the ricotta cheese, 1/2  cup powdered sugar, cinnamon almond extract, rum and vanilla. Mix to combine. Add the chocolate chips and candied peel. Cover and refrigerate for at least 30 minutes.
For the frosting: In another bowl combine the mascarpone cheese, 3/4 cup powdered sugar, milk, almond extract and mix to combine.
Place one layer of the cake on the serving plate. Spread 1/2 the filling on top and then top with the remaining layer of cake. Spread the remaining 1/2 of the filling on top of the 2nd layer of cake. Use the frosting mixture on the sides of the cake. Press the toasted almonds into the sides of the cake and sprinkle the chocolate chips over the top of the cake and edge with the candied peel if you're using it. Refrigerate for at least 1 hour. Serves 10 to 12.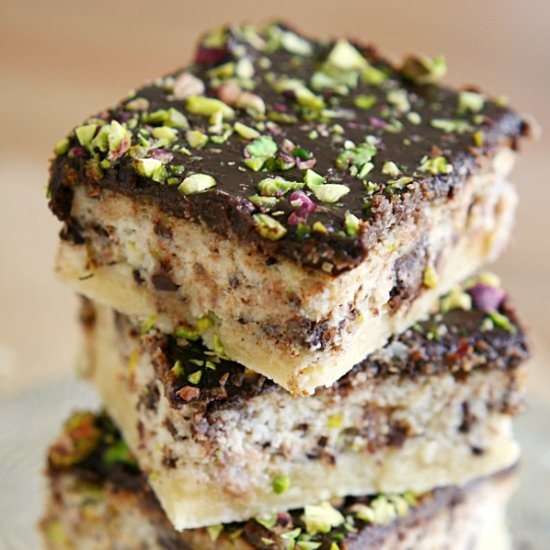 CANNOLI BITES
For crust:
1 cup graham cracker crumbs
1/2 cup slivered almonds
3 tablespoons sugar
5 tablespoons stick butter, melted
Filling:
1 3/4 cups (15 ounces) ricotta
1/4 cup sugar
1 tablespoon orange zest
1 large egg, separated
1/3 cup candied orange peel, chopped
1/3 cup mini milk chocolate chips
1/2 cup chopped pistachios
4 large egg whites
2 teaspoon confectioners' sugar
Frosting:
1 cup chocolate chips
3 tablespoons butter
1/2 cup powdered sugar
3 to 4 tablespoons milk
Preheat oven to 325. In a food process combine the graham cracker crumbs, almonds, and sugar. Process and then place the mixture into a bowl. Add the melted butter and mix to combine. Press crumb mixture evenly onto bottom and up the sides of a 9X13 pan. Bake 10 minutes and cool for 30 minutes.
In a bowl combine the ricotta, sugar, zest, and egg yolk. Mix to combine. Add the orange peel, pistachios and chocolate chips and set it aside. In the bowl of an electric mixer whip the egg whites to stiff peaks and then gently fold them into the cheese mixture. Gently spoon the mixture on top of the graham cracker crust. Bake 50 to 60 minutes. Cool for 20 minutes. Run a thin knife around edge to loosen cake, then remove side of pan. Cool to room temperature, about 1 hour. When cool loosen the edges with a knife and then make the frosting.
Frosting a bowl combine the chips and butter. Melt for 30 seconds in the microwave. Mix and if not smooth, microwave 15 more seconds. In a bowl combine the powdered sugar and milk, mix until smooth and then add to the chocolate mixture. Spread the frosting over the top of the cooled cake and refrigerate for at least 1 hour. Cut into squares and serve. Makes 16 to 20 depending on size
CANNOLI MINI CONES
1 lb. ricotta cheese
1 tablespoon instant coffee granules
3/4 cup white chocolate chips
Sprinkles (optional)
1/2-2/3 cup powdered sugar
1/2 teaspoon vanilla extract
2/3 cup semi-sweet chocolate chips
24 mini ice cream cones
12 strawberries or raspberries or maraschino cherries, cut in half.
In a microwave bowl melt the 2/3 cup of chocolate chips. Dip the rim of the cone in the melted chocolate and then let it cool by standing them up in drinking glasses (you can also dip them in sprinkles after you dip them in the chocolate).
In a bowl combine the ricotta cheese, coffee granules, 3/4 cup white chocolate chips, powdered sugar and vanilla. Spoon the mixture into the dipped cones and top with 1/2 a maraschino cherry. Makes 24