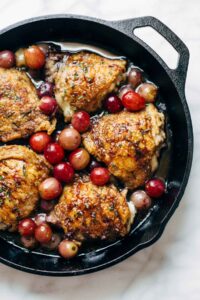 The phrase "nothing new under the sun" could certainly apply to Pesach recipes. Matzo this and farfel that and oh yeah, the flourless chocolate cake, gotta have the flourless chocolate cake and the macaroons. Seems like everyone has the same recipes and they serve them year after year after year after year. Some call it tradition, I call it, boring.
While I don't want to cook any more the I already have to the following recipes are just different enough that they might make you say, hummmmmm maybe this year I can bring something new to the table.
TANGY CHICKEN WITH ALMONDS AND GRAPES
4 4oz. skinless boneless chicken breast halves or thighs
1/2 teaspoon salt
1/8 teaspoon black pepper
2 teaspoon olive oil
1 cup seedless red grapes halved
1/2 cup chicken broth
2 tablespoon balsamic vinegar
1 tablespoon brown sugar
1/4 cup sliced almonds,  toasted
salt and pepper.
Heat oil in a large nonstick skillet over medium-high heat. Add chicken, sauté 3 minutes on each side or until golden brown. Remove chicken from pan. Reduce heat; stir in grapes, broth, vinegar, and sugar. Bring mixture to a boil; cook until reduced to 1 cup (about 6 minutes). Return chicken to pan, cook 3 minutes or until done, turning to coat. Sprinkle with almonds immediately before serving.
PESACH BAKLAVA CAKE (pareve)
SYRUP
1 cup honey
2/3 cup water
1/3 cup sugar
1/4 cup fresh lemon juice
CAKE
1 2/3 cups ground almonds
2 cups sugar
1 cup matzo cake meal
1 cup matzo meal
1 teaspoon ground cinnamon
1/2 teaspoon allspice
6 large eggs
1/2 cup oil
1 tablespoon grated lemon peel
Make syrup: In saucepan combine the honey, water, sugar and lemon juice. Stir over medium-low heat until sugar dissolves. Increase heat and boil 1 minute. Cool.
Make cake: Preheat oven to 350. Oil 13 x 9 x 2-inch metal baking pan. Mix the ground almonds and 1/2 cup sugar in a bowl. Whisk in matzo cake meal, matzo meal, cinnamon and allspice. In a separate bowl, using electric mixer, beat the eggs and remaining 1 1/2 cups sugar until  thick and pale in color, about 10 minutes. Beat in the oil and lemon peel.  Gently old the egg mixture into the  almond mixture. Transfer batter to prepared pan. Bake cake until tester inserted into center comes out clean, about 45 minutes. Cut hot cake into 32 squares; leave in pan. Drizzle the cooled syrup over the top and let the cake stand until syrup is absorbed, at least 30 minutes. Serve warm or at room temperature. (Can be made 3 days ahead). Cool, cover and store at room temperature.). Serves 8 to 10.
OLIVE SPREAD OR DIP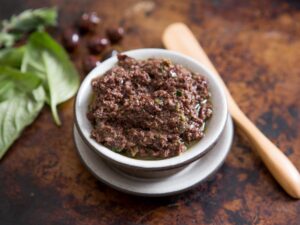 You can add a little more or less of any of the ingredients, this is a very much to taste recipe.
It goes great with matzo crackers or veggies or chips. I also use it as a spread on matzo rolls.
2 (16 ounce) cans pitted black olives, drained
1/2 cup green olives with pimento
3 tablespoons pine nuts
1 to 2 tablespoons minced garlic, to taste
1/3 to 1/2 cup olive oil
1 to 2 tablespoon dried parsley
black pepper, optional
Black and green olives for garnish, optional
Put the olives, garlic and pine nuts in a blender and pulse 2 or 3 times, not too much. Pour in the olive oil and pulse 2 or 3 more times just to combine and have chunks. DO NOT OVER PROCESS TO A PASTE!! just enough to bind everything together. Place the mixture in a bowl and by had stir in the parsley and black pepper if using. Great as a spread or dip. Serves 4 to 6.