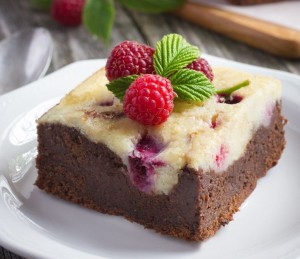 There is no one perfect brownie recipe because everyone's favorite recipe is the perfect recipe. They can be more fudge like or cake like and contain nuts or not and here is my favorite part, should contain any kind (or multiple kinds) of chocolate you like. You can use milk, semi sweet or bittersweet chocolate and for those who are allergic to or just don't like chocolate there is a variation on the brownie theme that is make with brown sugar and without chocolate called a blonde brownie. While these non chocolate brownies are fine, for me, they are like eating diet ice cream. The concept works but there is just something not quite right about it.
So this week's culinary gift to you is a recipe loaded with bunches of ooey gooey delicious chocolate that is over the top, kill me with calories wonderful.
RASPBERRY CHEESECAKE BROWNIES (dairy)
1 cup sugar
1 cup brown sugar
1 cup cocoa, sifted
1/2 cup flour, sifted
1/2 teaspoon kosher salt
4 large eggs
8 ounces melted butter
2 teaspoons vanilla
Cheesecake Layer
8 ounces cream cheese, softened
1/3 cup plus 2 tablespoons sugar
1/4 cup raspberry jam
1 egg
1/2 teaspoon vanilla
1/4 teaspoon salt
3 tablespoons flour
6 oz. fresh raspberry
Preheat oven to 350 Line pan 9X13 pan with parchment paper so that it hangs over the sides.
In the bowl of a food process combine the brown and white and pulse to combine. Remove from the bowl and set aside. Combine the cocoa, flour and salt in a food processor bowl and pulse to combine then set aside.
In the bowl of an electric mixer fitted whisk the eggs until light and fluffy, about 3-4 minutes. Add in the vanilla and sugars, and mix to combine. Add in the butter and mix to combine. Add the flour and mix to combine. Set aside the batter.
Raspberry cheesecake layer:
In the bowl of an electric mixer combine the cream cheese, jam, egg, vanilla, salt and flour. Mix until the mixture is combined about 3 or 4 minutes.
Pour 3/4 of brownie batter into pan. Gently spoon the cheesecake layer all over the top. Using a spoon or spatula sprinkle remaining brownie batter on top of raspberry cheesecake layer.  Gently swirl the cheesecake layer through brownie mixture but don't over mix. Drop the fresh raspberries all over the top them gently push them into the batter. Bake for 45 minutes or a toothpick inserted into the center of the pan comes out clean. Remove the brownies from oven and cool on rack. Cool completely before cutting. Serves 6 to 8
Modified from a recipe submitted by Aryal Zayron Toronto Canada source unknown