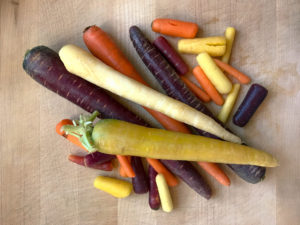 So when is a vegetable bargain REALLY bargain? Answer:  when it's a 10lb bag of carrots and you only need 2 lbs but the 10lb bag is only $1 more than the 2 lb bag. No brainer, you buy it. The truth is I always have carrots in the fridge; sometimes I just have more of them than other times. It's when I have too many that I really great creative.
Carrots are my go to veggie that are always in season and ALWAYS cheaper than any other vegetable out there.  Carrots are equally delicious cooked or raw and you can always count on them to lend color and fiber to any meal.  They come in the ever popular international orange we all recognize, white, or red, yellow purple (yes purple) and everything in between. On top of being the "pretty" vegetable  carrots  are a terrific source of  potassium, manganese, foliate, phosphorus, magnesium and vitamins A, B1, B3, B6, C and K.
So now I've got all these carrots and I can only needed 2lbs for the soup I was making (recipe below). I figured that since I had them I might as well use them all at once because, well, I just cook that way. I went digging for carrot recipes that were just a little bit different and easy to make and delicious enough that even the most finicky of non veggie lovers would like.
PARSNIPS AND CARROTS WITH HONEY AND ROSEMARY (pareve or dairy)
2 tablespoons olive oil
1 pound carrots (about 4 large), peeled, cut into bite sized pieces
1 pound large parsnips, peeled, cut into bite sized pieces
kosher salt
1 teaspoon sugar
2 tablespoons butter or margarine
1 tablespoon chopped fresh rosemary
1 1/2 tablespoons honey
1 to 1 1/2 tablespoons chopped fresh parsley
In a large skillet heat the oil. Add the carrots, sugar and parsnips and saute until the carrot and parsnips start to caramelize (turn lightly golden brown, 10 to 12 minutes. Add the margarine (or butter), rosemary, and honey and mix to combine. Cook, stirring constantly for 3 to 4 minutes. Season to taste with salt and pepper. To serve place in a serving bowl and top with chopped parsley  Serves 8
CARROT SLAW
6 medium carrots, shredded.
2 cups shredded cabbage
1/2  head shredded red cabbage
4 green onions, sliced thin
2/3 cup of mayonnaise
1 tablespoon sugar
1 1/2 tablespoon of orange juice
Salt and pepper to taste
1/2 to 1 cup salted sunflower seeds
In a large bowl, combine the carrots, green onions, cabbage. Toss to combine. In another bowl combine the mayonnaise, sugar and orange juice. Whisk to combine and season with salt and pepper to taste. Pour the dressing over the carrot mixture and toss to coat. Refrigerate for at least 1 hour but up to 6 hours before serving. Sprinkle the sunflower seeds over the top and serve. Serves 10 to 12
CARROT SOUP WITH A KICK
8 carrots, chopped
5 celery stalks, cut into pieces
1 parsnip, peeled, cut into small pieces
1 tablespoon of minced garlic
1 large onion, chopped
4 cups of water
1 tablespoon of olive oil
1 to 2 teaspoons of curry powder
Kosher salt to taste
Seasoned croutons or chopped parsley as garnish (optional)
In a large pot heat the olive oil. Add the garlic, celery and onion and saute for 4 to 5 minutes, stirring constantly until still crispy but starting to soften. Add the curry powder and mix to coat. Add the carrots, parsnip, and water. Cover and cook for 30 to 40 minutes, just until the vegetables are starting to get soft but not mushy. Remove from heat, cool slightly and then, using an immersion blender, blender or food processor puree until the soup is smooth. Season with salt and pepper to taste. Bring the mixture to a simmer and sever topped with seasoned croutons if using, chopped parsley if not. Serves 6 to 8.
Submitted by Antonia Marcarni, Chicago IL