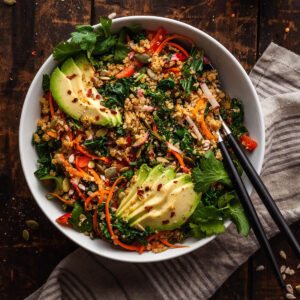 The great food debate during Pesach is most often gerbruck or non gerbruck (no matzo except for Seder or lotsa matza that can be combined with a liquid or other ingredients) but for the past several years the big questions are about quinoa. There has been a bit of controversy for the past few years and finally, several years ago the OU Kosher, certification organization announced that quinoa, is Kosher for Passover when processed with special OU Passover supervision and bearing the OU-P symbol.  The misconception is that quinoa is a whole grain. The reality is that it's actually a seed. So the dilemma is whether it is considered 'kitniyot'. My suggestion, before you try the following recipes is to, ask your Rabbi or consult your local Vaad to determine whether or not they feel it is acceptable to eat during Passover.
CARMAELIZED ONIONS, QUINOA AND PINE NUTS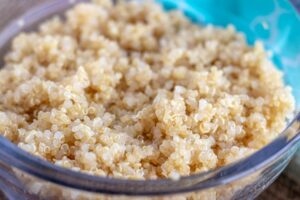 2 tablespoons oil
3 large (2 lbs.) sweet white onions, halved and thinly sliced
1/2 teaspoon brown sugar or maple syrup (kosher certification for Passover is available)
1 1/2 cups uncooked quinoa, rinsed
3 cups broth or water, or a combination
1 cup golden raisins (you can plump them in warm water) (dried cranberries or cherries are also work)
1/2 teaspoon dried tarragon (thyme, basil or oregano are also good)
Salt and pepper, to taste
Pinch of garlic powder, if desired
2/3 cup toasted pine nuts
Heat oil in a large skillet and sauté the onions and brown sugar, uncovered, stirring occasionally, until onions are very soft and golden brown, 25 to 35 minutes.
Sprinkle quinoa over onions and cook over medium-high heat until quinoa begins to toast and pop. Pour the liquid over them onions and quinoa, mix to combine and cover. Simmer for 15 minutes or until liquids are absorbed. Remove from heat and keep covered for additional 10 minutes. Stir in the raisins and tarragon or whatever herb you prefer.  Sprinkle the pine nuts on the top. Mix to combine, season with salt and pepper and serve. Serves 6
QUINOA ARTICHOKES AND HEARTS OF PALM SALAD WITH CHICKEN OR TURKEY
1 1/2 cups quinoa cooked according to the package directions (you can use broth or water)
1/2 lemon
2 cans artichoke hearts, drained and cut into pieces
1/2 cup olive oil
1/4 cup vinegar
Salt and freshly ground pepper
4 canned hearts of palm (5 ounces), drained and sliced crosswise 1/4 inch thick
1 small red bell pepper, cut into 1/4-inch dice
1 small yellow bell pepper, cut into 1/4-inch dice
4 cups lettuce leaves shredded or torn
2 avocados, sliced
3 cups cooked chicken or turkey cut into bite sized pieces (leftovers work great)
In a large bowl whisk together the oil and vinegar and season with salt and pepper. Add the cooked quinoa, artichoke pieces, hearts of palm and red and yellow peppers . Mix to combine. Add the chicken pieces and lettuce pieces, mix to combine and serve either add avocado chunks to the salad or slice and decorate the top.. Serves 6
QUINOA WITH CASHEWS AND CHERRIES
2 tablespoons grated fresh ginger
1/4 cup honey
2 tablespoons vinegar
2 tablespoons freshly lime juice
1 teaspoon minced garlic
1/4 cup olive oil
1/4 teaspoon salt
1/4 teaspoon ground pepper
1 cup water
2 cups quinoa, cooked according to the package directions, cool to room temperature
1/4 teaspoon salt
1 cup whole cashews, coarsely chopped
2/3 cup dried apricots, sliced in thin slivers
1 1/2 cup fresh dark sweet cherries, pitted and halved, or red seedless grapes, halved
1/4 cup thinly sliced red onion
1 small head butter lettuce, torn (4 cups)
For Vinaigrette, in a small bowl whisk together ginger, honey, vinegar, lime juice, and garlic. Slowly pour in the olive oil while whisking constantly, until well combined. Season with salt and pepper. Set aside.
In a large bowl combine the quinoa, cashews, apricots, cherries, and onion, mix to combine. Add the shredded lettuce, and then drizzle 1/2 cup of the dressing over the top. Mix to coat and season with salt and pepper to taste. Mix again. Serve with the remaining dressing on the side. Serves 6 This can be doubled or tripled.
© Eileen Goltz   quinoa 21q