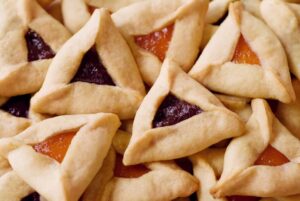 It is that Purim time of year where the annual bigger better stronger faster Mishloach Manot basket games begin. It used to be: how can I create the ULTIMATE basket that will top last years Star Wars themed extravaganza? I have created an all a chocolate basket. Literally, the basket was chocolate.  I have received a variety of cheese, cracker, and mustard platters and seriously, who can forget the mixed nut and artisanal beer tower that Amazon delivered lo those many years ago.
Purim is about the sharing of gifts of food AKA mishloach manot with family and friends. As with all things Jewish, there are always "suggestions/obligations/rules" that accompany this task. There needs to be a minimum of two ready-to-eat-foods (with different blessings) sent to at least one person .  We do this because Mordechai told the Jews that the fourteenth day of the month of Adar should be one of feasting and sending portions to one to another (as well as gifts to the poor). Costumes and noise makers are now just the frosting on the cake of the day.
This year, however, following 2020's impossible to celebrate anything year I'm going to try to transform my giving of "fun gifts of food" into truly giving the gift of food. Layoffs, illness and even the loss of a family member has contributed to the truly horrifying reality, some families just do not have enough disposable income to make gifts of food let alone create a Purim Sudah (festive meal). In addition to making my amazing hamantaschen (recipe to follow) for my family (and mailing them with a few other goodies to the ones out of town) I am going to take the money I would have spent being "creative" and donating it to those organizations that make it their mission to feed families are in need. Several of the best Jewish not for profits that tackle food insecurity are:
In Israel: Leket  https://www.leket.org/en
In Chicago: The Ark https://arkchicago.org/
In Detroit: Yad Ezra https://www.yadezra.org/  https://www.yadezra.net/
National: Mazon https://mazon.org/ 
National: Masbia https://www.masbia.org/
NJ Tom Chei Shabbos of Bergen County https://www.tomcheishabbosofbergencounty.org/index.html
You can, of course give to your local food bank or organization that is dedicated to helping those in need. Just know that you can truly raise the level of your joy and happiness during Purim this year by making sure those for whom this day might be less than are having a better day because you decided to get creative with your giving this year.
EILEEN'S SWEET HAMENTASHEN RECIPE
2 cups flour
2 teaspoons baking powder
1/8 teaspoon salt
1/2 cup margarine or oil
1/2 cup sugar
1/2 cup brown sugar
1 large egg
2 teaspoons orange zest
1 tablespoon fresh orange juice
2/3 cup filling (see notes) or apricot or cherry jam
In a bowl combine the flour, baking powder, and salt and set it aside. In the bowl of an electric mixer combine the shortening, sugar, and egg. Mix until light and fluffy. Add the orange zest and juice and mix until combine. Add flour mixture, stirring on a low speed until a smooth dough is formed. Pat the dough into a ball, wrap in plastic wrap and refrigerate for at least 4 hours (overnight is ok).
When you are ready to create your hamantaschen preheat oven to 375.  Cut the dough ball in half. On a floured surface roll out half the dough until it's about 1/4-inch think. I use a water glass that is about 3 inches across, but you can use a cookie cutter (tip: periodically dip the rim into flour to keep the dough from sticking) and cut as many circles as you can. Pull up the scrap dough, re-roll (do not use too much extra flour) and cut out as many circles as you can. You can fill at this point or roll and cut the rest of the dough.
You will need 3 to 4 cookie sheets. Using a spatula place the rounds on the cookie sheet about 1/2 inch apart. Place about 1 teaspoon of filling in center of each round and fold up edges to form triangular (make sure to pinch the edges tightly or they will spread and you will have a mess!) Bake 18 to 20 minutes or until lightly golden. Cool hamantaschen on the cookie sheet for 3 to 5 minutes before removing to a cooling rack to cool completely. Makes 24 to 36 depending on the size.
FILLINGS TIPS:
There are some excellent "ready-made" fillings (Solo is my favorite for Poppy Seed) but they typically have too much "goo".  Cherry Pie filling and Apricot jam are good starting points but if  you choose to use the premade  pie filling strain them and add some breadcrumbs and a dash of cinnamon. With jams, add golden raisings and breadcrumbs and do a quick blend in a food processer to break up the larger pieces of fruit.
You can go crazy and use chocolate, marshmallows or nuts and caramel sauce, what ever you like for a filling. I've also seen savory Hamantaschen with less sweet dough. Pizza Hamantaschen, and savory potato filled ones sound good too. Truly what ever sounds good to you is possible.
© Eileen Goltz Purim 21