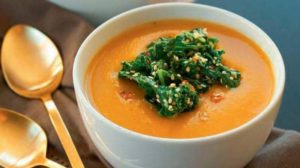 Fall is Pumpkin season and sadly, much to the chagrin of my family I'm not a fan of the pie. I'd rather take that amazing fall fruit (yes, it's technically a fruit) and turn it into something savory. Crazy right?
Well, not so crazy when you consider that the pumpkin is one of the most versatile squashes available for you this time of year. Just so you know, besides being delicious they contain twice the fiber as kale, more potassium per ounce than bananas and is loaded with magnesium and iron. So, since 80% of the years pumpkin crop is available during October and November NOW is the time to pull out all the stops and make something extra ordinary. I suggest pumpkin soups.
PUMPKIN BISQUE WITH SESAME SPINACH
2 pie pumpkins roasted, pureed (2 1/2 cups puree)
1/2 cup minced leeks
1 1/2 tablespoon minced garlic, minced
3 cups broth
1 cup almond, coconut or soy milk
3 tablespoons pure maple syrup or honey
1/2 teaspoon kosher or sea salt
1/2 teaspoon black pepper
1/2 teaspoon cinnamon
1/4 teaspoon nutmeg
Spinach Sesame Garnish
1 to 1 1/2 cup chopped fresh spinach
1/4 teaspoon salt
1 teaspoon minced garlic
2 tablespoons black sesame seeds (white are OK if you can't find them)
1 tablespoon sesame oil
In a large saucepan heat 1 tablespoon olive oil, leek and garlic. Saute for 2 to 3 minutes, until they start to soften. Add the pumpkin, broth, almond milk, maple syrup, salt, pepper cinnamon, nutmeg and mix to combine. Bring the soup to a simmer for about 10 minutes. Remove from heat and let cool for about 10 minutes.
Using an immersion blender or regular blender puree the soup until it's smooth. Continue cooking the soup for 8 to 10 minutes and season to taste.
Continue cooking over medium-low heat for 5-10 minutes and taste and adjust seasonings as needed. The soup is ready to serve but I love to serve it with the spinach garnish.
In a small skillet saute the garlic in the sesame oil for about 2 minutes then add the spinach and salt and mix to combine. Add the sesame seeds, toss to combine and remove from heat immediately. Top the soup with a heaping tablespoon. Serves 4 this recipe can be doubled or tripled.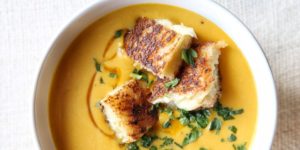 PUMPKIN SOUP WITH GRILLED PEPPER JACK CHEESE CROUTONS
2 tablespoons margarine or butter
1 tablespoon olive oil
2 tablespoons brown sugar
2 teaspoons minced garlic
1 cup chopped onion
3 cups pumpkin puree
2 cups vegetable broth
1/2 cup nondairy milk substitute or cream if you prefer a richer taste
Kosher salt to taste
Black pepper to taste
3 tablespoons mayonnaise
4 slices rye bread
8 slices pepper jack cheese
1/4 c. chopped fresh parsley
In a large saucepan melt 2 tablespoons butter or margarine and add 1 tablespoon oil. Saute the garlic and onions for 3 minutes. Add the brown sugar and cook for 1 minutes. Add the pumpkin, broth and creamer. Mix to combine and then bring the soup to a boil then reduce to a simmer. Cover and cook for 8 to 10 minutes.
While the soup is simmering heat spread each piece of rye bread with a thin layer of mayonnaise. Heat a skillet and place 4 pieces of bread, mayonnaise side down in the skillet and top with a slice of cheese. Top with 2 slices of cheese and cover with the remaining slices of bread, mayonnaise side up. Cook for 2 to 3 minutes and then flip the sandwich, pressing down with a spatula to make sure the cheese is melted. Remove the grilled cheese from the pan and cut it them into 4 pieces each.
Divide soup between 8 bowls and top with 2 pieces of grilled cheese each. Serves 8.