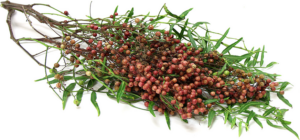 In the movie version of my life, when asked which way I prefer my pepper served, my inner James Bond-ish answer isn't the "shaken not stirred" Sean Connery quip but rather I'll have the cracked not ground bon mot. Since, Hollywood hasn't been knocking for my words of wisdom, I'll have to take my over the top pepper fantasies down a grind or two.
I am not a pepper snob but if the only pepper you've ever used is the prepackaged kind your taste buds will write you a thank you note once they've tried the amazing pungent freshly ground variety.
The outer shell of the peppercorn seals in the incredible bite of its flavor.  Freshly grinding your peppercorn cracks the outer shell and releases the flavor. Once the peppercorn is ground the sharpness of its bite starts to decay within an hour or two. So, if you're going to be seasoning a dish with freshly ground pepper, wait until the last possible moment to add it.
Pepper comes from the berries of the Piper nigrum plant. Be color blind when it comes to your choice and taste taste taste to see what kind you like best. Black, red, white and green peppercorns are actually the same fruit; they're just harvested at different points in the ripening process and processed differently. The most commonly used pepper is the black peppercorn. Black peppercorns are picked when they are just about to turn red. They are dried (they shrivel up and become dark) and either sold whole or ground. Green peppercorns are picked while still unripe and green. White peppercorns are picked when the berry is ripe and then soaked in a brine to remove the dark outer shell.
So bottom line, some recipes call for cracking pepper, others call for grinding, which is better? The answer is neither is better, it's a matter of taste. Grinding produces a finer powdery consistency and cracking is a coarser consistency. So much depends on what you're making and on what type of grinder you're using. In the world of fresh ground pepper the following semi accurate equivalents should give you approximate measurements:
1/8 teaspoon = 4 to 5 rotations
1/4 teaspoon = 8 to 10 rotations
1/2 teaspoon = 19 to 22 rotations
1 teaspoon = 35 to 40 rotationS
CRACKED PEPPER DRESSING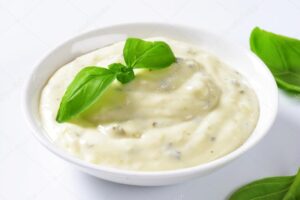 1/2 cup mayonnaise
1/2 cup sour cream or non-dairy equivalent
4 tablespoons milk or non-dairy equivalent
4 teaspoons rice wine vinegar
2 teaspoon ground cracked pepper
2 teaspoon minced garlic
1/2 teaspoon onion salt
2 green onions, sliced thin
In a bowl combine all the ingredients and mix to combine. Cover and refrigerate for at least 1 hour for the flavors to combine. Makes approx. 1 cup.
PEPPER BURGERS
2 pounds ground beef
1 to 2 tablespoons minced onion
1 red bell pepper, chopped small
1 egg
1 tablespoon minced garlic
2 teaspoons ground pepper
2 teaspoons soy sauce
6 Kaiser rolls
lettuce, tomato, pickles (optional)
In a bowl combine the ground beef, onion, egg, red bell pepper, garlic, pepper and soy sauce. Mix to combine. Make 6 to 8 patties. Heat a grill pan and fry the patties or 6 to 7 minutes per side or until your desired level of cooking. Serve immediately on Kaiser rolls with tomato, lettuce and pickles. Makes 6 to 8 patties
PEPPERED CHICKEN LETTUCE WRAPS
2 tablespoons soy sauce
2 tablespoons sesame oil
2 tablespoons oil
1/4 cup finely chopped onion
2 teaspoons brown sugar
2 teaspoons minced garlic
1-1/2 teaspoons Chinese 5 Spice powder
1 teaspoon black pepper
1/2 teaspoon salt
1 1/2 pound ground chicken
1 cup chopped mushrooms
1 can (5 ounces) water chestnuts, drained and chopped
1/2 cup chopped green onions
12 to 16 Bibb or leaf lettuce
Sweet & Sour Sauce
1/3 cup soy sauce
2 tablespoons rice vinegar
2 tablespoons oil
2 teaspoons sesame oil
1/2 teaspoon Chinese 5 Spice
1/2 teaspoon garlic powder
1/4 teaspoon black pepper
1/2 teaspoon brown sugar
In a large bowl combine the soy sauce, sesame oil, oil, onion, brown sugar, garlic, five spice powder, pepper and salt. Whisk to combine. Add the ground chicken to the sauce, mushrooms and water chestnuts. Mix to coat. Cover and refrigerate for 30 minutes or until ready to cook.
Heat large non-stick skillet.  Add the chicken mixture. Cook, stirring occasionally until chicken is cooked throughout. Remove the mixture from the heat and place it in a serving bowl. Top with green onions. Serve in a lettuce leaf with a drizzle of the Sweet Sauce. Serves 4 main 8 as an appitizer
Sweet Sauce
In a bowl combine all ingredients and whisk to incorporate. Refrigerate for at least 30 minutes for flavors to mix or until ready to serve.
© Eileen Goltz pepper 21