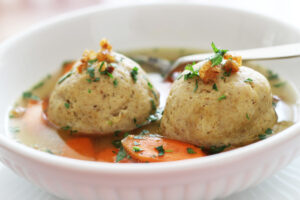 As yontif draws near our thoughts turn towards all things spiritual, religious and inevitably, the ultimate question of Pesach rears its ugly head: will it be floaters or sinkers in the chicken soup this year.
For as many years as I have been making Seder, a friend who shall remain nameless (but is WRONG) and I have carried on a running debate as to which is the ultimate, supreme and dare I say it, best kind of matzo ball. I contend that my mother's sinkers are the closest thing to manna that we mere mortals will ever taste. He scoffs and touts his lighter, fluffier, and oh so less filling floaters. I will leave the ultimate disposition of the variety is the best to my readers (Hillel and Shamai having never rendered an opinion on this topic) and give you the best information I know of to help you in your quest to find the best.
What exactly is a matzo ball, you may ask? A matzo ball is akin to a dumpling that is roughly spherical in shape. In terms of texture, matzo balls range from fluffy to dense and doughy, and they can be anywhere from a few centimeters in diameter to the size of a large orange. Some Jews use the term "kneidlach soup" or "knaidlach soup" to describe matzo ball soup (alternate spellings: knaydlach or kneydlach). "Kneidlach" or "knaidlach" This is much like the debate we have about the spelling of Chanukkah………..
Flavor and texture can be built in several ways. For texture, the most common method is by using plenty of stiffly beaten egg whites, which adds fluffiness. You can roll the balls to make them slightly compact. Alternatively, you can use fewer eggs for an extremely light texture.
MATAZO BALL HACK; You can make the matzo balls up to a week ahead of time. Drain and cool slightly and then freeze them (on a cookie sheet). When frozen place them in a resealable plastic bag and return them to the freezer. When you want to serve them place them in the hot soup for at least 15 minutes (they may puff up a bit) before you're ready to serve them. You can also put them in hot water  to defrost, use a slotted spoon and then place them in the soup bowl.
Which method is better ??? Don't know but in my house, sinkers rule.
JUDIES BUBBIES MATZO BALLS
4 eggs
1/2 cup club soda
3 tablespoon vegetable oil or chicken fat (schmaltz)
2 tablespoon finely chopped parsley
salt
2 teaspoon dried parsley
Freshly ground black pepper
1 cup matzo meal
4 tablespoons chopped pecans or walnuts, toasted
In a bowl whisk the eggs until just blended. Add the club soda, vegetable oil or schmaltz, salt and pepper. Go easy on the salt. Blend in the parsley and matzo meal. Cover and refrigerate this mixture for about 1 hour.
Bring about 5 quarts of water to boil. Rub vegetable oil on hands and form matzo balls with about two tablespoons of mixture. Drop in boiling water and simmer covered and don't peek (okay, maybe once or twice) for about 25 to 35 minutes.  Remove with a slotted spoon and place into a soup bowl. Ladle the soup over the top and then top each matzo ball with a pinch of chopped nuts. Makes 10 to 12 matzo balls.
HERBED MATZAH BALLS
4 large eggs, beaten
6 tablespoons seltzer or club soda
1/4 cup oil
1 cup matzo meal
salt and pepper to taste
2 tablespoons finely chopped fresh parsley
2 tablespoons finely chopped fresh dill
1 teaspoon ground ginger powder (optional)
In a bowl combine the six eggs, seltzer, oil, salt and pepper. Stir in the matzo meal and herbs. Cover and refrigerate the mixture 2 hours. With wet hands, shape matzo balls into 2 1/2 inch balls. Boil 4 quarts of water or broth and add the matzo balls to boiling hot soup or water. Cover and simmer the matzo balls for about 15 minutes (don't peek). Makes 14 to 16 matzo balls
SPICY MATZAH BALLS WITH GREEN ONION
This is made the Alsatian or southern German way with broken-up matzo rather than matzo meal.
1 cup sliced green onions (slice thin)
1 teaspoon minced garlic
1/2 stick (1/4 cup) pareve margarine
8 regular matzos
Salt and pepper to taste
Fresh ground pepper  to taste
2 large eggs, separated
1/2 cup chopped fresh parsley
1/2 cup matzo meal, toasted
Saute the green onions and garlic in the margarine. Cool. Soak the 8 matzahs in water until they are soft. Drain very well and squeeze out all the water. Place the matzo in the skillet with the sautéed garlic and green onions. Add the salt, pepper, and chipolte, and 2 well-beaten egg yolks before the mixture gets too hot. Add the parsley and cook, stirring, constantly, until the matzah is dry and it leaves the skillet. Let the mixture cool. In the bowl of an electric mixer beat the egg whites until they are stiff. Fold them into the mixture. Roll the mixture into balls slightly smaller than a walnut. Then roll them in the toasted matzah meal.
Lower the matzah balls gently with a slotted soup spoon into gently simmering salted water and simmer them, covered, for 30 to 40 minutes. Lift with a slotted spoon into bowls with chicken soup or drain and serve as a dressing with beef or turkey. Yield: About 56 Matzah Balls or 6 To 8 Per Person
Modified From: Jewish Cooking In America by Joan Nathan
STUFFED AND BAKED MATZO BALLS
oil for greasing muffin pans
4 large eggs, slightly beaten
2 tablespoons oil
1 cup matzo meal
2 teaspoons salt
2 tablespoons chopped parsley
6 tablespoons chicken soup or water
Filling:
1 onion, chopped extra fine
2 tablespoons oil
2 tablespoons matzo meal
1 egg yolk
salt and freshly ground pepper
dash of cinnamon
water
oil
12 cups chicken soup
Grease cups of a 12-cup muffin pan and set aside. In a medium bowl, beat the eggs and oil together. Add the matzo meal, salt and parsley.  Mix to combine. Add the chicken soup or water. Refrigerate at least an hour to overnight.   To make the filling: In a skillet fry the onion in the oil or chicken fat until golden and crispy. Cool and then mix in the 2 tablespoons matzo meal and egg yolk. Season to taste with salt, pepper and cinnamon.
Preheat oven to 350. Dipping your hands in cold water form 12 matzo balls from the refrigerated mixture about the size of a 50-cent piece. Place them on a cookie sheet that is lined with parchment paper. Flatten them slightly and spoon a heaping teaspoon of the filling mixture into the middle of the matzo ball. Pull up the sides to enclose the filling and pinch close.  Fill a stock pot (with a lid) with salted water and bring the water to a boil. Reduce to a simmer and gently drop the matzo balls into the liquid. Cover and simmer for 15 to 20 minutes or just until they are set. With a slotted spoon remove matzo balls from the liquid and place them in the prepared muffin pan. Drizzle a little oil over the top of every matzo ball and bake in for 20 to 30 minutes, or until golden brown. To serve, place one matzo ball in a bowl and ladle the soup over the top.  Makes 12 matzo balls.
My file, source unknown.
Eileen Goltz floater/sinkers 21