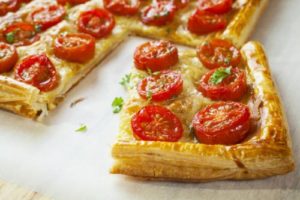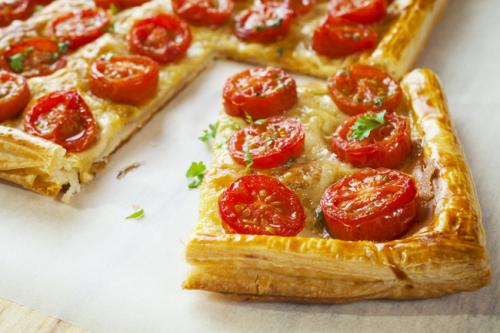 How good (or bad) a party or meal (New Year's Eve, sevah brachot, or seduah shlishit or just a simple get together) is often defined by the food you serve as well as the company you invite. The people I can't help you with (unless you include me and then all bets are truly off) you might want to consider serving some of the new amazing kosher cheeses that are available as part of the appetizers and possibly even the desserts. Cheese is easy to serve and by getting a wide variety of different flavors and kinds you'll be able to tempt the palette of just about everyone. You may want to forget your preconceived notions about cheese if they revolve around the cheddar you use for Mac and cheese and the mozzarella you top you pizza with. You'll want to open your mind (and wallet) to the possibilities of cheeses from around the world. With kosher manufactures like Millers, Tnuva, Tillamook, Le Maubert,  Natural & Kosher, Chevrai and Barkanit the world of kosher gourmet and artisanal cheese is now wide open and ready for business.
Cheese platter 101 begins with the idea that you will want both soft and hard cheeses which will run the gamut from mild and mellow tasting ones to the stronger more pungent flavored cheeses. Cheeses come from milk and the usual suspects that provide that milk are cows, sheep and goats. Cheeses are typically categorized and are usually described as gentle, sharp and strong and can have a rind or not. Younger cheeses tend to be mild, soft, and moist. As cheeses age, they become more pungent, hard, and crumbly.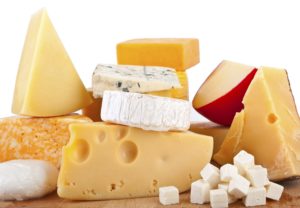 Fresh: These cheeses don't have rinds. Examples are goat cheese, fresh mozzarella, Ricotta, Feta and cream cheese.
Semi-Soft: A little firmer than fresh you melt well. Look for Gouda, Provolone, Havarti and Monterey Jack.
Semi hard : can also be called semi-firm and the top three that I like in this category are Cheddar, Edam, Beaufort, Cheshire and Gruyere. The can be grated fairly easily.
Hard cheeses: cheese like a Parmesan, Sapsago and aged Asiago are very popular and easy to find.
Washed Rind: Cheeses like Tallegio,and Muenster have been washed or rested salty brine mixture. The brine creates an edible rind and protects the soft or semi-soft interior.
Bloom Rind: These cheeses have a soft sort of pliable rind on the outside. Brie is best known and most people ignore the rind and eat the softer inside.
Blue: The strongest flavor and smelling of the cheese. It usually falls into one of two categories, can't get enough or never touch the stuff. Actual mold spores are used to create the distinctive flavor, taste and smell. Stilton and Maytag Blue, Saga Blue, Stilton, Roquefort and Gorgonzola are usually readily available.
For an attractive appetizer or dessert tray I say you should use 4 to 6 cheeses planning on about 2 to 3 ounces per guest (you will have leftovers). The cheese should be served at room temperature and I unwrap the cheese just before I serve it so that the cheese doesn't dry out. I tend to arrange them in the order of hardness and always label them with some of their flavors and characteristics so everyone know kind of what to expect when they pop it in their mouths. I always have a different knife or serving piece for each cheese so that the flavors don't get confused. I have a variety of breads, crackers and fruits and dried fruits to accompany the cheeses. One other trick I've discovered to making cheese tasting an event rather than a chore is to pare the cheeses with kosher wines that are made in the same region they come from.
Sometimes a cheese try just isn't enough and you'll feel the need to cook the cheese. The following appetizer recipes will allow you to add just enough other ingredients to keep the cheeses front and center.
TOMATO AND ONION TART APPITIZER (dairy)
This can be served hot or at room temperature
7 sheets phyllo dough, thawed
1/2 stick of butter, melted
2/3 cup grated parmesan cheese
1 sweet onion, thinly sliced
2 cups shredded provolone or mozzarella cheese
6 plum (Roma) tomatoes cut into thick slices
8 10 fresh basil leaves, shredded or 1 tablespoon dried basil
salt and pepper to taste
Preheat oven to 375. Line a large baking sheet with parchment paper and spray paper with nonstick cooking spray. Lay 1 sheet phyllo dough on paper and brush lightly with a little melted butter. Sprinkle top of buttered phyllo with 1 to 2 tablespoons grated parmesan (don't overdo it). Repeat the layering 6 more times (phyllo, butter, and cheese), making sure to press down on each sheet so it adheres to the previous layer.
When you've finished the layers, place the onions on top of the last layer making sure not to over load it. Sprinkle the provolone on top of the onions and then layer the tomatoes on top making sure you don't overlap them. Sprinkle the basil (fresh or dried) over the top. Salt and pepper generously. Curl up the edges slightly. Bake for 30 minutes and then let it cool for about 7 to 10 minutes before you cut it into 8 to 10 squares and serve.
CREAM CHEESE GRAPE AND PISTACHIO (dairy)
8 oz cold cream cheese
salt and pepper
16 red or green seedless grapes
3/4 to 1 cup chopped pistachios
Take a teaspoon or two of the cream cheese and mold it around each grape. Season lightly with salt and pepper and then roll it in the chopped pistachios. Place the grapes on a cookie sheet and refrigerate for at least 2 to 3 hours before serving. This is great next to a bowl of mixed nuts. If the grapes are really big you can cut them in half after they've chilled. Makes 16. This recipe can be doubled or tripled.
CRANBERRY ONION CREAM CHEESE BITES (dairy)
1 tablespoon butter
2 cups thinly sliced sweet onions
1/4 cup balsamic vinegar
1/2 cup fresh or frozen cranberries (thawed), coarsely chopped or dried cranberries
1 tablespoon sugar
1/2 teaspoon salt
1/2 teaspoon grated orange rind
16 crackers (whole grain work well)
cream cheese (you can use fat free)
parsley leaves
Melt butter in a large skillet over medium heat; add onions, and sauté 15 to 18 minutes or until golden and tender. Stir in the vinegar, cranberries, sugar, salt, and orange rind; cook, stirring occasionally, 2 to 4 minutes or until liquid is reduced to about 2 tablespoons. Spread the crackers with about 1 teaspoon cream cheese; and then top each with about 1 tablespoon of the cranberry mixture. Garnish with parsley. Makes 16.