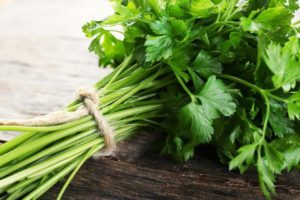 So, everyone who's ever purchased a bundle or 3 of parsley for Pesach and then still seemed to have a bundle or 3 of parsley left when the Seders were over please raise your hand.
Truthfully, except on Pesach most of us use parsley as a garnish and well…..a garnish is just about the only thing that comes to mind. Well hang on to your Hagaddah because this column is devoted to that underappreciated leafy herb that is front and center on your Seder plate and usually left to languish unappreciated in the back of the fridge after yontif.
Parley is actually related to celery (sort of like its skinnier first cousin) and the most commonly available types are curly leaf and flat-leaf. The answer to the question of which one best belongs on the Seder plate, the answer is pick the one you like best, either one is fine. As to the taste difference between them, the flat leaf has a stronger flavor and has a stronger fragrance. It is also less bitter than the curly kind.
You should look for parsley that is deep green in color and has tight leaves. Clean the parsley like you clean spinach, which is very well and check for bugs! Place it in a bowl of cool water and swish it around then dry on towels. Parsley is great but is rarely, if ever, considered a main ingredient. However, impress your friends and family with the following parsley recipes are perfect for Chol Chamode and can be easily converted to be used year around. They let you get creative on a holiday where the menus tend to all be the same old same old matzo centric dishes. As a final plus for parsley, you'll be able to say you're eco-friendly by keeping it "green".
Note: parsley should be added at the end of the cooking process so that it retains its flavor and color. One great parsley trick is that if you're making a lighter colored sauce just use the stems instead of the leaves as it will give you the flavor or parsley but not the green color.
BAKED SALMON LOAF WITH PARSLEY CREAM (fish)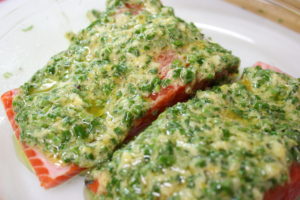 3 tablespoons butter, melted
2 cups milk
3 eggs, beaten
2 cans salmon, drained and flaked
1 1/2 cups matzo meal
2 tablespoons minced onion
2 teaspoons minced garlic
2 tablespoons lemon juice
2 tablespoons minced fresh parsley
3/4 teaspoon each salt and pepper
Preheat oven to 375. Grease a 9X13 baking dish. In a bowl, combine the melted butter, milk and eggs, beat to combine. Add the salmon, matzo meal, onion, garlic, lemon juice, salt and pepper. Mix to combine. Place the mixture into the prepared baking dish and cook, uncovered for 35 to 40 minutes. Remove from oven and let cool for 4 to 5 minutes before cutting and serving. Serve with Parsley Cream Sauce (below). Serves 8
PARSLEY CREAM SAUCE (dairy)
4 tablespoons butter
2 1/2 tablespoons matzo cake meal
2 cups milk
1/4 cup mozzarella cheese
2 tablespoons parmesan cheese
pepper to taste
1/4 cup minced fresh parsley
In a saucepan melt the butter and then quickly whisk in the flour. Cook for one minute, whisk constantly. At this point whisk in the milk, cheeses, pepper and parsley. Cook, whisking constantly until combine and the cheese is melted (1 to 2 minutes). Serve immediately. Makes about 2 1/2 cups.
HEARTS OF PALM AND PARSLEY CHOPPED SALAD (pareve)
10 green onions, chopped
6 to 8 tomatoes, chopped
2 cans (14.5 oz.) hearts of palm, drained and cut into thin disks
3/4 cup chopped flat-leaf parsley
1 can black olives, chopped
2 cans sliced water chestnuts, drained
1/4 cup fresh lime juice
4 tablespoons olive oil
1/2 teaspoon kosher salt
1/2 teaspoon ground black pepper
2 cups chopped romaine or red leaf lettuce
Put onions in a bowl of cold water and soak for 5 minutes. Drain. In large bowl combine the lime juice, olive oil, salt, and pepper and whisk to combine. Add the green onions, hearts of palm, olives, parsley, water chestnuts and lettuce, Toss to combine. Adjust salt and pepper to taste. Serves 6 to 8
PARMESAN CAULIFLOWER AND PARSLEY SALAD (dairy)
1 teaspoon lemon zest
2 tablespoons lemon juice
1/2 teaspoon salt
1/4 teaspoon black pepper
1/4 cup olive oil
6 oz mushrooms, thinly sliced
5 cups loosely packed fresh chopped parsley
2 large eggs
1/4 teaspoon salt
1/8 teaspoon black pepper
2 cauliflower cut into bite size pieces
2 cups parmesan cheese
1/3 cup olive oil
In a large bowl combine the lemon zest, lemon juice, salt, and pepper. Whisk in the oil until combined. Add the mushrooms and mix to coat. Let sit for at least 20 minutes.
In a bowl combine the eggs with the salt and pepper. Mix to combine and add the cauliflower Toss to coat well. Put the parmesan in a large bowl. With a slotted spoon place the cauliflower into the cheese, tossing to coat. In a large skillet heat the oil until hot but not smoking. Cook the cauliflower in 3 to 4 batches. Turn occasionally, until golden on all sides, 3 to 4 minutes per batch. Remover from the oil, drain on paper towels and cool slightly. In a serving bowl combine the mushroom mixture with the parsley and cauliflower. Mix gently and serve, Best served warm Serves 8.
LIME AND PARSLEY SALAD (pareve)
1 head romaine or red leaf lettuce, chopped
1 English cucumber sliced
1 cup fresh parsley, chopped
1 red bell pepper, diced
2 avocados, diced
2 tablespoons fresh lime juice
1 teaspoon lime zest
2 to 3 tablespoons olive oil
Kosher salt and pepper, to taste
Put everything into a bowl and toss to combine. Serves 8