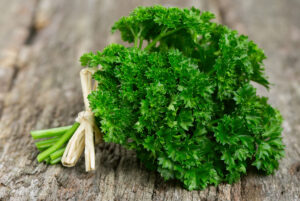 I was curious as to what type of Karpas (typically parsley in my world) everyone use for their Seders and you can imagine my astonishment when I got over 500 responses with everything from Flat: easier to check for bugs  and milder and Curly: holds salt water better to Celery: better crunch, Pickles (they have their own salt water), Red Radishes (add a pop of color to the Seder plate), Boiled Potatoes (not sure on this one but A LOT of people say it's their minhag), to Cilantro (just no, tastes like soap to about 10% of the population including me). All good and proper answers but I am an equally opportunity parsley fan, its flat leaf or curly, which ever looks better the day I'm buying it.
So, the fifth question at the Seder could be exactly what is the difference between flat leaf AKA Italian parsley and the curly kind? The culinary son answers, the intensity of the flavor.  The flat leaf has a stronger more distinct flavor and is also more fragrant and less bitter than the curly variety.
So, everyone who has ever purchased a bundle (or 3) of parsley for Passover knows that once the seders are over you still have WAY too much left over and the dilemma of what to do (other than garnish) with this underappreciated leafy herb becomes front and center. Parsley is great but is rarely, if ever, considered a main ingredient. However, you impress your friends and family (IF you're having company this year) with the following Passover friendly parsley recipes, they can let you be quasi eco friendly by being able to say we're keeping it "green" this year.
PARSLEY HACK: that parsley should be added at the end of the cooking process so that it retains its flavor and color. One great parsley trick is that if you are making a lighter colored sauce just use the stems instead of the leaves as it will give you the flavor or parsley but not the green color.
BAKED SALMON WITH PARSLEY CREAM
4 tablespoons butter, melted
2 1/4 cups milk
4 large eggs, beaten
3 cans red salmon, drained and flaked
2 cups matzo meal
3 tablespoons minced onion
2 teaspoons minced garlic
2 tablespoons mayonnaise
3 tablespoons lemon juice
2 tablespoon chopped fresh parsley
3/4 teaspoon salt
3/4 teaspoon pepper
Parsley Cream Sauce*
Preheat oven to 375. Grease a 9X13 baking dish. In a bowl, combine the melted butter, milk and eggs, beat to combine. Add the salmon, mayonnaise matzo meal, onion, garlic, lemon juice, salt and pepper. Mix to combine. Place the mixture into the prepared baking dish and cook, uncovered for 35 to 40 minutes. Remove from oven and let cool for 4 to 5 minutes before cutting into squares and serving. Serve with Parsley Cream Sauce (see below). Makes 8 servings
PARSLEY CREAM SAUCE
Great with fish or over vegetables
4 tablespoons butter
3 tablespoons matzo cake meal
2 to 2 1/2 cups milk (use the extra 1/2 cup if the sauce is too thick)
1/4 cup mozzarella cheese
2 tablespoons parmesan cheese
pepper to taste
1/4 cup minced parsley
In a saucepan melt the butter and then quickly whisk in the cake meal. Cook this mixture for one minute, whisk constantly. At this point whisk in the milk, cheeses, pepper and parsley. Cook, whisking constantly until combine and the cheese is melted (1 to 2 minutes). Serve immediately. Makes about 2 1/2 cups.
PARSLEY POTATO BISQUE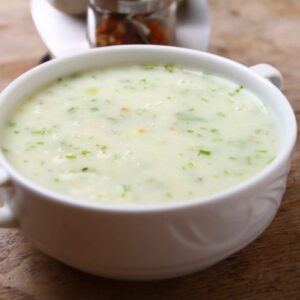 5 to 6 cups chicken or vegetable broth
1 lb potatoes, peeled and cut into 1/2-inch cubes
2 tablespoons olive oil
3 large leeks, sliced (you can use 2 onions)
1 tablespoon minced garlic
2 stalks celery, sliced thin
1 cup chopped fresh parsley
1/3 cup white wine
1 teaspoon salt
1 to 2 teaspoons black pepper
In a large pot sauté the leeks, celery and garlic for 2 minutes until just soft and then add the wine. Cook, stirring occasionally for about 5 minutes and then add the potatoes and stock. Bring the soup to a boil then reduce to a simmer. Cover and simmer until the potatoes are tender, about 10 to 15 minutes. Let the soup cool for about 10 minutes and then using an immersion blender or a blender process the soup until smooth. If the soup is too thick you can add a little more water or broth stock if the soup. Do not process too much if you like a chunkier soup. Return the soup back into the pan. Add the add the parsley and salt, and pepper to taste. Mix to combine. Return the soup to a simmer and cook for about 3 or 4 minutes stirring constantly. Serves 6 to 8.
PARSLEY AND MUSHROOM SALAD
6 to 8 portabella mushrooms cleaned and sliced thin
1/3 cup fresh lemon juice
4 to 6 chopped green onions
1/4 cup fresh chopped parsley
1 teaspoon dried tarragon
1/2 cup bottled Italian salad dressing
1 red pepper diced
4 stalks celery, diced
1/2 teaspoon salt
1/8 teaspoon pepper
1 teaspoons sugar
1 tablespoon apple cider vinegar
2 tablespoons mayonnaise
4 cups chopped romaine lettuce
1 cup toasted almonds
In a salad bowl combine the mushrooms, lemon juice, green onion, parsley, and tarragon. Mix to combine, cover and refrigerate for at least 1 hour. In another bowl, combine the Italian dressing, red pepper, salt, pepper, sugar, vinegar and mayonnaise. Whisk to combine and refrigerate for 1 hour. To serve combine the mushroom mixture with the lettuce. Toss to combine and then add the dressing and almonds to the lettuce mixture and toss to combine. Serves 8 to 10.
© Eileen Goltz parsley21