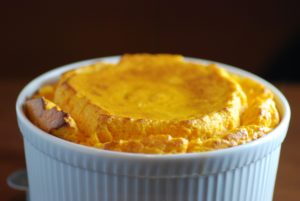 Long hours of deliberation and work (not to mention 300 trips to the grocery for ingredients we forgot on the previous 299 trips) go into making Pesach meals sumptuous. The tastiness of the meal can set the mood for the entire day so, of course, we want everything to be well, perfect, not just for Seder but for every meal of the week.  We're all guilty of falling into the favorite menu trap. You know what I mean. If it's chicken or turkey we have to have potato kugel and/or stuffing. If its brisket well can the kiski or be far behind?
So, basically, what we're all looking for, besides a new way to fix chicken or turkey or brisket are new and exciting side dishes to spice up our routine meals. New ways to fix chicken and brisket, well that's an entirely different post.
Let's see, a great side dish has to be easy, tasty, easy, have the ability to be pareve, easy, able to sit and stay hot or cold if davening run just a LITTLE long and most importantly, be easy.
This Pesach try one (or all) of the following recipes. Every one of them is guaranteed to complement any meal meat or milk and all of them utilize the best of the freshest vegetables and fruits available right now.
CARROT SOUFFLE (pareve)
3 pounds carrots, peeled cut into large chunks
2 cups water
2 cups orange juice
1/2 cup margarine, melted
1/4 cup plus 2 tablespoons cup ground pecans
1 cup plus 2 tablespoons Pereg  Almond flour or Pereg Tapioca flour  (or matzo meal if you must)
Pinch of ginger (you don't need much)
3 eggs, separated
1/2 cup brown sugar
Preheat oven 375. Grease a 6 cup souffle dish. Dust the dish with the ground pecans and set it aside. In a large pot cover the carrots with 2 cups of water and 2 cups of orange juice. Cook the carrots until tender and then drain them. Place the cooked carrots in a food processor and puree them until smooth. Set them aside to cool slightly. Combine margarine, 1 cup matzo meal, and the ginger, mix well. Beat in the yolks. Add this mixture to the cooled carrots and mix well. In the bowl of an electric mixer beat the whites until stiff and then fold them into the carrot mixture. Pour the carrot mixture into the prepared dish. In a bowl combine the brown sugar and remaining pecans and matzo meal. Sprinkle this mixture over the top of the soufflé (You can decorate the top with pecan halves if you like). Bake for 45 minutes and serve hot. Serves 10 to 12
ZUCCHINI NICOISE (pareve)
8 new red potatoes, cooked, and diced
2 tablespoons oil
1 medium onion sliced thin
1/2 pound fresh mushrooms, sliced
1 cup chopped tomatoes
Fresh ground pepper
1/2 bay leaf
3 zucchini cut into 1 inch pieces
3 stalks celery, sliced into 1 inch chunks
In a large skillet, over a medium heat, saute onions and mushrooms in oil. Cook until the onions are transparent. Add the tomatoes and spices and simmer until tender. approx 10 min. Add the zucchini and potatoes to the sauce, cover and simmer for about 10 minutes. This is a great side dish and can be served either hot or cold. You can make it a main course by adding grilled tuna or salmon. Serves 4 to 6.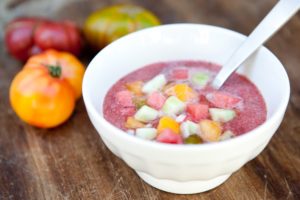 FRUIT GAZPACHO
2 cup tomato puree*
3 cups fresh orange
2 teaspoons sugar
2 teaspoons grated orange rind
2 teaspoons lemon or lime rind
2 cups diced cantaloupe
2 cups diced honey dew
1 cup mango, peeled and dice
1 cup blueberries
1 cup green or red seedless grapes
1 cup strawberries
2 kiwis peeled and sliced
*To make fresh puree seed and peel fresh tomatoes and process them in a blender.
Combine the puree with the orange juice, sugar, rinds, melons and mango. Process half of the melon mixture until smooth. Stir the pureed mixture into the remaining melon mixture. Mix to combine, cover and refrigerate. Just before serving add the blueberries, grapes, strawberries, and kiwi to the puree mixture and mix to combine. Gently spoon the soup into bowls. You can serve the soup with a dollop of sour cream or yogurt in if you are serving dairy. A sprig of fresh mint to decorate is also a nice touch. Serves 8 to 10.