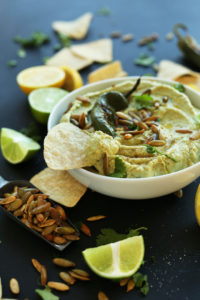 Let's face it, the "OTHER" New Year's Eve (yes, I'm talking Rosh Hashanah here) was several months ago and quite frankly, I'm still eating left overs. The December 31st New Year's Eve is NOT a night where I want to go anywhere, because I know that that everyone else will be out and about fighting to find the "perfect" party experience. I like to stay home, have friends over, make a bunch of appetizers and huge big hero sandwiches and play games and watch the ball drop from the comfort of my cozy 72 degree family room while watching the lunatics who think standing outside with 10,000 strangers who are going to want to kiss you in a -3 with a wind chill of -20 is a good example of……..fun?????
My go to appetizer ingredient these days is the avocado. I always seem to have 6 or 8 of them lying around on the counter and I've come up with some really delicious EASY EASY EASY recipes that are guaranteed to have everyone grabbing for the last bite.
Just remember, that resolution you JUST made to lose weight is not a reason to skip trying these yummy treats.
AVOCADO HUMMUS
3 ripe Avocados, diced
1 (15-oz. can) garbanzo beans rinsed and drained
1 teaspoon minced garlic
1 tablespoon lemon juice (fresh is best)
2 tablespoons olive oil
1 red bell pepper diced
1/2 teaspoon salt, or to taste
2 to 3 tablespoons toasted pine nuts or salted sunflower seeds if you don't have pine nuts
1 tablespoon chopped fresh parsley or 1 teaspoon dried
In the bowl of a food processer combine the garbanzo beans, garlic, lemon juice, olive oil and salt. Process until smooth. Add the avocado and red pepper and process until combined with small pieces of avocado and red pepper still there. Spoon into the serving bowl and refrigerate for at least 1 hour before serving. To serve, top with toasted pine nuts and parsley.
AVOCADO & OLIVE CROSTINI
1 loaf French or Italian bread, cut into thin slices
3 tablespoons olive oil (divide 2 tablespoons and 1 tablespoon)
1 teaspoon minced garlic
3 avocados, chopped
8 to 10 chopped black olives
1/4 cup lemon juice
1 pint multi-color cherry tomatoes, quartered
1 tablespoon chopped fresh basil (or 1 teaspoon dried)
Kosher salt and pepper, to taste
Set oven to broil. In a microwave bowl combine the olive oil and garlic. Heat for 1 minute. Cool slightly. Arrange the bread slices on a baking sheet and brush 1/3 of the olive oil over the top. Flip the slices and spread the 1/3 of the olive oil over the other side. Broil for 1 1/1 minutes on each side, just till starting to get golden. Remove IMMEDIATELY. Cool.
In a bowl combine the avocado and lemon juice and mash to combine. Add the black olive and mix to combine. Season with salt and pepper to taste. Divide the mixture between the slices of bread. Top with chopped tomatoes and sprinkle with the basil. Drizzle the remaining tablespoon of olive oil over the top and serve. Serves 8 to 10 depending on the size of the slices
CRISPY AVOCADO WEDGES
1 cup beer
1 cup flour
1/4 to 1/2 cup panko bread crumbs (or make your own but toast them)
1 1/2 teaspoon paprika
2 teaspoon minced garlic
3 LARGE avocados
vegetable oil
1 cup salsa and or ranch dressing
In a bowl combine the beer, flour, paprika, and garlic and whisk to until well blended. Let rest for 2 hours. When you're ready to cook heat enough oil in a deep pan to fry the slices. Peel the avocados and cut each of them into 6 wedges. And place them in the batter. Mix gently so they are coated. Dredge them in the bread crumbs and fry 3 to 4 at a time until they are golden. Drain on paper towels and repeat with the remaining wedges. Serve with salsa or ranch dressing. Serves 4 to 6. You can double or triple this recipe and trust me, you will want to.
LEMON LIME AVOCADO AND PINEAPPLE SALSA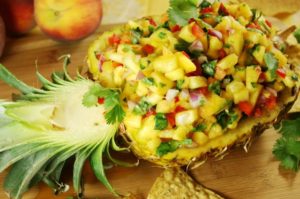 1 tablespoon fresh lemon juice
1 fresh lime, juiced,
zest of 1 lime
2 tablespoons tequila or white wine
2 tablespoons brown sugar
2 cups chopped fresh pineapple (or 1 can tidbits, drained)
1/4 cup rice wine vinegar
1 small red onion, chopped fine
1 jalapeño pepper, stemmed, seeded if desired, and minced
1/2 cup chopped fresh parsley
1 tablespoon olive oil
1 to 2 teaspoon salt
1/2 teaspoon black pepper
4 avocados diced
In a bowl, combine the lemon and lime juices, lime zest, tequila and sugar. Mix until the sugar dissolves. Add pineapple and mix to coat. Cover and let sit at room temperature for 30 minutes to an hour. Drain the liquid into a saucepan and add the vinegar. Simmer for about 4 minutes remove and let cool.
In a serving bowl, combine pineapple, red onion, jalapeño, parsley, avocado, olive oil, salt, pepper. Pour the juice mixture over and mix gently, and season to taste with more salt and pepper if necessary. Serves 4 to 6
If you want to prep a day in advance just add the avocado right before serving. Mix to combine and serve.