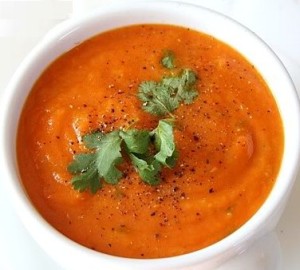 I'm a huge fan of tomato soup. What I'm NOT a fan of is opening a can of the "condensed" stuff and passing it off as something worth wasting my time on. I want a full bodied, take no prisoners tomato soup that is more than the sum of its ingredients. Making your own, from scratch, tomato soup is so simple that once you try the following recipes you'll never go back to the premade stuff.
You don't need to use fresh tomatoes for tomato soup, in fact, it's easier and just as tasty if you use the diced, whole or crushed canned varieties. Most everyone has a can or 6 of some kind of tomato in their pantry at any given moment so there's really no excuse not to try some of the following recipes.
I tend to make double or even triple batches of tomato soup of it and store it, in the freezer, in 4 person servings. It's there, waiting for the moment the mood strikes me that NOW is the perfect time for the perfect feel good meal. As a fine note in my homage to tomato soup, I have to tell you it is especially satisfying if (the soup is pareve or dairy) you serve it with a grilled cheese sandwich as a chaser or side dish.
TOMATO AND SPINACH LENTIL SOUP (pareve)
1 tablespoon olive oil
1 can (14.5 oz.) diced tomatoes
4 carrots, chopped
2 cups chicken or vegetable broth
1 onion, chopped
3 stalks celery, sliced
1 cup dried red lentils
2 cups of water
1 teaspoon ground cumin
1 bag (5oz.) baby spinach
Salt and pepper to taste
Heat oil in a 4qt. saucepan add the celery, carrots and onions and saute for 6 to 8 minutes until tender. Add the cumin mix to combine and add the tomatoes, broth, lentils, water. Mix, bring to a boil then reduce to a simmer. Cover and cook until the lentils are tender, 30 to 40 minutes. Just before serving, stir in the spinach, cook, just until wilted and season with salt and pepper to taste. Serves 6. This recipe can be doubled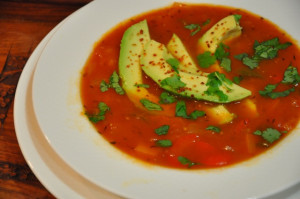 NO COOK TOMATO SOUP (pareve)
2 1/4 cups tomato juice
1 1/3 cups finely chopped tomatoes (about 11 ounces)
1/2 cup (generous) finely chopped roasted red bell peppers from jar
2 tablespoons olive oil
1 tablespoon rice wine vinegar
1 tablespoon red or white horseradish
1 to 2 teaspoons mince garlic
dash of hot pepper sauce (optional)
kosher or sea salt
12 multi colored cherry or grape tomatoes, cut in half
2 tablespoons thinly sliced fresh basil
1 avocado sliced
olive oil (for drizzling)
In a large bowl combine the tomato juice, chopped tomatoes, red peppers, olive oil, vinegar, horseradish and garlic. Mix to combine. Add the hot sauce if using. Mix to combine and season with salt and pepper. Cover and refrigerate. Can be made up to a day ahead of the time you want to serve it. To serves, ladle into 4 bowls, top with the cut tomatoes and basil. You can serve it with sliced avocados, croutons or sunflower seeds as a garnish and a drizzle of olive oil on top if you like. Serves 4. This recipe can be doubled or tripled.
NOTE: You can sprinkle the top of this soup with Parmesan cheese if you want a little bit of a dairy in your meal.
TURKEY TOMATO SOUP (meat)
2 1/2 pounds ground turkey
1 large yellow onion, diced
2 celery stalks, diced
3 garlic cloves, minced
2 tablespoons olive oil
1 (14.5-ounce can) whole tomatoes
2 yellow bell peppers, diced
4 carrots, peeled and sliced on the diagonal
2 large potatoes cut into 1-inch chunks
3 cups chicken or vegetable broth (you can us more if the soup is too thick)
3 tablespoons tomato paste
1/2 to 1 teaspoon kosher salt, to taste
1 teaspoon black pepper
1 tablespoon dried parsley
1 teaspoon dried or 1 tablespoon fresh oregano
Dash hot sauce (optional)
In a large soup pot heat the oil until hot, add the turkey, onion, celery, and garlic. Cook, stirring constantly until the turkey is no longer pink and cooked throughout. Add the tomatoes and juice from the can, peppers, and carrots. Mix to combine and add the potatoes, stock, tomato paste, salt, black pepper, parsley and oregano. Mix to combine, bring to a boil then reduce to a simmer. Cover and cook for 20 minutes or until the potatoes are soft. Serves 6 to 8. This recipe can be doubled.
© Eileen Goltz tomato soup 16