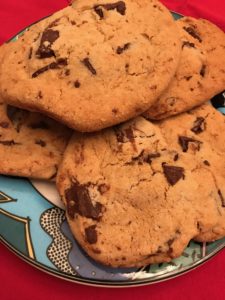 There is a rivalry in the food world that is of almost of biblical proportions. I am, of course, talking about team mayo VS team Miracle Whip. Like Ashkenazi and Sephardi are both Jewish it's just that the nuances are different. While the taste difference is subtle they are distinct enough to have devotees on both sides steadfast in their determination to never use the other.
To be clear, "mayonnaise" must contain a minimum of 65 percent vegetable oil by weight. Miracle Whips oil content does not meet that standard. While both products contain egg, oil, vinegar, water, Miracle Whip is sweeter and spicier than mayonnaise and while both are considered condiments Miracle Whip is most often classified as a dressing. While both are pareve for the purpose of substitution you have to go with team mayonnaise.
Cooking with mayonnaise is amazing. It's so versatile you can use as a substitution in ways you never imagined. What are they you ask?
When you just gotta have the crunch in a baked or fried food use mayonnaise as the "glue" to keep the breading stuck on your chicken or veggies instead of egg. Because the main ingredient in mayonnaise is oil, it's perfect for frying.
For outstandingly delicious and creamy scrambled eggs whisk a little mayonnaise (1 teaspoon per 2 to 3 eggs) into the eggs before cooking them.
Spread mayonnaise on the bread instead of butter when making a grilled cheese sandwich. Mayonnaise won't burn as easily as butter but gets the bread just a toasty crispy
CHOC CHUNK MAYO COOKIES
1 cup plus 2 tablespoons flour
1/2 teaspoon baking soda
1/2 scant teaspoon kosher salt
1 stick margarine or butter, room temperature
6 tablespoons sugar
6 tablespoons brown sugar
1/2 teaspoon vanilla
2 heaping tablespoons mayonnaise
1 heaping cup semisweet chocolate chunks (or chips)
Preheat oven to 350. Spray 2 cookie sheets with nonstick spray and set aside. In a bowl combine the flour, baking soda and salt and set aside In the bowl of an electric mixer combine the butter, sugars, and vanilla. Beat 3 minutes until fluffy. On a low speed, add the flour mixture. Mix to combine but do not over mix. Add the mayonnaise but again, beat to combine, do not over mix. By hand, stir in the chunks. Using a small ice cream scoop (the perfect way to get the perfect shaped cookie) place the cookies on the prepared sheet, but not too close together as they will spread.  You will have about 20 to 24 depending on the size of your ice cream scoop.  Bake 20 to 22 minutes until cookies are golden but not over cooked.  Let cool on the cookie sheet.  Makes approx. 2 doz.
from my file, source unknown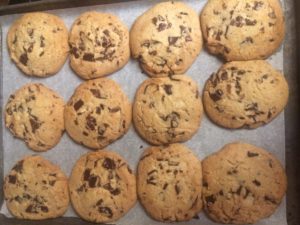 MOCHA CHOCOLATE MAYONNAISE CAKE (pareve)
2 cups flour
2/3 cup unsweetened cocoa powder
1 1/4 teaspoon baking soda
1/4 teaspoon baking powder
3 eggs
1 2/3 cups sugar
1 to 2 tablespoon cold coffee (to taste, the stronger the better)
1 cup mayonnaise
1 1/3 cups water
1 cup chocolate chips
Preheat oven to 350. Grease and flour two 9-inch round cake pans or a 9X13 pan; set aside.
In the bowl combine the flour, cocoa, baking soda and baking powder. Mix to combine and set aside.
In the bowl of an electric mixer combine the eggs, sugar and coffee. Beat for 2 to 3 minutes until combined. On a low speed add the mayonnaise and continue beating until combined. While on low add 1/3 the flour mixture, beat to combine then add 1/2 the water and beat to combine ending with the last 1/3 of flour. By hand, fold in the chocolate chips. Pour the batter into whichever size pan you prefer and bake 25 to 30 minutes. Cool the cake for 10 minutes before removing them from the pans. You can frost with a frosting of your choice or dust the top with powdered sugar; remove from pans and cool completely. Frost, if desired, or sprinkle with confectioners sugar.
Modified from the original Hellman's Mayonnaise recipe
MAYO BISCUTS
1 cup self-rising flour
1/2 cup milk (or nondairy substitute)
1/4 cup mayonnaise
Preheat oven to 375. Grease 6 large muffin cups. In a bowl combine the flour, milk, and mayonnaise. Don't over mix but make sure it's combined.  Pour the batter into the greased muffin cups. Bake approx. 30 minutes or until golden brown on the top.
FYI If you don't have self-rising flour, you can use regular flour, 1 1/2 teaspoon baking powder and dash of salt as a substitute.