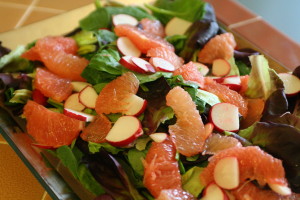 Pesach is a time of HEAVY food. No I'm not talking kugel and chopped liver although they are a bit weighty, I'm talking about all that matzo and matzo meal and farfel and well, just about any dish that needs a cake or bread like structure. I hope by now you know I'm not matzos biggest fan. Yes, it's mandatory food fun this time of year but seriously, with all those carbohydrates just waiting to be consumed is it any wonder that salads play a big part in my need to counterbalance the foodie scale?
Israeli salad and tossed greens with that readymade "icky" Pesach salad dressing are just not on my menu any more. I demand different this time of year. Don't get me wrong. I have no desire to spend another $2,000.00 on even MORE special ingredients, I'm just happy to reinvent and serve my non Pesach salad recipes to everyone who can't stand the thought of one more morsel of matzo passing their lips.
In the event you don't have the desire (or the strength after hosting 37 people 2 nights in a row) to try the following recipes I'm going to suggest that you use spring greens and or spinach and upgrade your add-ins. Try adding, in no particular order or combination: chopped apples, chopped figs, chopped dates, strawberries, kiwi. Sunflower seeds, dried cherries, warm sautéed mushrooms or asparagus and left over chicken. Make and add your own dressing (sooooo simple, recipe included) and see how much lighter your scale will be at the end of the week
DATE AND CITRUS SALAD
5 naval or 7 blood oranges, peeled
1 pink grapefruit
1/2 cup sugar
1 teaspoon cinnamon
12 pitted dates, chopped
1/2 cup chopped walnuts or pecans or almonds
1 teaspoon honey
1 lb baby spinach leaves
Over a bowl, segment the oranges and grapefruit with a knife. Make sure you catch the juice. Cut the segments into 3 pieces each and then place them in another bowl. Sprinkle the sugar and cinnamon over the citrus pieces and mix to coat. Add the dates to the citrus juice. Add the honey and mix to combine. Cover and refrigerate for at least 30 minutes for the flavors to meld. Just before serving, add the nuts, mix to combine and serve on a bed of baby spinach. Serves 6 to 8
CHOP CHOP OLIVE SALAD
1/2 head green cabbage, shredded
1/2 head red cabbage, shredded
3 carrots, peeled and shredded
1 red bell pepper seeded and cut into bite sized pieces
4 green onions, trimmed and finely chopped
6 to 10 radishes, slice thin
3/4 cup drained, sliced pimento-stuffed green olives (save the juice)
1/2 to 2/3 cup sliced black olives
3 tablespoons mayonnaise
3 tablespoons olive brine
3 tablespoons apple cider or balsamic vinegar
1 tablespoon sugar or honey
1 avocado cut into bite sized pieces
1/2 cup peanut or vegetable oil
Salt and pepper to taste
2 to 3 tablespoons chopped parsley (great for the leftover from Seder)
3 to 4 chopped hard cooked eggs (great for the leftover from Seder) optional
In a bowl combine the green and red cabbage, carrots, radishes, red pepper, green onions, black olives and mix to combine. In another bowl combine the mayonnaise, avocado, olive juice, vinegar, sugar and oil. Whisk to combine making sure to mash the avocado into smaller pieces and it thickens the dressing.  Pour the dressing over the vegetables and mix to coat. Cover and refrigerate for at least 1 hour before serving. To serve season with salt and pepper, toss to combine and sprinkle the chopped parsley (and chopped egg, if using) on the top.  Serves 8
*you can add 2 cans of drained white albacore tuna to make this more of a main course or lunch recipe.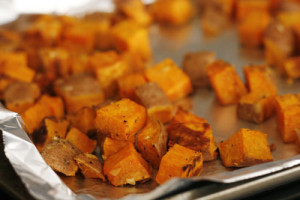 WARM SWEET POTATO SALAD
4 sweet potatoes, peeled and cut into 1-inch pieces
5 tablespoons olive oil
1 tablespoon finely chopped fresh rosemary
1 teaspoon salt, plus more as needed
1 teaspoon black pepper, plus more as needed
1/4 teaspoon ground nutmeg
1/4 teaspoon ground cinnamon
1 cup sunflower seeds
1 cup dried cranberries
6 green onions, thinly sliced (green and white parts)
A few handfuls of shredded kale or baby spinach
1 red pepper, sliced into thin strips
1 yellow pepper, sliced into thin strips
1 green pepper, sliced into thin strips
Dressing:
6 tablespoons balsamic vinegar
1/3 cup apricot jam
2 teaspoons prepared white horseradish
2 tablespoons honey
2 teaspoons minced garlic
1/4 cup olive oil
Preheat oven to 425. On a cookie sheet with sides combine the potatoes pieces, 3 tablespoons of the olive oil, rosemary, nutmeg, cinnamon, salt and pepper. Mix to combine and bake until the potatoes are golden brown, approx. 25 to 30 minutes. While they are cooking, in a small sauce pan combine the vinegar, jam, horseradish, honey, garlic and olive oil. Heat to a simmer where the jam has melted. Whisk to combine and remove from the heat.
In a bowl combine the sliced peppers, kale or spinach, cranberries and warm potatoes.  Gently mix to combine. Drizzle 2/3 of the dressing over the salad, mix to combine and sprinkle the sunflower seeds over the top. Serve with the remaining dressing. Serve with extra dressing on the side. Serves 8
VINAIGRETTE DRESSING
1/4 cup oil (olive oil)
2 tablespoons vinegar or white wine
Salt and black pepper (fresh-ground) to taste
2 teaspoons sugar or honey.
In a container with a tight lid, combine all the ingredients and shake to combine. This can be doubled or tripled
Add in: dried herbs like oregano, basil, thyme or whatever you like. You can also add a little ketchup, fresh chopped tomatoes, fresh minced garlic or whatever you like.  Just know if you use fresh ingredients you can't save the dressing for more than 24 hours. Use it when you make it and then discard the remaining.