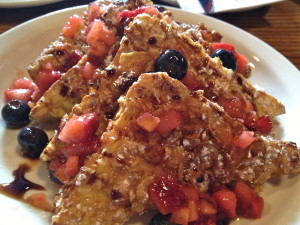 Contrary to the popular belief that the fall is the best time to use maple syrup, those of us with a sweet tooth partiality for the luscious, nutty, wood smoky flavor of the best alternative to sugar the harvesting usually takes place in late February or early March and start looking for ways to start using it in your soon to be spring menu planning. In fact, the month of March is sometimes called Maple Syrup month
Maple is a natural ingredient (read your labels to make sure what you're buying is 100% maple syrup and not some cockamamie mixture of sugar and water and coloring and maple flavoring). There are bunches of pure maple products available with a reliable hechser add a complexity of new flavors to your recipes. It's great in both sweet and savory glazes and sauces for poultry, meat, seafood and vegetables. It also great paired with fresh fruit, hot breakfast cereals and in tea or coffee instead of sugar.
MAPLE PEARSAUCE
8 Anjou or other firm pear, peeled, cored, cut into chunks
1/2 cup maple syrup
1 tablespoon ground cinnamon
2 tablespoon fresh lemon juice
1 teaspoon lemon zest
1/4 teaspoon kosher salt
In a heavy saucepan combine the apple, maple syrup, cinnamon and lemon zest and juice. Cover and simmer for about 10 minutes, just until the pears soften. Take off the lid and cook at a simmer, stirring occasionally, for about 15 minutes (you don't want to lose all the chunky pieces so watch it until you like the consistency). Remove from heat, cool slightly and taste. Add more maple syrup or cinnamon, if needed to get the balance of flavor you like. Let cool for at leat 30 minutes before covering and refrigerating. This is great warm with oatmeal or cold as a side dish. Serves 8.
Note: you can make this recipe using apples instead of prears
MAPLE CRUNCH FRENCH TOAST
1 cup cornflakes crumbs (make them yourself)
2/3 cup whipping cream, half and half or almond milk
1/2 cup milk (or almond milk if going nondairy)
3 large eggs
3 tablespoons maple syrup
1 teaspoon cinnamon
1/4 teaspoon nutmeg (optional)
1 tablespoon vanilla
16 slices bread (I always use challah)
2 tablespoon butter.
Make maple-whiskey butter. This can be made ahead of time and will keep for several days in the refrigerator. It can also be frozen.
Place the cornflake crumbs on a flat dish or pie pan and set them aside. In a bowl combine the eggs maple syrup, cinnamon, nutmeg and vanilla. Whisk to combine and then add the cream/half and half/almond milk and whisk to combine.
Dip 3 or 4 of the bread slices into the egg mixture (coat both sides for about 10 or 15 seconds each side) then dip the into the cornflake crumbs on both sides Press the crumbs gently into the bread on each side. Place the coated slices on a cookie sheet until all are coated. Heat the skillet or griddle and melt 1 tablespoon of butter. Cook 4 to 6 piece at a time (depending on the size of the pan or griddle. Let cook 3 to 4 minutes and then flip and cook 2 to 3 minutes on the 2nd side. You want it to be golden not dark brown. Serves 6 to 8.
Note: great with fresh berries and warm maple syrup
WHISKEY MAPLE BUTTER
This is so delicious on hot dinner rolls
4 ounces salted butter at room temperature
1 1/2 teaspoon maple syrup
1 teaspoon whiskey (or vanilla extract if alcohol is an option)
1/2 teaspoon brown sugar
1 tablespoon finely chopped, toasted pecans
In a glass bowl combine the butter, maple syrup, whiskey, salt, and brown sugar. Mix with a spoon until well combined. Add pecans and mix to combine. Take butter out of bowl and place on one end of a sheet of plastic wrap about 14 inches long. Fold sides of plastic wrap over butter, then wrap plastic wrap tightly around butter, forming butter into a log. Chill butter in the refrigerator for 10-15 minutes, so that it firms up just slightly.