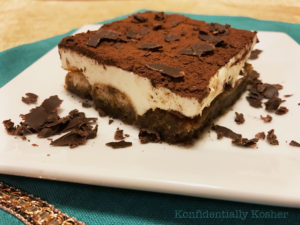 I'm starting to get recipe requests from that readers have recently had at a restaurant or remember
from a meal gone by. Seriously, last week I got, 3 requests for Tiramisu. Seems several Konfidentially Kosher readers were at a wedding in Chicago where this decadent creamy dessert was served and served and all of them wanted to know how to make a version at home. Originating from Italy its name literally means, "pick me up." That describes tiramisu perfectly. You want to pick it up and shove it in your mouth as quickly as you can. The combination of coffee and sugar is addicting and it's very easy to create a simple version of the elaborate bakery version.
Most recipes call for ladyfingers and while kosher certified ones are available they are pricey. I have substituted pound cake, biscotti, sponge cake, vanilla cookies, or angel food cake. When I'm making a lower calorie version (HAHAHAHA) I trade in the mascarpone cheese for skim milk ricotta. In my opinion, Tiramisu tastes better when the flavors have a chance to blend overnight. Tiramisu can be prepared in advance and kept in the freezer. It needs to be served COLD so just remember to remove it from the freezer so it has enough time to thaw but not get to room temperature.
EZ NO COOK TIRAMISU (dairy or pareve)
(This recipe does contain raw egg so if that bothers you pass on this recipe)
3 egg yolks
1/4 cup sugar
2 teaspoons vanilla
1 1/8 cups mascarpone cheese
2 teaspoons orange zest
24 ladyfingers or slices of angel food or pound cake
1/2 to 2/3 cup semi sweet mini chocolate chips
1 1/2 cups brewed coffee
1 tablespoon unsweetened cocoa powder
In a medium bowl of an electric mixer combine the yolks, sugar and vanilla. Beat until smooth and light yellow, 3 to 5 minutes. By hand, fold in the mascarpone and orange zest until combined then set the mixture aside. Dip the ladyfingers or cake slices lightly into the coffee and then arrange 12 to 14 of them in the bottom of a 9×9 inch dish. Spread half the mascarpone mixture over the ladyfingers. Sprinkle the chocolate chips over the top Repeat with remaining ladyfingers and finish with the remaining mascarpone mixture. Sprinkle the remaining chips on top. Cover and refrigerate for at least 2 hours or overnight. To serve sprinkle a little cocoa powder over the top. Serves 6 to 8.
(To make pareve substitute 1 cup pareve cream cheese, 1/4 cup pareve sour cream, 2 tablespoons more sugar and 1 more teaspoon vanilla instead of the mascarpone)
ALMOST TIRAMISU
1 pound cream cheese, softened
2 cups sugar
1/4 cup milk
1 tablespoon vanilla
1/4 cup whiskey
2 tablespoon instant coffee dissolved in 1/2 cup water
1 1/2 cups coffee liquor
4 cups whipping cream, whipped to peaks
14 ounce package of ladyfingers or sponge cake cut into strips
1/2 cup cocoa powder
Chocolate chips or curls
Coat a 10 X 15 glass baking dish with nonstick spray and set it aside. In a bowl combine the cocoa powder and sugar, mix to combine. Fold in the whipped cream and then set aside. In the bowl of an electric mixer combine the softened cream cheese and sugar. Beat until smooth and creamy. Add the milk, vanilla and whisky. Beat on low until combined and then on high until fluffy. Transfer the mixture to another bowl and set it aside. In a small bowl combine the instant coffee liquid with the whisky. Mix and set aside.
To assemble:
Lightly dip the bottoms of the ladyfingers (or strips of cake) into the liqueur. Place the soaked side down and line the entire bottom of the pan. Spread half of the  cheese mixture over the top and then sprinkle or dust with 1/4 cup cocoa. Repeat with the rest of the ladyfingers (dipping them) and then placing them on top of the cream mixture. Spread the remaining  cheese mixture over the top. Dust the top with the remaining cocoa. Cover and refrigerated or 8 hours or overnight. To serve sprinkle curls or chips over the top and cut into squares. Serves 12 to 14
Strawberry Tiramisu
1 lb. Mascarpone
1/2 cup coffee liqueur
1/2 cup strong coffee
4 eggs, separated
1cup sugar
2 packages of ladyfingers
3 squares grated semi-sweet chocolate
1 quart fresh strawberries, thickly sliced
2 tablespoons white sugar
1/4 cup whiskey
In a bowl combine the strawberries, whiskey and 2 tablespoons sugar. Mix and set aside. In a bowl combine the egg yolks, and mascarpone and beat until smooth and set it aside. In yet another bowl whip the egg whites until bubbly but not stiff, at that point add the sugar and continue beating until it creates stiff peaks.
Quickly dip one side of the ladyfingers in the coffee, and put a single layer in the bottom of the pan. Place a layer of sliced strawberries on top of the ladyfingers and then spread half of the cheese mixture over the top of the strawberries. Sprinkle half of the grated chocolate on top of the cheese mixture. Repeat the layering and end with the chocolate chips. Cover and refrigerate for at least 6 to 8 hours or