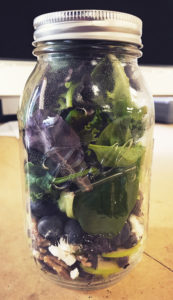 I have recently discovered the joys of Mason jar salads. Who says you can't teach an old broad new recipe tricks. One of my culinary sidekicks, Katie, assured me that EVERYONE who is cooking these days is making and eating these easy do ahead meals. So, since I'm now a huge fan I'm hoping to convince anyone who wants to make to go meals even more memorable. These meals in a jar are perfect for anyone who really has specific dietary restrictions (dieting, kosher, gluten free, diabetic etc.) because you can make a weeks worth  of lunches or dinners in a controlled portion size. Supper for school, work and just about anywhere you need to go.
First thing you need to know is, much like your winter wardrobe it's all about layering at the order of layers. The way you put your ingredients into you jar can mean the difference between a great, crispy salad and a soggy mushy mess. My preferred order (and no you don't have to use all these in every dish):
Dressing on the bottom (goes in first), always!
Chunky hard vegetables (broccoli, carrots, beans, celery)
Softer vegetables (tomatoes, mushrooms, bean sprouts, corn)
Protein (if using, egg, meat, fish or cheese)
Pasta or grains
Nuts, raisins
Leafy greens (spinach, lettuce kale)
I use wide mouth (the better to layer the ingredients) quart size mason jars, never plastic containers. There is nothing wrong with plastic containers if you don't have mason jars BUT the salad can last up to 5 days in glass as opposed to 1 or 2 in plastic.
FYI if using avocado always toss it with a little lemon juice before adding it to the jar, it keeps it from browning.
That's it (other than the recipes). Make and store and go! I don't eat the salad out of the jar, too messy and awkward so I suggest you can shake the jar before you pour the entire mixture on to a plate/bowl and mix to combine THEN eat.
CORN AND BLACK BEAN SALAD IN A JAR
6 mason jars
1 1/2 cup chunky salsa
8 oz.  Plain yogurt (Greek is good too)
1 quart cherry tomatoes, halved
1 red onion, chopped
3 stalks celery, diced
2 cans black beans, drained and rinsed
2 cups canned corn, drained
2 avocados, peeled and chopped
1 tablespoon lemon juice
8 oz pepper jack cheese, shredded or cube
6 cups romaine or red leaf lettuce shredded or chopped
Divide the salsa between the jars. Divide the yogurt between the jars. Layer in the following order, tomatoes, onions, celery, beans, corn, avocado, cheese, and top with the lettuce. Place the lid on the jar and refrigerate. Makes 6
JERUSALEM IN A JAR
1 cup your favorite vinaigrette
1 cans artichoke heart pieces
1 can black olives, cut into pieces
1 can white beans, drained
1 cucumber, diced
1/2 cup Parmesan cheese
1/2 cup pine nuts or sunflower seeds
2 tablespoons dried oregano and
3 cups romaine lettuce, shredded
3 tablespoons minced parsley
Starting with the vinaigrette divide the ingredients between the 6 jars ending with the parsley. Makes 6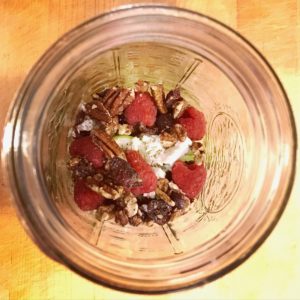 SWEET AND SAVORY
3 pears (Bosc or Anjou), cut into thin slices
½ cup roasted pecans, candied if preferred
6 oz blueberries or raspberries, fresh
½ cup crumbled goat cheese or feta
½ cup dried cranberries
2 cups spring greens
2 cups baby spinach
Balsamic vinaigrette, to taste
Combine baby spinach and spring greens in a large bowl, toss until well mixed. Starting with the sliced pears, divide the ingredients between the 6 jars ending with the greens. For serving, turn jar over into bowl or onto plate and top with balsamic vinaigrette. Makes 6