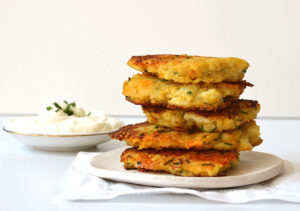 Chanukah is next week (OMG it's so early) and everyone that I know is dusting off their latke recipes and looking for the newest, trendiest recipes that, this year need to be gluten free.
Before you write and tell me that latkes can be gluten free with very little trouble and why the big deal I need to mention that for many, a binder of flour or bread crumbs is a common ingredient. Substituting soy or almond flour does alter the taste a bit but for the most part you can make a 1 to 1 substitute.
This brings me to my next holiday dilemma. To peel or not to peel the potato. But a lot of peeling is just habit. We were brought up peeling potatoes and carrots so we peel potatoes and carrots. For some peeling is akin to a religious experience, they get in the zone and peel pound after pound. For me, not so much. I find that the benefits of the peel outweigh the pain of peeling. A good and through scrubbing is what should be done before chopping or shredding the potato. The phenolic compounds found in the skin have an antioxidant and anti-inflammatory benefit
For those not in the know a latke is typically a potato pancake (typically served at the previously mentioned Chanukah), fried in oil and served with a variety of condiments that have been known to run the sweet to savory. What you put on top is your choice but I can promise you the following (gluten free) latke recipes will please anyone that is lucky enough to be a guest at your table.
GLUTEN FREE LATKES
5 lbs russet potatoes, 1/2 grated and 1/2 shredded (you don't have to peel them if you don't want to)
1 large onion, chopped or grated and drained in a colander
2 teaspoons salt
1 tablespoon white pepper
1 cup rice or almond flour
3 eggs, beaten
oil (for frying)
Preheat oven to 200. Line 2 cookie sheets with paper towel and set them aside.
Place the grated and shredded potatoes in a bowl of cold water. Let sit for 10 minutes, drain. Rinse and drain again, pushing to get rid of excess water. Place the drained potatoes on the prepared cookie sheets and pat with additional paper towels to dry. Place the potatoes in a bowl and add the onions, salt, pepper, flour and eggs. Mix to combine.
Heat between a 1/3 to 1/2 inch of oil in a large, heavy skillet (I like cast iron) over medium-high heat,
Make a test pancake to make sure the batter is the right consistency. If too thin add more flour if too thick add another egg.
Spoon about 1/4 cup of the batter into the hot oil at a time (don't crowd them), and gently, with the back of a spoon or spatula, press the top each latke so that it is no more than 1/2″ thick. The thinner the more crispy so push to your desired texture. Fry until completely golden-brown on the bottom and crispy around the outer edges. Flip and brown the second side.
While they are cooking reline the cookie sheets with more paper towel. When the latkes are done place them on the paper towel and place them in the warm oven until ready to serve. Serve hot with the toppings of your choice, some just like salt and pepper and others go full force with sour cream and applesauce.
These can be made ahead of time and frozen then reheated when you're ready to serve just undercook them slightly to light golden. Reheat at 400 until sizzling. Serves 6.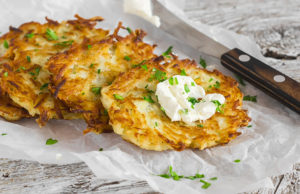 PEPPER JACK LATKES
3 large potatoes, grated (peel only if you want to)
1 egg
2 tablespoons almond flour or tapioca flour
2 tablespoons grated parmesan cheese
1 teaspoon salt
1/2 teaspoon pepper
3 tablespoons butter
3 tablespoons olive oil
8 to 10 slices pepper jack cheese
Preheat oven to 250. Like a cookie sheet with paper towels and set it aside. Place the grated potatoes into a bowl of cold water. Let sit for 5 minutes and drain into a colander and push out the excess water. Pat dry with paper towels. Place the potatoes into a bowl Add the egg, almond flour, parmesan cheese, salt and pepper. Mix to combine
In a skillet combine, heat 1 tablespoon of butter and 1 tablespoon of oil . Spoon 4, 1/4 of the potato mixture into the hot oil and cook for 2 to 3 minutes, pushing down a bit with the back of a spoon or spatula until the bottom is golden. Flip and continue cooking. At this point, place 2 pieces of the cheese on top of 2 of the latkes and let it melt. When the bottom of the two latkes without the cheese is golden place them on top of the cheese. Cook for about 30 seconds and then remove to a cookie sheet with paper towels on it and then place them in the oven.
Repeat with the remaining batter and cheese to make 3 to 4 more sandwiches depending on the size and how cheesey you want them. Serve immediately. Makes 4 to 6 depending on the size..
ZA'ATAR CAULIFLOWER LATKES
7 1/2 cups 1-to 1 1/2-inch cauliflower florets (from 2 medium heads)
2 teaspoons minced garlic
1/4 cup chopped fresh parsley
1/4 cup chopped fresh dill
1/2 cup plus 2 tablespoons ground almonds or almond flour or a mixture of the 2.
1 1/2 teaspoons baking powder
3/4 teaspoon salt
1/2 teaspoon cayenne pepper
2 large eggs (beaten) + 1 if needed
Olive oil for frying
Za'atar for garnish
In a large pot of boiling salted water cook cauliflower until very tender but not mushy, 8 to 10 minutes. Drain and cool.
In a food processor combine the garlic and half of the cauliflower. Process until smooth. Add remaining cauliflower, parsley, and dill. Pulse just until cauliflower is chopped but there are still some chunks. Put the mixture into a bowl. Mix in the almonds and almond flour, baking powder, salt and cayenne. Add the eggs to the cauliflower mixture and mix to combine.  This should NOT be a runny batter but if the batter is too dry add the additional egg. This can be made 24 hours in advance of preparing to serve. Just cover and refrigerate at this point if you want to wait.
Heat just enough oil to generously cover the bottom of a skillet. Drop heaping tablespoons of the batter into the pan (do not crowd them) and flatten them slightly. Cook until golden, adding just bit more oil as needed (be careful not to use too much as these latkes absorb oil). You will only need 2 to 3 minutes per side as you don't want them too brown. Place them on a cookie sheet covered with paper towels, These can be made in the afternoon for the evening (keep at room temperature.)
To serve, if you make them ahead of time bake the latkes at 350 for 8 to 10 minutes if you want to make them and eat them right away then make sure they are golden brown and drained on paper towels for a minutes. To serve, place on a platter and sprinkle the Za'atar on the top and serve. Serves 6 to 8 appetizer or 4 to 6 dinner.