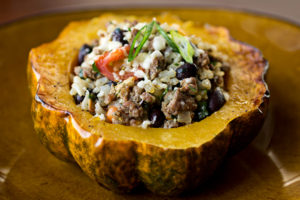 They're everywhere you look these days. Green and round-ish they kinda look like alien pod people could erupt from them at any moment. But wait, don't be alarmed, it's just that acorn squash are in season and they're affordable, available and just waiting for you to take them home.  These green and orange/gold and hard squash are, in my cookbook, the best squash to cook to bring fall flavor to your table. They are chock full of vitamins and beta carotene and lend themselves to sweet and savory dishes with equal aplomb. As far as I can tell their only drawback is that they can be insanely difficult to peel. That issue aside, they're yummy delicious and oh so good for you.
Acorn squash available from August through March; however, they are at their best from October to November when they are actually in season. To peel the raw acorn squash you gotta have muscles, good knife, a ton of patients and quite possibly a few band-aids. Personally, I prefer to roast the squash, cool it and then scoop out the good stuff. Some people prefer to steam it but roasting or baking it seems to give most recipes the maximum burst of flavor.
Acorn squash along with other members of the winter squash family (denoted by their hard protective skins) can, for the most part, can be used interchangeably. Acorn squash are cheap right now and it is so satisfying and versatile and perfect for Sukkot (chol chamod too) that you have no excuse not to try these hearty recipes.
ACORN SQUASH WITH BLACK BEANS AND QUINOA (pareve or meat)
3 medium acorn squash, halved and seeded
2 tablespoons brown sugar
1 tablespoon margarine, melted
2 tablespoons olive oil
2 teaspoons minced garlic
2 stalks celery, chopped
2 carrots, chopped
2 cups canned black beans, rinsed and drained
1 cup raisins
1 cup uncooked quinoa
2 cups chicken or vegetable broth
1 1/2 tablespoons ground cumin
Salt and pepper to taste
1/2 lb cooked ground beef or chicken (optional)
Bread or cracker crumbs for topping, optional
Preheat oven to 350. Arrange squash halves cut side down on a baking sheet. Bake 30 minutes, or until tender. Remove the squash from the oven. While the squash is baking, heat the olive oil in a skillet. Add the garlic, celery, and carrots and cook 4 to 5 minutes. Add the black beans and raisins and continue to cook and stir until vegetables are tender. Remove from the heat and set the mixture aside. In a saucepan boil the broth and add the quinoa. Reduce the heat to low and cook for 15 to 20 minutes until quinoa is done according to the directions on the package. Add the cumin, salt, and pepper to the quinoa and mix to combine. Add the vegetable mixture and the cooked meat if using, to the quinoa and mix to combine. Mound each squash half with the quinoa mixture and sprinkle the top with bread crumbs, if using. Return the squash to the oven and heat for 5 minutes or until the bread crumbs are toasty. Serve immediately. Serves 6.
ITALIAN STUFFED SQUASH (meat)
3 acorn squash
1 tablespoon olive oil
1/2 cup bell pepper, diced
3 green onion, thinly sliced
1 1/2 pound ground turkey or chicken
1 tablespoon Italian seasoning
2 teaspoons minced garlic
3 stalks celery, diced
1 teaspoon ground pepper or to taste
salt to taste
2/3 cup maple syrup
Preheat oven to 400. Cut both ends off of the squash and then cut it in half width wise and scoop out the seeds. Cut each half into 2 inch rounds for a total of 12 ring slices.  Arrange squash rings in single layer on a foil lined rimmed cookie sheet.
Melt oil in heavy medium nonstick skillet over medium heat. Add bell pepper, garlic, celery and green onion. Saute until tender, 4 to 5 minutes. Place the vegetables in a large bowl and let cool for about 15 minutes. Add the ground turkey, Italian seasoning, pepper and salt to the bowl and mix to combine. Divide mixture into 12 portions and mound mixture in center of squash rings. Brush meat and squash with half of syrup. Bake 15 minutes. Brush with remaining syrup and bake until squash are tender and meat mixture is cooked through, about 25 minutes. Makes 12.
ACORN SQUASH WITH CORN SOUFFLE (dairy)
2 acorn squash, cut in half lengthwise and seeded
1 tablespoon olive oil
1 cup milk or half and half
2 eggs
1/2 cup to 1 cup corn kernels (fresh is best)
1/3 cup chopped red onion
Pinch of nutmeg
1/4 teaspoon ground black pepper
1/4 teaspoon salt
1/3 cup grated cheddar cheese
2 to 3 green onions, sliced thin
Preheat the oven to 375.  Cut a small slice off the bottom of the squash to make sure it sits level. Make sure not to cut all the way through so that the filling won't run out. Brush the inside of the squash with oil. Place cut side up on a baking sheet. Cover the squash with foil and bake for 20 minutes. Remove the foil and bake an additional 20 minutes.
While the squash is baking, in a bowl combine the milk, eggs, corn, the red onion, nutmeg, and salt. When the squash is cooked fill each of the squash halves about 3/4 full with the corn mixture. Continue baking uncovered for another 30 to 40 minutes. Done time will depend on how big the squash is and if the soufflé is set. When you feel that everything is done sprinkle the cheese on the top and put it under the broiler for a minute or two to melt the cheese and make it bubbly. Watch it carefully so it doesn't burn. To serve place on a platter and sprinkle the top with the green onion. Serves 4. This recipe can be doubled. You may have extra filling. Just grease a glass baking dish, pour it in and bake until it's set. About 30 min.
Submitted by Cary Whiteside NY NY
ROASTED ACORN SQUASH AND APPLE SOUP (meat or pareve)
2 acorn squash, seeded and cut in large pieces
6 cups apple cider
2 cups chicken or vegetable broth
2 tablespoons honey
Salt and pepper to taste
Slices of granny smith apples dipped in apple cider
1/2 cup toasted pecan pieces
Preheat oven to 400.  Place the squash in a stock pot. Drizzle honey over the halves. Pour apple cider and stock over the squash. Cover and bring to a boil. Reduce to a simmer and then cook for about 45 minutes to an hour until the squash is tender.  Remove the squash pieces and let them cool. Scoop out the flesh of the squash and put it in a food processor or blender and puree it with some of the broth.  Continue the process until all the squash is pureed and everything is returned to the stock pot. You can strain this at this point but I never do. You can adjust the consistency with stock or cider depending on your preference. Season with salt and pepper. Serve hot with a dollop of pareve or regular cinnamon sour cream a few toasted pecan pieces and a slice of apple in each bowl. Serves 6. This recipe can be doubled.
Pareve cinnamon Sour Cream
1/2 cup pareve sour cream
1 teaspoon cinnamon
In a small bowl combine the sour cream and cinnamon and mix to combine.
SQUASHED SOUP (meat or pareve)
1 acorn squash, seeded and sliced but not peeled
1 large butternut squash, seeded and sliced but not peeled
2 zucchini cut into chunks
1/2 cup chopped sweet onion
1 tablespoon minced garlic
1/2 teaspoon curry
1/2 teaspoon cinnamon
1/4 teaspoon nutmeg
1 teaspoon white pepper
salt to taste
olive oil
1 to 2 cups chicken or vegetable stock
Preheat the oven to 375. Drizzle olive oil on a sheet pan and  underneath the squash slices on the pan, placing the acorn and butternut squash flesh side down.  Cook for about 30 minutes or until it begins to soften. Add the minced garlic to the bottom of the pan and cook an additional 10 to 15 minutes. Let the squash to cool to room temperature. In a stock pot combine the broth with the zucchini and onion and cook at a low boil until the onions and zucchini are soft. When the acorn and butternut squash is cool enough to handle scoop the flesh into a food processor or blender. Add the broth and vegetables and process until you've got a nice not too thick not too runny consistency. You will need to do this in batches. Place everything back in the stock pot and season with curry, cinnamon, nutmeg and salt and pepper. Mix to combine and cook for an addition 2 to 3 minutes until everything is hot. Serves 6 to 8.
Submitted by Marsha Parker Oaklawn IL