At some point this fall or winter you may feel a tickle in the back of your throat or a huge sneeze explode out of your face or even a head full of toxic stuff even a mother doesn't want to wipe up. That scratchy, precursor to what could be anything from the sniffles to a full blow knock you on your butt cold is never welcome. As a past sufferer of this kind of malaise I can offer not a cure but rather a few really good hot and cold beverages to make waiting for the aches and pains to pass a little more palatable.
Surprised I said hot AND cold recipes for cold relief? While hot fluids are the most effective for relief cold beverages can also offer temporary relief. Cold is what you should try if you're got some pain from a sore throat. The hot drinks also soothes the sore throat and helps loosen up the mucus, congestion and stuffiness. Soup is great but for a quick and easy fix the following recipes can help you relax enough to get the rest you need.
All this being said, if you're not utilizing any type of medication and you just want to tough it out a hot toddy is my go to "cold cure". It's typically a beverage comprised of liquor (whisky or bourbon or rum) water, orange or lemon with honey and spices. In the book "How to Drink" by, Victoria Moore it describes the toddy as containing "the vitamin C for health, the honey to soothe, the alcohol to numb.
The following recipes (with and without booze) are all guaranteed to help you hydrate and recuperate.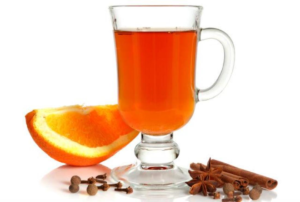 CLASSIC HOT TODDY
1 oz (2 tablespoons) bourbon or whiskey or rum
1 tablespoon honey
2 teaspoons fresh lemon or orange or lime juice
1/3 to 1/2 cup boiling-hot water
In an 8 oz mug combine the liquor, honey, and citrus juice. Add the hot water and mix until the honey dissolves. Serves 1. This recipe can be doubled or tripled.
TEA TODDY
1 oz rum
2 teaspoons fresh lemon juice
1 tablespoon honey
1/4 teaspoon apple cider or rice wine vinegar
1/2 cup hot brewed black tea
Lemon slice
In an 8 oz mug combine the honey, lemon juice and the vinegar. Add the hot tea and mix until the honey dissolves. Add the rum, mix to combine and garnish with the lemon slice. Serves 1 recipes can be doubled or tripled.
.
CAYENNE TEA
Adding a pinch of cayenne pepper to your tea can help break up mucus and can clear your sinuses. I always add sugar or honey to the tea to sooth the throat.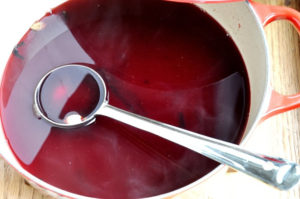 HOT POMEGRANATE CIDER
Pomegranates are a great source for antioxidants. When you add apple cider and spices you get a great drink that can soothe even the sorest throat.
3 cups apple cider
1 cup pomegranate juice
3 cinnamon sticks
4 cloves
Combine all the ingredients in a sauce pan and simmer for 7 to 10 minutes. Strain out the cinnamon and cloves and serve in a mug. Serves 4.
CITRUS CHAMOMILE TODDY
3 tablespoon honey
1/4 cup fresh lemon or lime juice
1 orange cut in half
4 cloves
2 chamomile tea bag
2 cup water
In a pan bring the water to a simmer. Add the tea bags, orange and cloves. Remove from heat and let steep for 5 minutes. Strain and add the honey and lemon juice. Mix to combine and serve. Serves 2 to 3
© Eileen Goltz Toddy 18