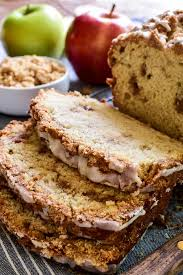 For some, the advent of the high holidays is a mad scramble to find the most unusual, delicious and dare I say it…OK I will, better than anyone else's apple recipes. I've seen apples added to salads, soups, main courses and of course desserts. There are apple challahs, baked apples and even taffy apples included in menus.
I've decided that this year, in addition to the sweet/tart Granny Smiths that I slice to accompany the 3 different honey's I just bought I'm going to make apple breads. Not muffins but rather those dense loafs that are moist, sweet and perfect to accompany your morning coffee just before you head off to shul or when you just need a little nibble before you head off to bed.
2 of the following recipes are for "quick breads" which basically mean using a baking powder or soda instead of yeast. The last recipe is for a decadent yeast bread that I promise you will become a year around family favorite.
APPLE BITE BREAD
1/3 cup brown sugar
1 teaspoon cinnamon
2/3 cup sugar
1/2 cup salted butter, softened (or use unsalted +1/4 teaspoon salt)
2 eggs
11/2 teaspoons vanilla
11/2 cups flour
1 3/4 teaspoons baking powder
1/2 cup milk
1 to 2 apples, peeled and diced (I used Granny Smith or Honey Crisp)
1/2 cup dried cherries or raisins
Preheat oven to 350 degrees. Grease and flour a 9 x 5-inch loaf pan. In a bowl combine the brown sugar and cinnamon and set aside. In the bowl of an electric mixer combine the white sugar and butter and mix until creamy and combined. Beat in the eggs and vanilla.
In a bowl combine the flour and baking powder and then add it to the butter mixture. Mix to just combine then add the milk and mix to combine. Pour half the batter into the prepared loaf pan. Sprinkle half of the apples and half the brown sugar cinnamon mixture and 1/4 cup cherries or raisins over the batter. Gently push the mixture into the batter. Spoon the remaining batter over apple cherry mixture. Sprinkle the remaining apples and cherries on top and add more brown sugar/cinnamon mixture.
Lightly pat/push apples into batter then, with a knife swirl brown sugar and apple mixtures gently thru the batter (do not overdue, just 2 or 3 swirls to make the layers undulate. Bake in 30 to 40 minutes or until a toothpick comes out cleanly from the center. Serves 8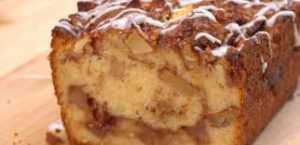 MAPLE APPLE PIE BREAD
2 cups flour
1/2 cup oatmeal
3/4 cup brown sugar
1/4 cup sugar
3 teaspoon baking powder
1 teaspoon cinnamon
1 teaspoon pumpkin pie spice
1/2 teaspoon salt
2 eggs
1/2 cup vanilla yogurt or sour cream
2/3 cup milk or 1/2 and 1/2
1/3 cup oil
1 teaspoon vanilla extract
1 teaspoon maple extract
2 large apples, cut into small chunks
Crumble Topping
1/2 cup flour
1/4 cup brown sugar
1 stick soft butter
1/4 cup oatmeal
1/4 teaspoon pumpkin pie spice
Maple Glaze
1 heaping cup powdered sugar, sifted
3 tablespoons maple syrup
1 teaspoon maple extract
Optional 1/2 to 1 tablespoon hot water
Preheat oven to 375 and REALLY grease a 9X5 loaf pan.
In a bowl mix together the flour, oats, brown and white sugars, baking powder, cinnamon, pumpkin pie spice, and salt. Set it a aside. In a large bowl combine the eggs, sour cream or yogurt, milk, oil, and the maple and vanilla extracts. Gently mix in the flour mixture and then fold in the apple chunks.
Crumble Topping
In a bowl combine all the crumb topping ingredient and mix to combine.
Spoon the batter into the prepared pan. Sprinkle the topping over the top. Bake for 60-70 minutes or until a toothpick inserted in comes out clean. Cool for 15 minutes, remove from pan and cool completely on a cooling rack.
Maple Glaze
In a small bowl combine the powdered sugar, maple syrup, maple extract and hot water. If the glaze is too thick add a 1/2 teaspoon of water at a time to reach desired consistency. Drizzle the glaze over the top of the loaf and let set for 15 to 25 minutes before slicing. Serves 8
WHISKEY GLAZED APPLE BREAD
3/4 cup warm milk
3 teaspoons instant yeast
1 tablespoon sugar
1 1/2 teaspoons kosher salt
3 eggs
1 1/2 sticks (3/4 cup) butter, melted
3 1/2 to 4 cups flour
Filling
6 tablespoons unsalted butter softened
1/2 cup packed brown sugar
1 tablespoon cinnamon
2 Granny Smith or Honeycrisp apples, diced
Glaze
3 tablespoons maple syrup
2 cups powdered sugar
2 tablespoons whiskey or bourbon
1 vanilla extract
In a bowl of an electric mixer combine the milk, yeast, and sugar. Mix to combine. Add the salt, eggs, and melted butter and mix to combine. Gradually mix in the flour until the dough comes together. It will be sticky. Remove the dough and place on a lightly floured surface. Kneed the dough for about 3 to 5 minutes until you can form it into a smooth ball. Grease a large bowl and place the dough in the bowl. Cover with a towel or plastic wrap and let sit, (35 to 45 minutes but no more than an hour) just until the dough doubles in size.
While the dough is rising in a bowl combine the brown sugar and cinnamon and mix to combine, set aside. Please parchment sheet on a cookie sheet and set aside. Grease 2 loaf pans. Set aside
Lightly flour a surface. Punch down the dough down and roll it into a rectangle, using a little more flour to make sure that it doesn't stick. The rectangle should be approx. 9×24. Brush half the butter over the top of the dough. Sprinkle half the cinnamon sugar over the butter. Spoon the chopped apples over the cinnamon sugar, then sprinkle with the remaining cinnamon sugar on top of the apples and brush the remaining butter over the top. Roll the dough up into a log, starting with the long side closest to you, making sure it's fairly tight as you roll it, when you reach the end of the roll pinch it closed on the seam and the ends.
Place the log seam side down on the baking sheet lined with parchment paper. With a sharp knife cut diagonal slices. Arrange the cut sections so that they overlap each other Use your hands to gently push the dough together, to shape approx. the size of the loaf pan. The dough will be messy but that's a good thing. Using the parchment paper to hold the loaf together, lift the dough up and into the bread pan (keep it on the parchment paper in the pan. If the pan you are using is smaller than 9×5 inches, divide the dough among 2 bread pans. Cover and let rise for 45 minutes to 1 hour.
Preheat the oven to 350. Bake 45 to 50 minutes or until lightly browned on top but watch carefully, you do not want to over bake this bread. Remove the pan from oven and let cool, in the pan for 10 minutes then remove from pan.
For the glaze, In a bowl combine the maple syrup, powdered sugar, and whiskey/bourbon and vanilla. IF the glaze is too thick add a few drops of water. Drizzle the glaze over the warm bread. This bread is most delicious served warm but equally delicious at room temp the next day, if there's any left. Serves 8.
© Eileen Goltz apple 19