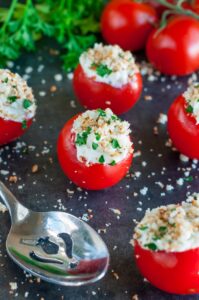 So how much food is too much to serve on Friday night  for Shabbos dinner? Do we really need to have soup, salad, and an appetizer along with main and side dishes and dessert for a meal when the then next meal we have will be equally as filling, calorie loaded and delicious?
In this age of too much cholesterol, calories, and supersized meals, it is wise to re-examine what and how much we serve and how we can make it not only delicious but healthier using fresh vegetables and fish. One way is to combine the green salad and fish  and or soup courses to create a new and exciting dish that will become a family favorite even after Shabbos is over.
WHITE FISH STUFFED TOMATOES
8 Roma tomatoes, seeded cut in half lengthwise
8 oz. prepared whitefish salad (store bought or make your own)
1 head of red leaf lettuce, shredded
8 hard cooked eggs, sliced or cut into quarters (optional)
3 stalks celery, chopped
1 red bell pepper, chopped
1 yellow bell pepper
1 can hearts of palm, drained and sliced into rounds
Divide the shredded lettuce among eight plates and set it aside. In a bowl combine the whitefish and chopped celery and chopped peppers then spoon it into the tomato halves. Place two halves on each plate and decorate with slices of egg and hearts of palm. Serves eight.
SMOKED SALMON CHOWDER
1 Tbsp. butter or margarine
1 sweet onion, finely chopped
2 celery stalks, finely chopped
1 bag frozen chopped spinach, thawed and drained
4 cups vegetable broth
1 cup water
1 bay leaf
1 lb. salmon filet cut into bite-sized pieces
1 lb. red skin potatoes, cubed, skin on
1 14 oz. can cream style corn
11/2 cup half and half or non-dairy substitute
6 oz. smoked salmon broken into pieces
4 sliced green onions
1 tablespoon chopped fresh dill
Salt and pepper to taste
Break up the smoked salmon into bite-size pieces and set aside.
In a large saucepan, melt butter and sauté the onion and celery (five to seven minutes). Add the broth, water and bay leaf and simmer for 10 minutes. Add the potatoes and corn to the broth and simmer for eight to 10 minutes. Add the salmon pieces and cook over a simmer for about 10 more minutes. Add the half and half, taste and season with salt and pepper. Add the smoked salmon, green onions,  spinach and dill. Mix to combine and cook for five to 10 more minutes. Remove bay leaf and serve. Serves six to eight.
ROSEMARY SALMON AND TOMATO SKEWERS
2 tsp. minced fresh rosemary
2 tsp. olive oil
2 tsp. minced garlic
1 tsp. lemon zest
1 tsp. lemon juice
1/2 tsp. kosher salt
1/4 tsp. ground pepper
11/2 lb. center-cut salmon fillet, skinned and cut into
11/2-inch cubes
1 pint cherry tomatoes
2 zucchinis cut into 1/2 rounds
8 bamboo skewers
In a bowl combine the minced rosemary, oil, garlic, lemon zest, lemon juice, salt and pepper. Add the salmon and zucchini and toss to coat. Alternating the salmon, zucchini and tomatoes, divide the ingredients among the skewers. Oil the grill pan and heat to high. Grill the skewers, carefully turning once, until the salmon is cooked through, four to six minutes total. Serve hot or cold. Can be made ahead of time or just before ready to serve. Makes eight. Great served warm on a bed of spring greens. This recipe can be doubled or tripled.
Eileen Goltz fish 21