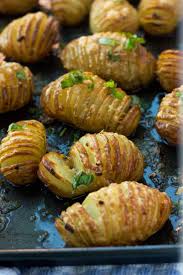 I asked my son what he thought about Hasselbacks and his response was, "that hairy old guy from the Bay Watch Movie?????" "No thanks, pass, that movie was terrible and wasn't he in a really woman objectifying TV series a million years ago". Seriously, I believe I gave birth to feminist woke culinary philistine.  No sweetheart, I said as I shook my head at, one more sign that, once again, I failed trying to teach anything food related to my child,  that's Hasselhoff the actor I'm talking about  Hasselback the potato.
Hasselbacking (yes I created a verb), is that culinary accordion like phenomena  accomplished by carefully cutting thin crosswise cuts (into potatoes, larger vegetables or chicken) that are almost to the bottom of said potato, vegetable of chicken but not quite, seasoning it, potentially adding fillings into the cuts and baking it until its crispy and delicious. The concept was created, using potatoes, in the early 1950's by Chef Leif Ellison at a restaurant called Hasselbacken on Djurgården in Sweden. The concept evolved to include other vegetables (and chicken) and I believe that with so many of us looking to shake up our menus after weeks and weeks of the same side dishes they should absolutely be on everyone to make list this week.
Haaselback Potato 101
What kind of potato should I use?
You can use pretty much any potato for your Hasselback creation but, in my opinion, the Yukon Gold the right combination of size and texture for a single serving side dish. I have used Russets and sweet potatoes (serving size is 1/2 if they are large) as well as the smaller baby red potatoes for a fun take on the theme.
What are the best seasonings?
Typically you start with brushing oil or butter over the entire potato (into the cuts as much as possible) and then salt (kosher or sea is best) and freshly ground pepper. You can us whatever other herbs and spices your like, making sure to use fresh if you can. I love rosemary and thyme and garlic, all mixed together as well as a combination of oregano, basil and thyme with a few spoonful's of pizza sauce and maybe a sprinkle or 5 of parmesan.  I also like to top everything off with either cheddar, pepper jack or mozzarella cheese, breadcrumbs, pine nuts, sesame seeds or other chopped nuts or any combination that takes your fancy.
Technique for slicing Hasselbacks
On a cutting board using a very sharp knife, place what every you are "Hasselbacking" between the handles of 2 wooden spoons or chop sticks so that when you do slice you do not accidently go all the way through to the bottom. Slice from end to end making deep vertical cuts approximately 1/8-inch apart sure the slices are fairly close together but not so thin as to cook too quickly.
FYI I actually Hasselback salami for appetizers. I slice them and then generously paint them with apricot jam and bake then until they are crispy around the edges of the slices. I serve with mini rye breads and all kinds of mustards.
CLASSIC HASSELBACK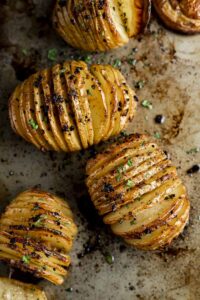 8 Yukon gold potatoes, 2 sliced thin 6 cut Hasselback style
6 tablespoons melted unsalted butter or margarine
3 tablespoons olive oil
3 tablespoons chopped fresh parsley, plus more for garnish
1/2 teaspoon onion powder
1/2 teaspoon garlic powder
Kosher salt, to taste
Ground pepper to taste
1 tablespoon chopped fresh parsley or 2 tablespoons dried
Wash and scrub the potatoes. Preheat the oven to 425. Slice according to the above directions and then place the potatoes with the cut side up on a grease baking sheet with sides. Slightly fan out ou the potato. In a small bowl, combine the melted butter, oil, onion powder, garlic powder and parsley. Drizzle the mixture this over the potatoes and then use a pastry brush make sure the mixture gets into all the nooks and crannies of the sliced potato. Sprinkle with salt and pepper. Bake for 1 hour and check to see if done. You may need an additional 10 to 15 minutes, or until golden and crispy. When done remove from the oven then let sit for 5 minutes before servings. Serve hot. Makes 8
SALMON HASSELBACK POTATOES
Modified from the Seafood Experts website
4 tablespoons butter, softened
8 medium sized potatoes, peeled
8 green onions, sliced thin
½ cup finely chopped parsley (extra for garnish)
1 cup sour cream or plain yogurt
1 cup vegetable stock
2 cans canned salmon
Kosher or sea salt and ground black pepper to taste
Paprika for garnish
2/3 to 1 cup parmesan cheese
Extra butter for greasing the pan
Preheat oven to 400. Grease a large Pyrex baking dish with butter.
Line the greased pan with the sliced potatoes and then place the hassleback potatoes on top.  Spoon the salmon and liquid from the cans evenly over the hasselback potatoes. Season with salt and pepper.
In a medium bowl, whisk together the sour cream and vegetable stock until smooth. Gently spoon the liquid over the potatoes. Scatter the green onions, parmesan cheese and parsley over the salmon and potatoes. Bake for 35 to 45 minutes, check for doneness and cook an additional 10 to 15 minutes if the potatoes are still not done or until the potatoes are tender and the top is golden. If the tops of the potatoes start too brown to quickly cover the pan with aluminum foil. Serves 6.
© Eileen Goltz Hassel 20