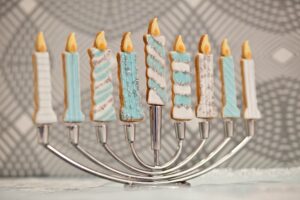 Confession time, I am a messy cook. My kitchen looks like a class 5 hurricane hit my cook top and there are typically 10 to 20 utensils, pots, cookie sheets and measuring cups in my sink ready to be washed anytime I bake.  While there are typically flour handprints everywhere before I'm done I do however, start my culinary endeavors with the one practice guaranteed to make cooking anything easier. I am referring to the concept of mise en place. Pronounced phonetically (mee zen  plas) it  is a French  term (usually associated with cooking) that translates into 'put in place'  before you start any  project you need to have all your ingredients, cooking utensils measured and ready to go BEFORE you start cooking.   The purpose of mise en place is make the cooking process about the process and not about stopping ever few minutes to look for an ingredient or baking dish.
I especially appreciate mise en place when I'm making cut out Chanukah cookies. Favorite are simple combinations of flour, baking powder, salt, sugar, butter and egg they sometimes morph into almond, gingerbread, chocolate shortbread cookies and even sandwich cookies if I'm feeling particularly ambitious. Having everything ready to go makes my cooking chaos a little less chaotic. This is especially important when you're working with kids.
These recipes all use butter but you can swap out margarine to make them pareve.
BEST COOKIE TIP EVER
Most drop and cut out cookies come out better when they are removed from oven when they seem slightly under-baked (golden on the edges and a bit soft in the center). They will set upon cooling.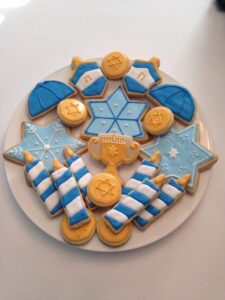 BUTTER CUT OUT COOKIES (with options)
picture by
1 cup butter, softened (or margarine)
2/3 cup sugar
1/3 cup brown sugar
1/4 cup milk or almond milk
1 egg
1 1/4 teaspoon vanilla
3 cups flour
1/2 teaspoon baking powder
In the bowl of an electric mixer of food processor combine butter and sugars. Beat until the mixture is creamy. Add the milk, egg and vanilla. Mix until combined. Add the flour and baking powder, mix to combine. Cover and refrigerate 1 hour or overnight.
Preheat oven to 375. Line 2 cookie sheets with parchment paper. Divide the dough into 2 pieces (refrigerate the 1/2 you're not using until you finish the first ball). Roll the first dough ball out on lightly floured surface 1/8 to 1/4 inch thick. Cut with your favorite shape. Place them. Place the cookies about 1 inch apart and bake 6 to 8 minutes or until edges are lightly browned. Cool completely on the cookie sheet then remove to cooling rack and then decorate. Makes 2 to 3 dozen smaller cookies
Options to add to the dough when creaming the butter and sugar:
LEMON: Add the zest of 1 or 2 lemons + 1 tablespoon poppy seeds
CINNAMON: Add 1 teaspoon cinnamon and cinnamon sugar on top before baking
COFFEE: Add 2 teaspoon instant coffee to the milk
RASPBERRY JAM: Make a sandwich cookie with jam in the middle
PEANUT BUTTER: Use your favorite recipe, roll into a ball and place a chocolate coin in the middle
CHOCOLATE CUT OUT COOKIES
3/4 cup sugar
1 cup unsalted butter or margarine
1 teaspoon baking powder
1 teaspoon vanilla
1 teaspoon instant coffee crystals
3/4 teaspoon salt
1 large egg
½ cup cocoa
2 1/4 cups flour
In the bowl of an electric mixer combine the butter and sugar and beat until combined. Add the baking powder, vanilla, coffee, and salt and beat until fluffy. Beat in the egg, just until combines. In a separate bowl combine the cocoa and flour, then beat the mixture into the egg mixture until combined but do not over mix.
Divide the dough in half, wrap in plastic wrap and refrigerate the dough for at least 1 hour (or you can make it the night before you want to bake them).
Preheat oven to 375. Either grease 2 baking sheets or line them with parchment paper.
Sprinkle the surface of the rolling board with cocoa to keep the dough from sticking to the surface and sprinkle a little cocoa on the top of the dough as well. Roll the dough out until it is about 1/8 to 1/4 inch thick (these will be crispy at this hight, any higher and they will be a bit doughy).  Cut your favorite shapes out and place them on the prepared cookie sheets. Bake for 8 to 10 minutes or until the edges are firm. Remove from the oven, cool on the cookie sheet for 2 minutes then place on a cooling rack. Cool completely before frosting. Makes 1 1/2 to 2 dozen cookies.
ALMOND CUT OUT COOKIES
2 cups flour
1 cup almond flour
2 teaspoons baking powder
1/2 cup sugar
1/2 cup brown sugar
1 cup butter or margarine cut into chunks
1 egg
1/2 teaspoon vanilla
1 teaspoon pure almond extract
Preheat oven to 350.  Line them with parchment paper.
In a bowl combine the almond flour, regular flour and baking powder. Mix to combine and set aside.
In an electric mixer or food processor combine the sugar and butter until it's light and fluffy, about 2 minutes. Add the egg and vanilla and almond extracts and mix to combine. On a low speed add the flour beating just until combined. Do not over beat.
The dough may be crumbly, just knead it, by hand, until it comes together.
Roll the dough on a lightly floured surface to about 1/3 inch thick and cut out your shapes. Place the cookies on the prepared cookie sheets and place the cookie sheets in the freezer for 20 minutes to 30 minutes to help them keep their shape when they bake. If you want to sprinkle colored sugar on the top now is the time to do it. If you're using frosting do so after they are baked and cooled
Place the semi frozen cookies into the preheated oven. Bake the larger shapes 9 to 12 minutes and 7 to 10 minutes for smaller cookies. Once you remove the cookies let them cool on the cookie sheets for 10 minutes. When cool place them on a cooling rack. Makes 1 1/2 to 2 dozen depending on the size of the cookie.
Eileen Goltz cookie 2020