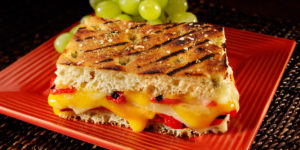 Is there anything more satisfying on a cold and rainy fall/winter/icky weather day than an ooey gooey grilled cheese sandwich and a bowl of tomato soup into which you can dunk it??? While I know some may disagree with these choices of comfort food I stand by my choice of I'm cold, I'm wet, feed me now menu. I hope you realize that I was posing a rhetorical question so please work with me here and withhold any and all votes on your passion for peanut butter and jelly and a glass of milk or craving corned beef with a side of coleslaw as your go to #1 comfort food.
I've long been a fan of using different kinds of cheeses in my culinary masterpieces and encourage everyone to be bold and try anything and everything that melts (except blue cheese, I REALLY don't like blue cheeses and well, they're blue and eating anything blue other than blueberries is just a no no in my book). There are so many new and wonderful varieties of kosher cheeses available so that once you try Pepper Jack, Gruyere or Havarti (or even flavored goat cheese) on your bread of choice you'll never go back to those generic yellow and/or white slices of what passes for cheese in the bulk section of the grocery.
I'm going to suggest that Challah or Italian breads are the best go to choices for your bread base. You can, of course, use a heartier whole grain or rye to build your meal but make sure that the cheese you pair with them can stand up to their bolder flavors. You can also opt for French bread if you want to make smaller, open face sandwiches (they are great as appetizers with tomato soup shooters). Adding grilled vegetables like peppers, mushrooms or kale and spinach to your sandwiches adds a bit of crunch and a whole lot of extra flavor.
NOTE:
If you are making a lot of sandwiches for a big crowd under cook them slightly, preheat an oven to 350, place them on a cookie sheet with sides (this also works if you are having a hard time getting the cheese to melt,) and pop them in the oven for 2 to 3 minutes to crisp them up and melt the cheese.
ROASTED TOMATO SOUP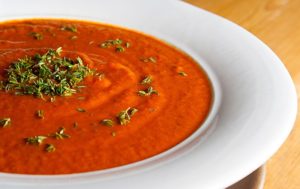 5 pounds fresh tomatoes cut into quarters
3 tablespoons minced garlic
15 to 20 sprigs of fresh thyme
¼ cup of olive oil
4 cups vegetable broth
1 small diced onion
1 tablespoon of olive oil
1 tablespoon of brown sugar
1 tablespoon of balsamic vinegar
2 tablespoon of ketchup or soy sauce
Salt and pepper to taste
Basil and olive oil garnish
Preheat the oven to 275. Line a cookie sheet with sides with parchment paper. Arrange the tomato quarters on the paper. Add the minced garlic and mix to combine. Drizzle the 1/4 cup of olive oil over the top and gently mix to coat. Season with salt and pepper. Place on the thyme sprigs around the tomatoes on the pan. Bake in the oven for 2 ½ to 3. While the tomatoes are roasting sauté the onions in a sauce pan in 1 tablespoon of olive oil and brown sugar. When they are lightly golden remove from heat and set aside.
When the tomatoes and garlic are done add them to the sautéed onions. Mix to combine and add broth, vinegar and ketchup. Using an immersion blender or regular blender puree the soup. Season with salt and pepper as needed, heat to a simmer and serve with garnish if you like. Serves 6 to 8.
NOTE: You can swirl sour cream or yogurt on top or top with thyme or basil for a garnish
GLORIOUS GRILLED CHEESE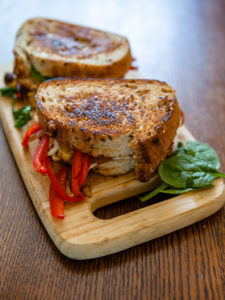 8 slices thick cut Italian Bread, Rye or Challah bread
Mayonnaise for spreading
12 oz Gruyere cheese sliced thin
6 oz cheddar (white or yellow) cheese sliced thin
4 slices thin Muenster or Pepper Jack cheese at room temperature
2 yellow onions diced fine1 teaspoon fresh thyme minced
1 red pepper, sliced and roasted
2 teaspoon fresh rosemary minced, divided
1 teaspoon honey
Salt and pepper to taste
3 tablespoons butter divided
1 tablespoon olive oil
In a skillet melt 1 1/2 tablespoon butter and olive oil. Add the onions ad 1 teaspoon thyme and 1 teaspoon rosemary. Cook, stirring constantly until the onions are soft and starting to turn golden (8 to 10 minutes). Add the honey, mix to combine and continue cooking for 1 minute. Remove from the onions from the pan (place them in a bowl) and set the skillet aside but don't clean it.
Spread one side of the pieces of bread with a light coat of mayonnaise. Add remaining butter and rosemary to the skillet and heat to melt the butter. Add both pieces of bread, mayonnaise side down, and cook 1 minute. Divide 1/2 the cheeses between the bread and place 1/4 of the onion mixture on top of the cheese on each piece of bread, add some of the roasted red peppers. Cook an additional 2 minutes. Top with another slice of the prepared bread, mayonnaise side up. Using a spatula, flip the sandwich. Cook an additional 1 to 2 minutes until the bread gets crispy and golden and then remove from pan. Repeat with the remaining bread and cheese and serve immediately. Serves 4
GRILLED SPINACH AND TOMATO PITA SANDWICHES
2 pitas or naan
1 to 3 teaspoons butter (as desired)
1 cup baby spinach
4 oz grated Havarti, Pepper Jack or Mozzarella cheese + a little extra
1 medium tomato cut into 4 slices
salt and pepper to taste
In a skillet melt the butter. Add 1/2 of the butter. Place the pita in the pan and top with you cheese of choice, then the spinach and top with the tomato slices and a little salt and pepper to taste. Sprinkle a little extra cheese on top of the tomato. Cook for 1 minute then place the other pita on top of the sandwich in the pan. Press down slightly. Using a spatula, remove the pita from the pan, melt the remaining butter and then flip the sandwich and cook until the cheese is melted, 2 to 3 more minutes. Remove from pan, place on a plate, cut in half and serve. Serves 2 or 1 REALLY hungry person.
GRILLED CHEESE PIZZA
4 tablespoons prepared pizza sauce
16 ounces fresh mozzarella cheese, shredded
4 teaspoons dried oregano
8 sliced mushrooms
8 slices sourdough bread
1 1/2 tablespoons butter melted
1 1/2 tablespoon olive oil
1/4 teaspoon dried basil
In a bowl combine the basil, melted butter with the olive oil, mix and set aside. Spread about 1/2 tablespoons of sauce on each slice of bread. Top 4 of the slices with the sliced mushrooms and then cover them with the slices of cheese. Sprinkle the dried oregano over the cheese. Top with the remaining slices of bread, sauce side on top of the cheese. Heat a skillet. Brush top of the sandwich with the olive oil/butter mixture and place it oiled side down in the hot pan. Cook for 2 minutes or until the bread starts to brown. Brush the remaining butter oil mixture on the top of the sandwich, flip and cook until the bread is browned. Remove from heat and serve immediately. Serves 4.