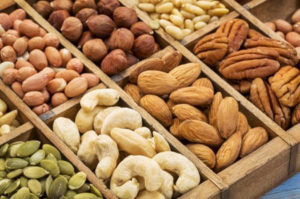 I say NUTS to the pre made and packaged stuff for Shalot Manos baskets and  run to the grocery and grab gobs and lots of pecan, walnuts, cashews, macadamia, pistachios and almonds to concoct sweet and spicy treasures to share with my friends.
I buy in bulk and it keeps the cost way down. I make up huge batches, use self sealing plastic bags and then divide them among the baskets. The following recipes can all be made a week or two ahead of when you need to deliver the baskets. All are simple to make, delicious to eat and are guaranteed to make your basket the one everyone remembers. For the most part, you can substitute margarine for butter to keep things pareve but it does alter the consistency and taste slightly.
NOTE: Just make sure you label the packages so that anyone with a specific nut allergy (peanut) or is lactose intolerant will have a heads up and not have to make a quick trip to the emergency room
BROWN SUGARED NUTS (dairy or pareve)
2 egg whites, at room temperature (save yolks for other use)
1 cup packed brown sugar
1/4 cup (1/2 stick) butter or margarine, melted and cooled to room temperature
1 to 1-1/2 pounds shelled cashews, walnuts, pecans, peanuts, almonds, or macadamia nuts (or a mixture of your choice)
Preheat oven to 275. Have an ungreased 15-1/2 x 10-1/2 inch jelly roll pan ready. Using an electric mixer, place egg whites into a large bowl big enough to accommodate the nuts. Beat until the whites form soft peaks when beaters are lifted. Add brown sugar, 1/4 cup at a time, beating well after each addition until mixture is stiff and glossy. With a large spatula, stir in melted butter.
Gently fold nuts into meringue mixture until they are evenly coated, taking care not to break nuts. Spread coated nuts evenly on ungreased jelly roll pan. Bake about 1 hour, stirring every 15 minutes to keep nuts separate, until meringue is dry and nuts are crunchy. Let cool in pan, stirring occasionally to keep separate.
Pour cooled nuts into covered containers and store up to 2 months at room temperature.  Makes about 3 to 5 cups, depending on size of nuts
CASHEWS WITH A KICK (dairy)
You will need a candy thermometer for this one
1 cup granulated sugar
3/4 cup rum
2 cups cashews, whole and unsalted
4 tablespoons butter
Generously oil a baking sheet and set aside. Bring the sugar and rum to boil in a saucepan. Cook for 3 minutes, until candy thermometer reads 234. Remove from heat and add the cashews, stirring constantly to coat with syrup. The sugar will become white and grainy after about 30 seconds. Return saucepan to heat and re-melt sugar, adding a few drops of water if needed. Watch carefully – do not burn. When the syrup has turned a rich caramel color, about 2 minutes, and the nuts sound hollow at the tap of a spoon, remove from heat and stir in butter. Transfer mixture to prepared baking sheet, spreading out in one layer, separating any pieces that are stuck together. Cool completely. Store airtight for 2 weeks. Makes 2 cups
SIZZILING HONEY GLAZED NUTS (pareve)
2 dried chipotle chilies
1/4 cup honey
2 tablespoons sugar
2 tablespoons oil
1/4 teaspoon salt
1/4 teaspoon cayenne, or more to taste
3 cups assorted nuts (hazelnuts, almonds, pine, macadamia, pecans, pistachios, walnuts)
Spread shelled nuts (except macadamias) in a single layer on a baking pan. Bake in a 350, stirring often, until golden. Allow 5 to 7 minutes for pine nuts; 8 to 10 minutes for pecans, pistachios, and walnuts; about 15 minutes for almonds and hazelnuts. Macadamias need lower heat because they scorch very easily; roast them at 300 for about 20 minutes. Watch nuts carefully since they brown quickly. For more toasted flavor, bake nuts to a darker color.
Remove and discard chili stems. Whirl the chilies, with seeds, in a blender or food processor until finely ground. In a bowl, mix ground chilies, honey, sugar, oil, salt and cayenne. Add nuts and stir until coated with seasonings. Pour nuts onto oiled 15 x 10-inch pan; shake into 1 layer. Bake in 300 oven, stirring often, until golden brown (under skins, if not blanched) and honey mixture hardens, 25 to 30 minutes. If necessary, push nuts apart; cool in pan. Serve, or store up to 3 days. Makes 3 cups.
Submitted by Carolyn Jacobson Highland Park IL
RED PEPPER PECANS (pareve)
1/4 cup granulated sugar
1 teaspoon salt
1/4 teaspoon ground black pepper
1/4 teaspoon ground red pepper
1 cup pecans or walnut halves
In a small bowl combine sugar, salt and black and red peppers. Heat a large skillet over medium-high heat; add pecans; cook and stir until hot, about 1 minute. Reduce heat to medium; sprinkle pecans with half of the reserved sugar and pepper mixture; cook and stir until sugar melts, about 30 seconds. Add remaining sugar and pepper mixture; cook and stir until sugar melts and coats nuts, about 40 seconds. Place nuts on baking sheet; cool slightly and separate.
Store in a tightly covered container.  Makes about 1 heaping cup.
ORIENTAL PECANS (dairy or pareve)
1 pound pecan halves
1/4 cup butter or margarine — melted
2 tablespoons Soy sauce
1 teaspoon five-spice powder
1/2 teaspoon garlic powder
1/2 teaspoon ground ginger
1/4 teaspoon ground red pepper
Place pecans in crock pot. In a bowl combine the melted margarine or butter, soy sauce, five-spice powder, garlic powder, ginger and red pepper. Pour over nuts. Stir to coat nuts. Cover; cook on low setting for 2 hours. Uncover and stir. Turn to high-heat setting. Cover and continue cooking on high for 15 to 30 minutes. Cool. Makes 4 cups.
CHOCOLATE AND COFFEE WALNUTS (pareve or dairy)
2/3 cup almond paste, room temp
2 tablespoons coffee liqueur
1 teaspoon instant coffee powder (not granules)
72 Walnut halves
8 ounces semisweet chocolate, melted
Mix the almond paste, coffee liqueur and coffee powder until smooth. Spread 1/2 tsp of the mixture on the flat side of a walnut half and top with another walnut half, forming a sandwich. Repeat with the remaining almond paste and walnuts.
Line a large baking sheet with wax paper. Dip one end of the walnut in the melted chocolate and set on the baking sheet. Repeats with the remaining filled walnuts and chocolate. Refrigerate until the chocolate is set, about 30 minutes. Cover with plastic wrap and store in refrigeration. Makes 36.