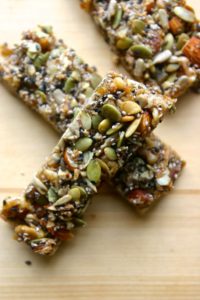 We Jews are never at a loss for something to celebrate. New Moon? You can count on a few extra prayers. Rain? Singing and dancing. Trees? Well, it's time for a Seder. No not the OMG clean the house until we're crazy kind of Seder but rather a wonderful meal to celebrate Tu Bishvat.
Celebrated this year on February 11th this year, the tradition is to celebrate by having a meal with friends and family and eating bunches of fruits in a specific order (AKA Seder). Those wanting to follow in the strictest interpretation of the Seder you need to have 30 different fruits and vegetables. Most of us, however, settle for 12. You have a meal
Suggestions: Wheat (cookies or cake are fine), olives, dates, grapes, figs, pomegranates, citrus, apples, pears, carob, walnuts, almonds or whatever else you like or can find.  And Wine, you need a bottle of red and a bottle of white.
Every year I try and find a new recipe that will allow me to incorporate as many of the fruits and nuts that I like to I serve at my Seder into one GLUTEN FREE cookie and this year I think I've got a real winner
GLUTEN FREE CHOCOLATE NUTTY FRUIT BAR
2 cups puffed wheat (or puffed rice) cereal
1 cup chopped dried apricots
1 cup dried cranberries
1 cups chopped unsalted almonds, toasted
1/2 cup salted pistachios, chopped
1/2 cup chocolate chips (semi, milk or dark)
2 tablespoons butter or margarine
2 tablespoons brown sugar
1/2 cup honey
1/4 cup Nutella
1/2 teaspoon Kosher salt
Line a 9X9 baking pan with foil. Grease with margarine or butter.
In a large bowl combine the cereal, apricots, cranberries, almonds, pistachios and chocolate chip. Mix to combine and set aside.
In a small saucepan melt the butter then add the brown sugar, honey, and Nutella. Mix to combine and cook over a medium heat (stirring constantly) until everything is melted and combine. Pour the Nutella mixture over nut/fruit mixture in the bowl and mix until combined. Spoon the mixture into the prepared pan and press it down. Sprinkle the salt over the top. Cover and refrigerate for at least 2 hours. Remove the bar from the pan and cut into 24 pieces.
Modified from a recipe from Sunset Magazine