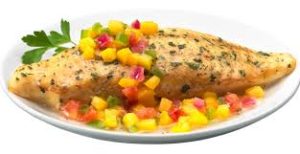 The biggest challenge, for me, of the 3 weeks and more specifically, the 9 days is not what you might think.  This is the time of year that I actually have to stop myself from making TOO MUCH food.
Since I have to forgo meat and poultry on the menu I can let my creativity run wild with fish recipes. I use this time period to "try out" all the recipes in my "I haven't gotten around to them" file. The following recipes feature recipes for taliapia, and run the gamut from "hummmm this may take a little time to wow, all I have to do is throw it together.
So what is Tilapia?
Tilapia (teh-LAH-pee-uh), sometimes referred to as St. Peter's fish or Hawaiian sunfish, is a farm-raised white fish with a delicate texture and sweet flavor.
ISLAND MANGO TILAPIA
4   Serrano chilies, seeded
3 teaspoon minced garlic
2 large shallots, peeled
2 cup chopped peeled mango
1/3 cup cider vinegar
1/4 cup fresh orange juice
1 tablespoon chopped fresh or 1 teaspoon dried thyme
2   teaspoon olive oil
1/4 teaspoon salt
4 (6-ounce) tiliapia fillets
cooking spray
Combine chilies, garlic and shallots in a food processor, and process until minced. Add the mango, vinegar, orange juice, thyme, salt and olive oil; process until smooth. Place the mango mixture and the fish in a zip-top plastic bag; seal and marinate in refrigerator 20 minutes. Remove fish from bag, reserving marinade. Pour reserved marinade into a small saucepan, and bring to a boil. Reduce heat, and simmer 5 minutes. Remove from heat.
Prepare the grill or broiler. Place fish on a grill rack or broiler pan coated with cooking spray. Cook for 4 minutes on each side or until fish flakes easily when tested with a fork. Serve with mango sauce. Makes 4 servings
BROILED TILAPIA WITH SWEET POTATO CRUST AND VANILLA CREAM SAUCE
Two 6 ounce tiliapia fillets, seasoned with salt and pepper.
Filling:
3 sweet potatoes, cooked and peeled
3 teaspoons fresh lemon juice
4 teaspoons fresh orange juice
1 tablespoon unsalted butter
1 teaspoon salt
1/2 teaspoon minced ginger
Crust:
3 graham crackers
1 cup roasted pecans
2 tablespoons melted butter
Sauce:
5 tablespoons heavy cream
1 tablespoon vanilla
2 tablespoons water
Pinch of seafood seasoning or Creole seasoning
Place the tilapia in a greased 9X13 baking dish.  In a food processor combine the 3 graham crackers, 1 cup of pecans and 2 tablespoons butter together and process a crumb mixture texture. Set the mixture aside. Place the sweet potatoes, juices, butter, salt and ginger together in a food processor and process until smooth.. Cover the fish with the sweet potato mixture, and then sprinkle the pecan mixture over the sweet potato mixture. Broil the fillets until golden brown, approximately 4 to 6 minutes. In a 6 inch skillet, add the cream, vanilla, water and seasoning. Bring the mixture to a boil and cook for 45 seconds, until the alcohol in the vanilla is gone and the sauce coats the back of a spoon. Pool the sauce on a plate, place the broiled fish fillet on top and serve. Makes 2 servings. This recipe can be doubled
ASIAN TILAPIA BUNDLES
8 green onions, cut into thin diagonal slices
2 large sweet red pepper, cored, seeded, julienne cut
4 tablespoons soy sauce
4 tablespoons red-wine vinegar
4 teaspoons dark Asian sesame oil
4 teaspoons grated fresh ginger  or 1 teaspoon ground ginger
2 tablespoons sugar
8 tilapia filets
8 teaspoons sesame seeds
Heat oven to 425. Tear off four 14 x 12-inch sheets of aluminum foil. In a bowl combine the green onions, red pepper strips, soy sauce, vinegar, sesame oil, ginger and sugar. Arrange each fillet on a piece of foil. Spoon green onion mixture over top of each fillet, dividing equally. Sprinkle each fillet with 1 teaspoon sesame seeds.
Fold top of foil over fish. Fold edges of foil over twice; crimp to seal tightly. Arrange packets on a baking sheet. Bake in heated 425 degree F oven 10-12 minutes or until foil is puffed and fish is cooked through. Serves 8